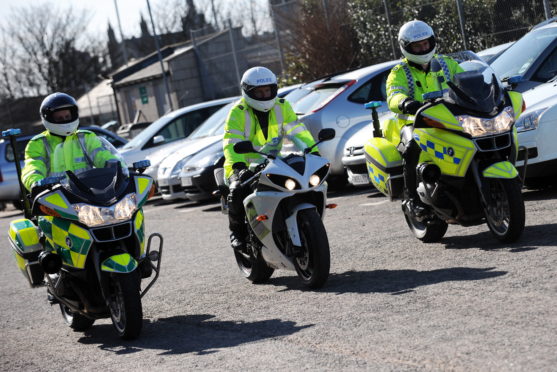 A new study will shed light on the impact of safety campaigns in reducing the number of biker deaths on roads in the north and north-east.
There have been at least 42 motorcyclists killed in crashes in the north-east, Highlands and Tayside since 2014.
In 2017-18, the most recently available official figures, there were 11 such deaths across all three regions.
A matter of weeks ago, a 52-year-old man died after his bike crashed on the A837 road between Ardvreck Castle and Inchnadamph.
And in September, 35-year-old Stuart Smith was killed when his motorcycle was involved in a collision on the A98 Fochabers to Cullen road.
In an effort to reduce the number of fatalities, organisations such as the police have launched a number of initiatives to spread the message of road safety among bikers.
Now Robert Gordon University (RGU) is working with Road Safety North East Scotland (RSNES) to look at the impact they have actually had on bikers' attitude and behaviour.
Caroline Hood, of RGU, said: "This new study will bring together existing data, policy and background information held by a range of local road safety partners in the north-east on targeted motorbike safety initiatives.
"We want to try to assess their effectiveness and subsequent to this we aim to carry out further research which will influence the development of future initiatives.
"Some of us are motorcyclists ourselves and we are very aware of our vulnerability.
"We want to help other bikers – and their friends and families – avoid the potentially terrible consequences that can follow on from a road traffic collision."
While motorcyclists in Scotland make up just 1% of all road traffic, they account for around 20% of all the people killed in accidents.
Initiatives to tackle that have included Operation Zenith, Bike Safe and the more recent Rider Refinement North, while more practical steps like targeted road signage have been taken.
It is hoped research into the effectiveness of past projects will lead to increasingly effective use of limited funds for future road safety initiatives.
And the researchers also hope it will help make the case for further investment in motorbike casualty reduction strategies.
Ewan Wallace, chairman of RSNES and head of transportation at Aberdeenshire Council, said: "We need to try to learn how bikers, those who have taken part in safety initiatives and the wider biking community, perceive attempts to improve their safety.
"Clearly, just because a biker sees or understands a road safety message relevant to them doesn't necessarily mean that translates to how they ride their machine.
"We want to know how best to engage and reduce death and injury among motorcyclists."
As well as the chance to take part in a survey, north east bikers will also be invited to participate in focus groups, where their views will be sought.
Further information on how to take part will be available in due course.