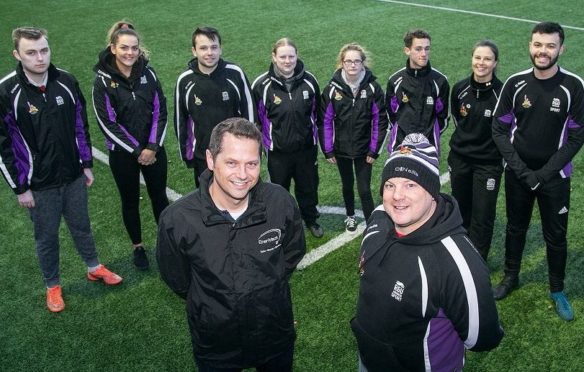 The cost of an Aberdeen charity's work to keep hundreds of youngsters healthy has been covered for the next year.
EnerMech has pledged £10,000 to Streetsport to pay for the lease of Northfield Academy's astroturf pitch.
The firm -headquartered near to the school in Howes Road – has also promised staff as volunteers to help Streetsport going forward.
Hundreds of young people take part in the ball sports, dance and other activities offered by the charity there on Friday nights.
The Denis Law Legacy Trust started Streetsport to encourage youngsters from disadvantaged backgrounds to adopt healthier lifestyles.
The Aberdeen-born footballing legend's charity works with the Robert Gordon University, police and the fire service to provide free-to-access sporting and creative activities.
Their work has now spanned out to more than 40 spots across Aberdeen, and is credited with reducing youth crime and anti-social behaviour.
EnerMech also wants to offer young people help in finding apprenticeships and jobs in the future.
The company's David Logan said: "Streetsport is widely recognised for the valuable work it is doing in improving the lives of young people from disadvantaged areas by giving them an outlet to express themselves through sport and other activities.
"Their values chime strongly with EnerMech's own ethos of putting safety and well-being at the top of our agenda and as a local employer we are delighted to be able to make a meaningful contribution."
Streetsport chief operating officer Mark Williams said: "Support from local businesses is vitally important to our charity and we look forward to working with EnerMech in developing an ongoing relationship which will make a genuine difference."