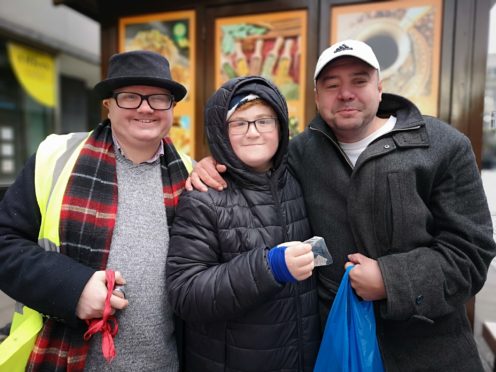 A warm-hearted schoolboy has ensured that dozens of homeless people will receive warm meals after collecting vouchers from a fast food restaurant and dishing them out to those in need.
Aberdeen 13-year-old, Ryan Bannerman, has been hailed for his "astonishing dedication" after amassing 250 tokens from McDonald's during a six-week long charity campaign.
The tokens, which were available with any purchase between March and April, can be exchanged for instant prizes such as a free drink, burger, or whole meal.
Ryan has now handed out his collection to homeless people who said they were "incredibly grateful" for his benevolent gesture.
In a bid to cater for all, the Northfield Academy pupil even made sure to stock up on a selection of vegetarian options.
Ryan said: "I did the same thing last year but thought I'd try again and help even more people.
"We managed to get 250 tokens, which was 100 more than last year.
"Handing them out was really cool – and there were a lot of tears from people getting them."
Ryan completed the 100 hours required of the Saltire Awards young volunteers programme by embarking on the project.
David Forbes, Ryan's mentor for the scheme, was at his side as he toured Aberdeen handing out the tokens on Saturday.
He explained that the teenager has worked with his charity, Future Choices, for more than two years.
Mr Forbes added: "His dedication has been astonishing.
"For a 13-year-old to be so involved in the local community is utterly amazing.
"He's done some brilliant work with disabled people through working with Future Choices, and decided to help homeless people.
"Emotions were very high on Saturday, for both members of the homeless community and for me – I was very proud.
"Young people often get bad press, but Ryan is changing that with his volunteer work."
Ryan was 11 when he started helping out at Future Choices, which lays on social activities for disabled people in the city.
Last year he was awarded a Saltire Ascent certificate, which recognised his 50 hours of volunteering with the charity.
Ryan was inspired to help out at Future Choices by his brother, Lewis, who also undertook work there.
He added: "I wanted to do something to help vulnerable people, and I think it's important for young people to do charity work."