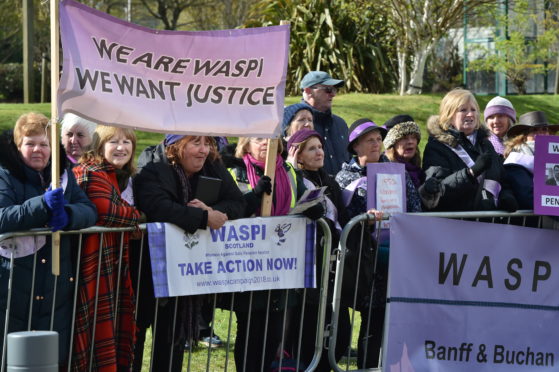 A group of women protesting problems with their pensions said they were left "disgusted" after a Scottish Conservative conference attendee allegedly told them they should be dead by now, before laughing and blowing kisses at them.
About 20 women from the Women Against State Pension Inequality (Waspi) group attended a protest outside the Tory conference at Aberdeen's exhibition and conference centre on Friday.
The ladies, from Aberdeen, Aberdeenshire, Glasgow, Banff and Buchan, wanted to highlight the plight of women born in the 1950s who they argue have been left at a disadvantage by changes to the state pension age.
But one man who attended the conference is alleged to have told them he thought their real issue was that they were "living too long".
Elizabeth Allen, a member of the Aberdeen and Aberdeenshire group, from Banchory, said: "We were asking passersby to support the Waspi women, and he turned around and told us that the problem was we are living too long, before he walked away into the AECC, laughing at us and blowing kisses.
"We were just absolutely disgusted. We were there being completely peaceful, and just trying to get our point across that all of these women all across the country aren't getting their pension that they deserve.
"We have no idea who he is, but we do know that he was able to enter the conference.
"It probably won't narrow it down, but he was in his 40s, and had glasses and a briefcase with a blue suit."
She added: "What we really want to do is find out who this man was and have a sit down, face-to-face conversation with him.
"We want a chance to have a frank discussion with this gentlemen and show him what it's like to be a Waspi woman."
Linda Rae, another member of the north-east's group, added: "We've been treated badly enough with our pensions being taken away from us, and then for someone to turn around and say we should be dead by now is really just below the belt."
A Scottish Conservative spokesman said: "The women conducted themselves in a respectful manner and made their voices heard.
"Many of our MPs and MSPs went out to speak with the group and listen to their concerns, including Banff and Buchan MP David Duguid.
"We are not aware of any specific complaints of this nature but, clearly, the comments described are totally unacceptable."