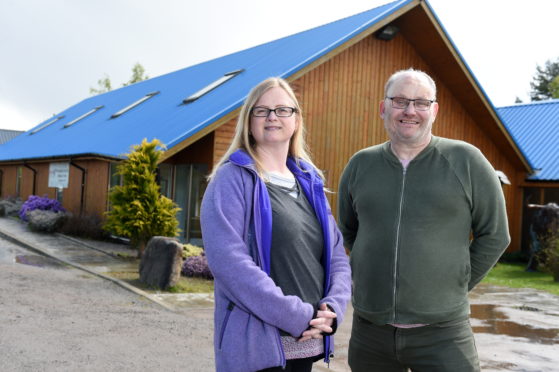 An Aberdeen charity is to expand into the countryside by opening its own auction house.
Smile Scotland has taken over the former Blue Roof Gallery in Oyne with plans to hold monthly sales of antiques, collectables and other curios.
The charity launched in 2015 and runs a shop selling restored furniture and other rare finds on Broomhill Road.
It is hoped the second base in Aberdeenshire, due to open next month, will further fund its work providing training and education to help people back into employment.
Chairwoman Angela Allan said: "This is a really exciting time for us.
"It's mainly going to be an auction house but we'd like to be able to do a few local craft fairs or hold events for local businesses and artists.
"We want to encourage people who might not normally go to an auction but might for some sort of sale."
She added: "This will give us another outlet for our clients, especially for people who might not want or be able to travel into the city every day.
"It might be that they feel more comfortable coming to a wee village in Aberdeenshire instead. But they'll still get the same opportunities for teamwork and interacting with customers."
Smile Scotland has regularly been involved in auctions since its inception four years ago.
Volunteers regularly place bids at sales across the country looking for pieces which could be restored and re-sold in Aberdeen.
The charity has also hosted a number of its own auctions, including one specialising in rare automotive memorabilia which made more than £4,000 last June.
Mrs Allan said: "We've done one or two before and certainly we get out and take part in them.
"But we're planning for them to be more regular now than the ad-hoc ones before.
"We're hoping to have the auctions monthly for general items, then to have any speciality auctions in between."
Smile Scotland Auction House and Sales Room will host its first event on June 1, with a catalogue of items currently being compiled to go under the hammer.