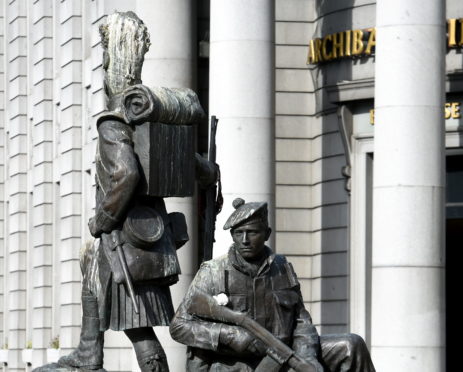 Council bosses have confirmed they will carry out another clean of a beloved city statue desecrated by bird droppings.
The Gordon Highlanders monument was unveiled by Prince Charles, the last colonel-in-chief of the historic regiment, at the Castlegate in 2011.
But as well as proving popular with tourists and history buffs, the city's gull population has also made many visits – and left their droppings over it.
In September, the council applied a gel to the statue to deter the birds following a wave of complaints about the mess.
But the problem has continued, prompting fresh concerns about the impression it will give as tourist season approaches.
Now the council has confirmed the statue will be cleaned again, with fresh gel applied.
It is understood that it is not just the stain from the mess itself that is causing damage, but also the acidic "bleaching" effect that comes from the guano.
Diane Duncan, who works at the VSA bookshop on the Castlegate, said she feared tourists would be given a bad impression.
She said: "The statue in the Castlegate is in such a state, surely it could be washed down or some solution found to stop the bird mess clinging to it.
"I volunteer at the VSA bookshop and we get a lot of tourists in at this time of the year, pointing out the statue to them is embarrassing when it's in such a mess."
A council spokesman said: "Gel has been applied to the Gordon Highlanders' statue and will be reapplied following a cleaning of the statue scheduled to take place before the end of the month.
"The cleaning of other city statues will take place as and when resources allow".
Local councillor Michael Hutchison, an army reservist, said: "It's important to strike a balance between cleaning our city's statues and making sure that we don't damage them.
"This city should be proud of its association with the Gordon Highlanders and I hope that proper care of this statue will mean that it can take pride of place in the city centre for generations to come."