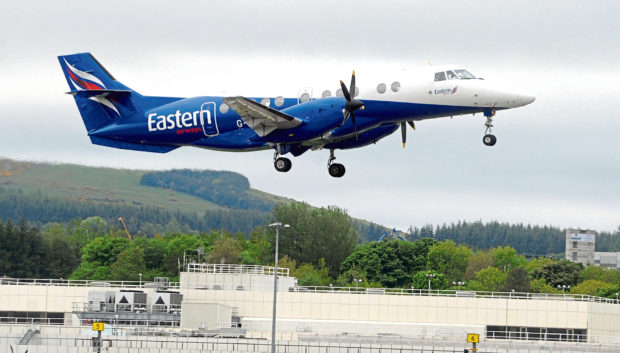 A boss at a major UK airline has called for a "level playing field" between Aberdeen and Inverness airports following a major government U-turn this week.
The Scottish Government had planned to slash and eventually scrap Airport Departure Tax (ADP) to boost flight numbers and the country's tourism industry.
However it has now abandoned the £150million tax break proposals after environmental concerns around the target to achieve zero greenhouse gas emissions by 2045.
But Inverness airport will continue to enjoy a subsidy as they often fly to smaller island communities.
Last night Roger Hage, Eastern Airways' general manager commercial and operations, said there shouldn't be a two-tier system between the airport and more major ones like Aberdeen.
He said:  "We do not agree that an exemption should be made for the Highlands and Islands, which includes Inverness, as this distorts regional airport and route competition.
"The Highlands and Islands already benefits from the ADS (Air Discount Scheme) mechanism to support those living in peripheral regions who rely on air connectivity which we whole-heartedly support.
"While Highlands and Islands Airports, which operate airports on behalf of the Scottish Government, are also a publicly subsidised body to provide the infrastructure, any further subsidy would create a convoluted mix of PSO (Public Service Obligation) funding for specific routes, ADS, APD exemptions and airport operator subsidy.
"Any approach to encourage regional connectivity needs to focus on the key hub airports, such as Aberdeen, alongside the Highlands and Islands network to encourage accessibility and economic prosperity throughout Scotland on a level financial playing field so any benefit is applicable throughout Scotland."
But communities have argued the subsidy should be kept, stressing that flying is the only mode of transport for some remote communities.
Fiona Thomson, of Scottish Rural Action, said: "People living and working in rural and island parts of Scotland rely on air travel.
"Access to services, which many people on mainland Scotland take for granted, can be complex and prohibitively expensive for Scots living in more remote communities."
A Scottish Government spokesman said: "We agree with the importance of the Highlands and Islands exemption, which supports lifeline services, and will continue to work with the UK Government to find a solution to the issue relating to the exemption and devolution of the power over Air Departure Tax."