The lively atmosphere at a fashion show fundraiser gave way for a poignant moment as a group of men bonded by their experience of fighting cancer paid tribute to the "brothers" who could not be part of the night.
Brave, which took place at the Beach Ballroom in Aberdeen, kicked off a weekend of catwalk events designed to generate cash for the Friends of Anchor charity – and send a message of hope to people affected by the disease.
As the curtain fell, organisers announced that it had raised a record £133,000.
Usually 24 men take part, but tragedy befell this year's Brave last month when Pitmedden 64-year-old George Peck died in the midst of preparations.
And terminally ill Angus Mackie, from Inverurie, could not participate when his health suddenly took a turn for the worse yesterday morning.
But the 83-year-old was taken to the venue in an ambulance on his way to Aberdeen Royal Infirmary to wish his newfound friends the best for the night.
Peterhead model, John Stephen, said the emotional visit "brought home" the serious side of the otherwise upbeat fashion fundraiser, which celebrates the positive attitude of those affected by cancer and shows that it should no longer be considered a "death sentence".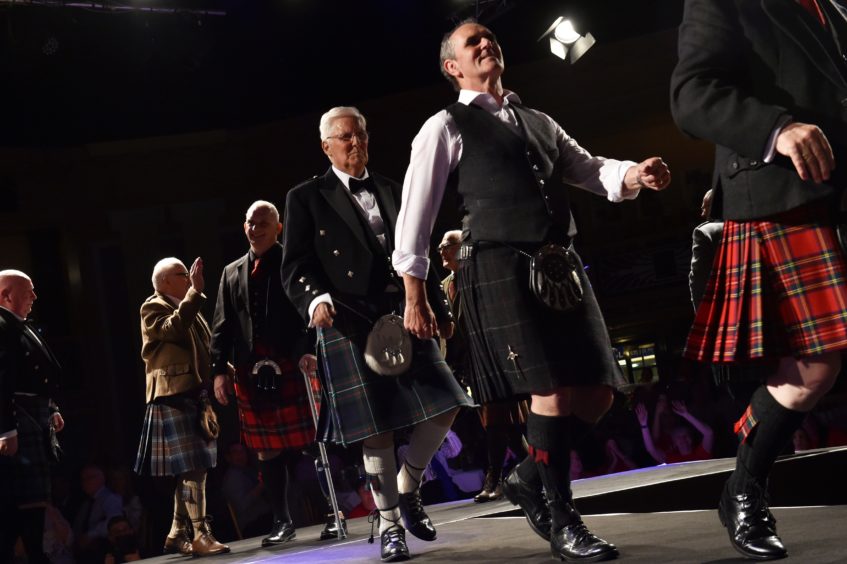 The event is now in its third year and the crew paraded down the catwalk three times, in casual wear and suits before donning kilts for the grand finale, during afternoon and evening performances.
While the 22 models packed into a beachfront cafe to build up their strength with a hearty meal before the second show, about 80 volunteers in matching red t-shirts flitted about the ballroom making final preparations.
A masseuse offered to soothe any aches and pains after the men arrived, and they exchanged friendly banter as they got into costume while enjoying the odd swig of beer.
They joined together in a loud cheer of "brave" before filing into the main hall and dancing their way down the catwalk to a live performance of Robbie Williams song Let Me Entertain You.
One of the biggest cheers of the night was for Aberdeen man Gordon Lawrence – who lost a leg to cancer and hobbled determinedly down the catwalk on his new prosthetic.
The men then returned to the stage to raise a dram in toast to Mr Peck and Mr Mackie, and the hundreds in attendance echoed back the words "to George and to Angus".
Mr Stephen, 72, was forced into retirement from his career painting lorries and buses in December when he was diagnosed with leukaemia.
His daughter, Dianne Beagrie, noticed that he had developed a grey pallor – but he had attributed it to "bloodlessness" and thought his tiredness was merely a result of his age.
The grandfather ended up spending the first three months of the year in hospital, before learning that he had entered remission.
Laurencekirk 58-year-old, Steven Moir, considered himself lucky to be able to take part.
He had returned from a holiday in Canada in 2016 when he began noticing symptoms – but thought he had perhaps injured himself playing badminton.
Mr Moir, who works for oil firm Altis Intervention, later discovered he had "a tumour almost the full size of his kidney".
He had the affected organ removed, but more tumours were detected on his lung and he underwent pioneering new treatment, paid for privately, in Manchester.
After eight months, doctors found that another tumour had grown between his right kidney and bladder, and he began taking another drug in January.
He learned that the tumour in his lung had reduced in March but remains on the treatment, and is "hopeful" that it will continue to work.
Sarah-Jane Hogg, fundraising and development director for Friends of Anchor, said the "astounding" sum raised showed how the models "have captured the hearts of so many with their bravery and determination".
She added: "There were many poignant moments and it was hard to see our model line-up down to 22 with Angus taken to hospital – not before he asked the ambulance to make a pit stop at the Beach Ballroom to see his fellow Brave brothers.
"Both Angus and George were in our hearts and minds as we raised a toast to them."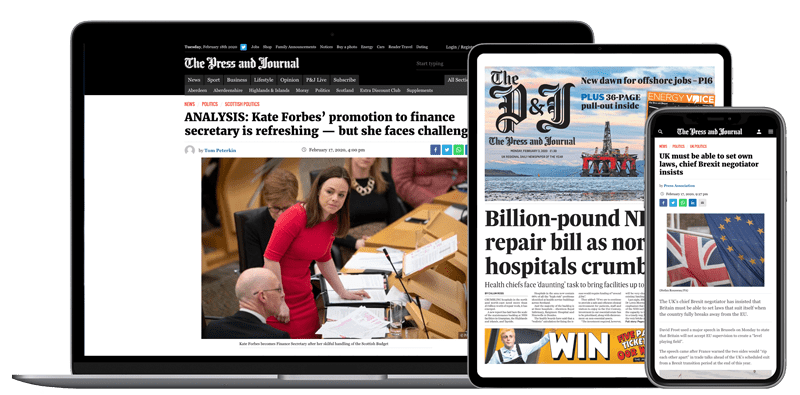 Help support quality local journalism … become a digital subscriber to The Press and Journal
For as little as £5.99 a month you can access all of our content, including Premium articles.
Subscribe