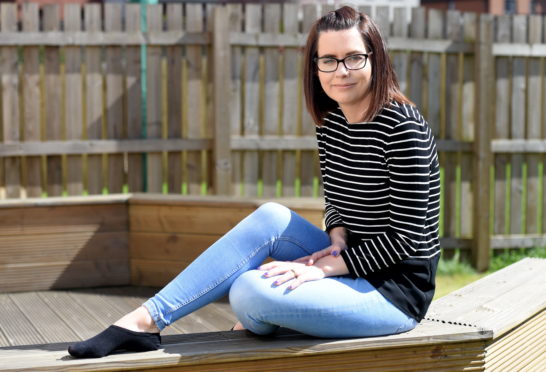 Even when she was seven, Kerry Fettes took drastic action to avoid eating – throwing meals out the window and drinking salt water to make herself sick.
But it wasn't until she was 30 that doctors told her she had anorexia – a diagnosis she was completely shocked by, and which threw her into a spiral of depression.
Now 33, Mrs Fettes has decided to speak out to let more people understand the condition so they can identify it in themselves or those they love.
According to Mental Health Foundation Scotland, more than half of all Scottish adults said they have felt anxious because of concerns about how others, and themselves, see their bodies.
The organisation also found that body image issues impact women in particular, with one in 10 women reporting they have "deliberately hurt themselves" as a result.
Mrs Fettes, who lives with her husband and two children in Cove, Aberdeen, can now see that her struggle with anorexia began when she was very young.
But she admits that she was shocked when doctors diagnosed her three years ago.
"I just didn't believe it when I was first told by the doctor," she said.
"I initially went in with depression, as I was really struggling.
"My weight at that time was just under seven stone, but I couldn't see that myself in the mirror.
"I was terrified of putting on any weight, and it really was a constant battle.
"I was really ill mentally. My hair was falling out, I couldn't concentrate on anything, and I was very agitated almost all the time."
Looking back she can see that as a youngster there were a number of signs that went unnoticed, largely due to a lack of awareness and information at the time.
She added: "For my parents, it wasn't really something that was widely heard of when I was a youngster.
"But I think now, they wish they would have been able to spot some of the symptoms I showed when I was younger, but there just wasn't enough guidance.
"I was reluctant to eat, and I initially threw food in the bin, then I tried to throw it out the window, but then I resorted to at times hiding it behind the fridge.
"I would drink salt water in order to make myself sick, so I wouldn't have to go to school. There were all sorts of things going on, but as a parent with no understanding of that, it's very difficult to identify what's wrong."
As part of this year's awareness week, the Mental Health Foundation Scotland is demanding reform for adverts and social media posts that project harmful attitudes towards body image.
The foundation found that one in six of all Scottish adults, and more than a third of those aged 18-24 said that images on social media caused them to worry about how they look to others.
Mrs Fettes said that the advent of modern technology and the internet has created even more body image pitfalls.
She added: "When I was younger you didn't have the same access to things like the internet and things like airbrushed images of these impossible people, so for me it was comparing myself to other people around me.
"The slightest remarks that people said to me would just get stuck in my head, for example if someone said I had a fat bum, I would just focus on that and other negative things and I would start thinking I'll need to do certain actions to rectify that.
"I try to explain to my daughter that the people she's seeing on TV just don't look like that in real life, they only look like that because of flattering camera angles, or extravagant makeup or special effects.
"Even now as an adult, where I'm aware of it, I still catch myself comparing to people like that and thinking I wish I could look like that.
"Because I'm trying to identify things at an early age, I tell my daughter that she doesn't need to look like anybody else, because she's beautiful the way she is.
"But I think everybody has that within them – that they want to have hair like other people, or have a figure like someone else.
"It's so important to help your children understand they don't need to be like other people to be accepted."
Mrs Fettes said since her diagnosis, she has been able to move on with her life while still acknowledging the realities of anorexia.
She added: "My mindset now is now better than when I was 30 because I'm able to identify problems, but health-wise I'm obviously still going through recovery at the moment – but I would much rather be going through recovery than be stuck in denial."
If you are struggling with mental health issues or want to find out more, visit www.mentalhealth.org.uk or call The Samaritans on 116 123.