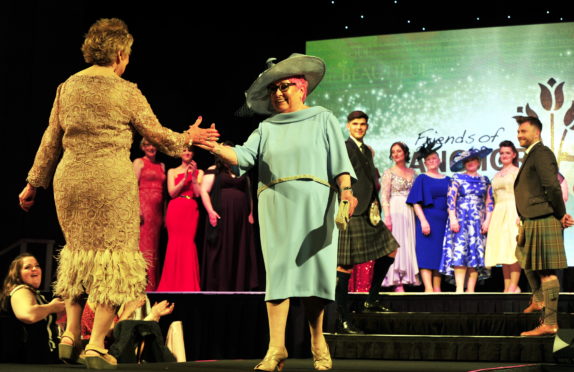 Aberdeen's Beach Ballroom resounded with applause for the fearless models who took to the stage during the weekend, as hundreds of people saluted their efforts at Courage on the Catwalk.
The sell-out, two-day event, comprised of three shows on Saturday and Sunday is one of the biggest fundraisers for Friends of Anchor who are currently raising cash for a new Anchor centre which is scheduled to open its doors in 2021.
Hundreds of guests enjoyed afternoon tea and cheered on the 22 catwalk models who have all experienced – or are still fighting  – their own personal cancer battle.
A throng of spectators were there to support NHS Grampian administrator Nicola Ross, who was nominated to take part by her daughter's dance teacher.
The 48-year-old from Bridge of Don spent six months in hospital with Hodgkin's lymphoma and, at one point, was in a back brace and wheelchair after her gruelling treatment left her with two collapsed vertebrae.
However, almost two years after going into remission and as her friends and family shouted encouragement, she took to the stage and "grabbed her identity back".
Mrs Ross said later: "Cancer takes away your identity – when I lost my hair, I lost my identity too.
"I had lost my confidence – I wanted to find 'me' again – but it has been really hard both emotionally and psychologically and losing my hair was particularly hard.
"But this has been such an amazing experience. It has been the best thing ever – better than my wedding day.
"I'm so glad I took part and I would definitely recommend anyone else to do it next year. I have made so many new friends – it has been magic."
Looking on proudly was Nicola's sister Kerry Milne who said watching the show had been "very emotional", but had been exciting for everybody involved.
She added: "It has been fabulous – this is the first time I have been to anything like this and it is just brilliant. We are so proud of her."
The shows raised an incredible sum for the Anchor Centre which, when built, will be the first of its kind in Scotland.
The outpatient facility will bring together oncology and haematology patients, including those with non-malignant blood disorders.
Also strutting her stuff was 70-year-old Jean Milne who said she would thoroughly recommend anyone to take part next year if nominated.
She said: "I am not often speechless, but it has been one of the best things I have ever done and it is better than any medication.
"I have made so many new buddies. I think I am the oldest, but we had someone as young as 17,  so there are no limits.
"If anyone is thinking about taking part next year, I would say: nominate, participate – and celebrate.
"That's what we are doing here and it has been superb. I'm absolutely buzzing."
Sarah-Jane Hogg, fundraising and development director for Friends of Anchor said the amount raised was "amazing" and expressed her gratitude to the "great sponsors" they have assembled.
She said: "The ladies have loved it too. Their friends and family will have seen them at their lowest ebb when they were ill – and to now see them take to the catwalk with such confidence and looking beautiful must give them all an enormous boost.
"I would like to thank especially Cnooc Ltd, Norse and Apache – they ensure that every penny given goes straight to Anchor."