The UK's highest temperatures were recorded in the north-east and Highlands yesterday, a feat forecasters admitted was "unusual".
Kinlochewe in Wester Ross recorded the UK's highest temperate of the day, at 23.7 degrees.
It was accompanied by 23.3 degree readings in both Aviemore and Drumnadrochit, while in Auchengatt in Aberdeenshire, temperatures touched 23.1 degrees, the fourth highest recorded.
Forecasters have promised that warm air from the Mediterranean will ensure clear skies across much of the north-east and Highlands for the next couple of days, before rain makes an unwelcome return.
Marco Petagna, from the Met Office, said: "Usually we would record the highest temperatures in the south of the country, but winds have been blowing the warm weather up – resulting in higher temperatures in the north west Highlands in particular.
"After yesterday's warmth, today will be similarly fine, with temperatures of 24 degrees expected and plenty of sunshine.
"Things will start cooling down by Thursday and one or two showers could occur.
"And as the week continues, Aberdeen and other areas on the east coast will experience some colder weather. The region will see some rain on Saturday."
Across the north-east and Highlands yesterday, people enjoyed the warm weather, making the most of local ice cream parlours and beaches.
Lorraine Dean, from Elgin, hoped that the good weather at Hopeman beach would help her feel better.
She said: "I've been poorly and have now came out to Hopeman to get some sun and stretch my neck.
"I love Hopeman, as I came here as a child with my dad and unlike in Elgin, I don't get attacked by seagulls here."
Becky Haggerty, at the Aviemore branch of Highland ice cream favourite Miele's Gelateria, said the warm weather had resulted in a boost in sales.
She said: "The weather is just great. We've had people queuing to the door.
And Aunty Betty's in Stonehaven reported a similar busy day, noting that their Scottish Tablet flavour proved to be the most popular.
In Aberdeen, staff at consulting company RSM UK took advantage of the sun for Mental Health Awareness week, with workers coming together for a lunchtime walk culminating in an ice cream.
The @RSMUK Aberdeen office making the most of the nice weather with a lunchtime walk and ice cream as part of the week long activities for Mental Health Awareness Week #MentalHealthAwarnessWeek #EmpowerHalfHour #RSMUK #Aberdeen pic.twitter.com/Jt1GQGAVgQ

— Hannah Bycroft (@Bycroft_93) May 14, 2019
Yesterday's high temperatures came just a week after the mercury dipped to -6 in the Highlands, with similarly overcast and chilly days in Aberdeen.
Mr Petagna said: "Despite the warm days, there still have been some very frosty nights across the region.
"Last week temperatures dropped below zero in the Highlands – which is hard to imagine given the weather this week.
"But at least for the next few days – people will still be able to enjoy their ice cream, before the temperatures drop."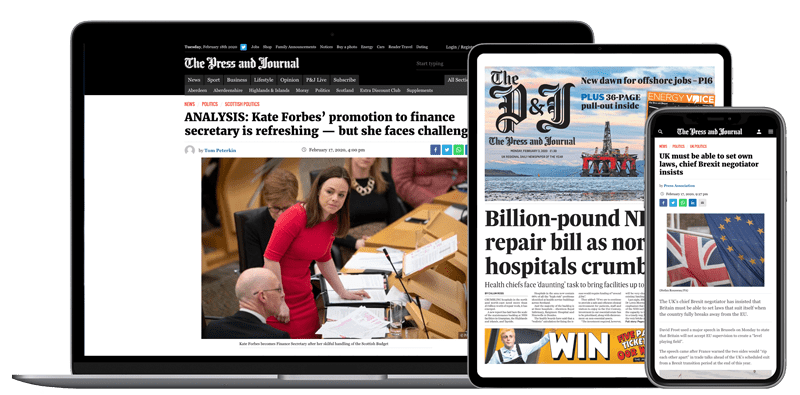 Help support quality local journalism … become a digital subscriber to The Press and Journal
For as little as £5.99 a month you can access all of our content, including Premium articles.
Subscribe