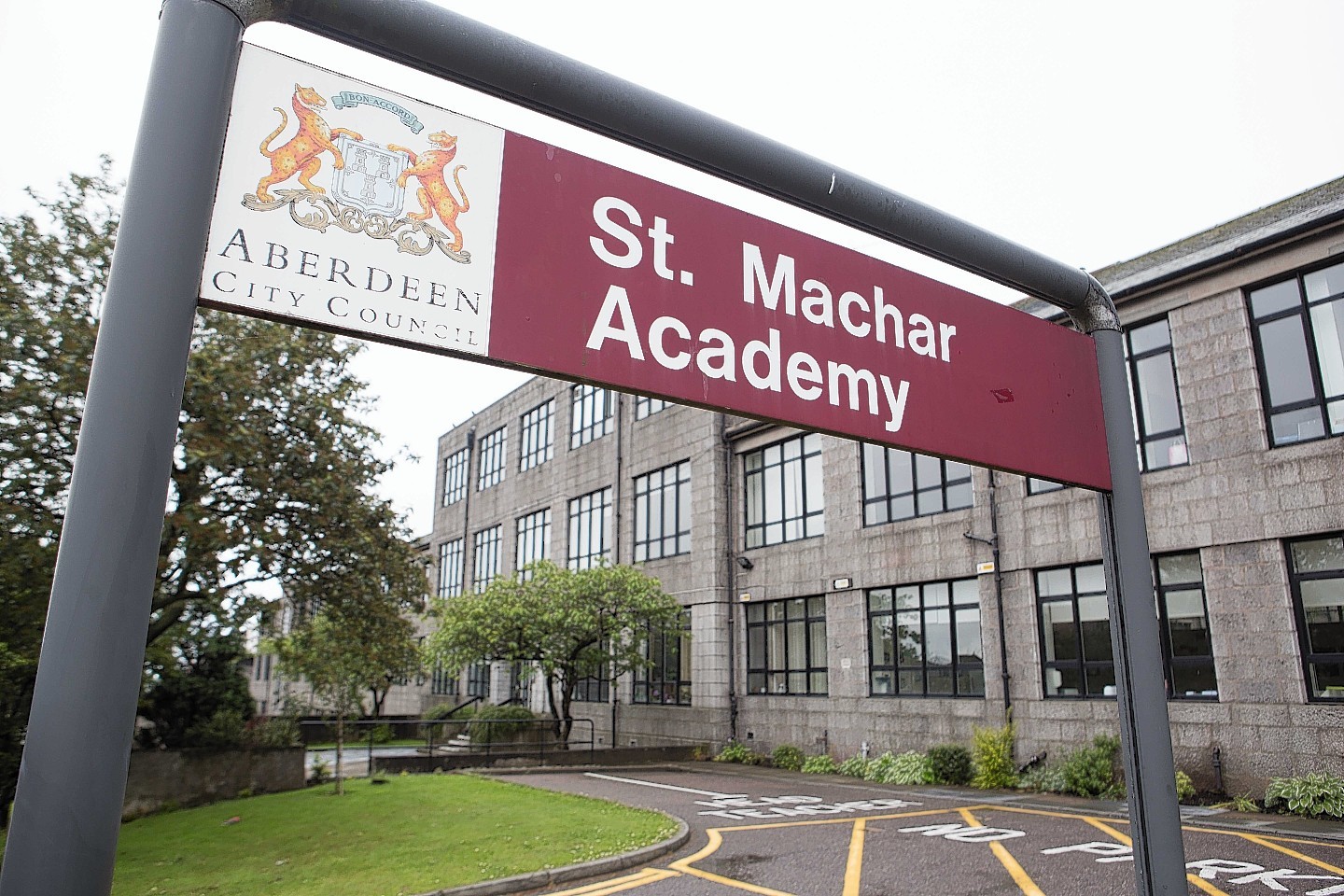 Police are investigating claims a pupil at an Aberdeen secondary school had a knife in the classroom.
The alleged incident took place in St Machar Academy in Aberdeen on Friday, May 3.
The Press and Journal understands a pupil reported that a classmate had a blade, believed to have been a small pen knife, but it has not been found.
It is also understood the young teenager is being investigated for vandalising a desk.
Nobody was injured. It is believed the teen was sent home but allowed to return the following Monday.
Last night, one shocked mum accused the school of not being open with parents.
She claimed she was not informed about the incident, and only found out from a friend whose child had told them about it.
She said: "This is a really serious issue. As a parent I would have liked to have been told but they said nothing.
"It was only because this was mentioned to me and I then spoke to their friend's mum.
"I just assumed that, while there's not a lot of incidents like this in Aberdeen, given a pupil was stabbed to death in school a few years ago, it would be taken more seriously.
"I called repeatedly to find out more from the school and eventually got an e-mail back from the deputy head a week later – I went back to them with more questions and I haven't heard anything since."
A spokeswoman for Aberdeen City Council said the incident had been investigated thoroughly, and police contacted as per protocol.
She said: "Reports of a weapon being brought into a school classroom on Friday, May 3 were investigated by staff and no knife was found. However, due process was followed, and the police contacted."
Inspector Stephen Robertson said: "We can confirm a report was made to police of a pupil in possession of a small knife on May 3.
"We are working closely with the school and inquiries are ongoing."
Schools across the region have been on high alert for pupils carrying weapons since the tragic death of 16-year-old Bailey Gwynne in October 2015.
The Cults Academy pupil was stabbed to death by a classmate over a fight involving a biscuit during his lunch break.
In September last year, the P&J revealed more north-east schoolchildren were found with blades than in any other part of the country during 2017-18.
An anti-knife campaigner has praised the work done in Scotland to tackle knives but says people cannot be complacent.
The Ben Kinsella Trust was set up in memory of a 16-year-old tragically stabbed to death in London in 2008.
Last night, chairman Patrick Green said: "Any allegation of knife carrying in a school will be deeply concerning for parents, teachers and pupils alike.
"While progress has been made across Scotland to tackle this problem, it is important that everyone remains vigilant.
"Prevention and early intervention programmes play a big part in addressing the factors that influence knife carrying.
"It is important that we continue to use these programmes in schools to help young people make better choices to keep each other safe. One incident is one too many, so we must ensure that we are doing all we need to do to stop this problem."