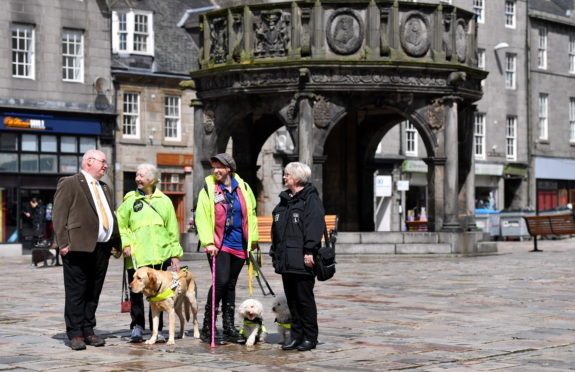 Aberdeen disability groups have revealed the thought of crossing the city's historic Castlegate fills them with "dread".
Campaigners for better access for those with disabilities and visual impairments took to the Mercat Cross yesterday to voice their concerns about the uneven surface.
Many of the large granite flagstones have come loose as the cement in between them has worn away – and that can leave walking sticks and wheelchairs stuck in the gaps.
Ells McHaffie, who has muscular condition dystonia, said: "It's always a concern when you go out.
"You think 'Oh god I've got to cross the Castlegate'. It fills me with dread.
"I'd like to keep the look because the Mercat Cross has always been surrounded by the flagstones.
"They are very pretty when they are clean but I would like it if they were re-grouted just to make it safe for everybody.
"I have avoided a few events here because it's especially hazardous when it's crowded," the Rosehill resident added.
Last week, Aberdeen City councillors voted to install a pedestrian crossing on the newly part-pedestrianised Broad Street.
A year after its £3.2 million revamp councillors ruled concerns about safety in the bus-only street should be listened to.
Now, those campaigners want action at the Castlegate too.
Chairwoman of Guide Dogs Aberdeen, Mary Rasmussen, said: "We need a smoother surface.
"The council would need to start by making sure there weren't these great crevices between the stones."
The Broomhill-based glaucoma sufferer continued: "I know they're beautiful – I'm old enough to remember when the whole of Aberdeen was completely paved in these beautiful granite sets – but they really aren't accessible."
George Street and Harbour councillor Dell Henrickson said: "The citadel and the Mercat Cross make for a wonderful setting but they are let down by the setting.
"I'm not looking to replace the flagstones but certainly they could square them off so they fit together better.
"I would like to know when the council will bring forward improvement work here, as it is part of the City Centre Masterplan."
The council's capital convener Marie Boulton said Mr Henrickson's SNP group made no mention of the Castlegate when setting out its recent budget.
She said: "All groups had the chance to include specific items in our recent budgets.
"Councillor Henrickson's SNP made no mention of the Castlegate area in their budget."
And she added: "We would love to be able to address many things in the city but our current funding levels from the Scottish Government restricts our opportunity to do many things we would like to."