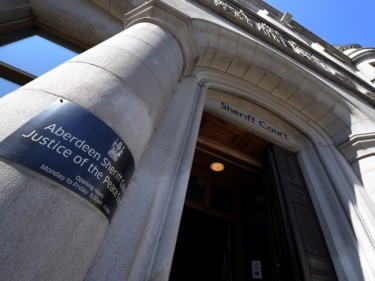 A north-east man has been put on the sex offenders register after carrying out a campaign of abuse against a woman, which included threatening to chain her up and throw acid on her.
Aberdeen Sheriff Court yesterday heard that Christopher Jamieson, 33, made the threats in a string of offensive text messages last year.
Fiscal, Rebecca Clark, said: "Sometime in November or December, the woman received a message from the accused in which he threatened to break into her home, chain her up and throw acid on her."
The court heard that the shaken female pleaded for Jamieson to leave her alone or she would contact the police.
Ms Clarke said the accused replied to that message by threatening to "stick nude photos of the woman online and see what people say".
He sent a further message acknowledging that such an act would be "nasty", but said it was "what she deserved".
In February, he sent more threatening text messages along with an indecent image.
Jamieson was later arrested and pleaded guilty to behaving in a threatening manner, sending a sexual image and threatening to publish indecent photos of the woman online without consent.
Defence agent, Ian Hardie, described the "outburst" of messages as "entirely inappropriate".
Mr Hardie added that Jamieson's subsequent actions were meant to "humiliate and alarm" the woman, but that his client "received no sexual gratification" from them.
The court heard that, when being questioned by police, Jamieson had stressed to officers that he never meant to actually carry out any of his threats.
Sheriff Raymond McMenamin deferred sentence to obtain reports and put Jamieson on the sex offenders register.
He said: "It is not easy to listen to this and be anything other than concerned.
"Due to the nature of the offences, bail would be inappropriate."
Jamieson, who appeared on remand from HMP Grampian, will remain behind bars until his next appearance in the dock in June.