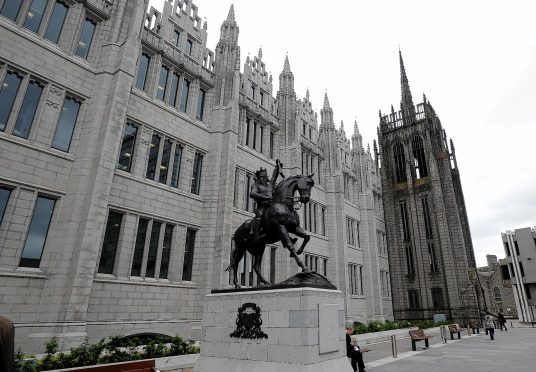 A homeless man threatened council staff with a knife and knuckleduster in a desperate attempt to get a roof over his head.
Jason Liddel went to Aberdeen City Council's headquarters on Broad Street on Wednesday, April 24, seeking emergency accommodation.
But Aberdeen Sheriff Court heard yesterday that he "got into difficulty" during the process and warned staff that he had a knuckleduster in his trouser pocket and a knife in his bag after losing his temper.
Police were called to the building and removed the weapons from Liddel, whose address was given as Muggiemuss Road.
The 29-year-old's defence agent, Ian Woodward-Nutt, said his client had spent "extended periods" homeless in the weeks preceding the crime.
He added: "He was getting nowhere, and manufactured the situation.
"He had a kitchen knife and had a friend pass him knuckledusters, but at no point did he take them out or brandish them.
"He accepts he rather foolishly contrived the situation."
Liddel later pleaded guilty to having the items in a public place "without reasonable excuse".
Sheriff Raymond McMenamin ordered the accused to perform 150 hours of unpaid work in six months, and placed him under supervision for a year.
He said: "I can understand your frustration and annoyance at not getting the accommodation, but this was the wrong way to go about it.
"The court takes a serious view of people who go out with items such as kitchen knives and knuckledusters – people usually take them out to commit serious harm.
"But your situation is different so I will not send you to prison, but this is not a soft option.
"If you don't comply with your punishment, you will likely go to prison."