A businessman had a "lucky escape" when he emerged unscathed after being pinned between a toppled lorry and a steel fence following an early morning delivery mishap in Aberdeen.
A health and safety investigation has now been launched into the incident, which took place outside the Mathieson Engineering Ltd site on Cotton Street at about 8.15am yesterday.
It is believed the man pinned to the fencing was the owner of the business, Graeme Mathieson, and the 38-year-old was reported not to have suffered any major injuries.
Mr Mathieson was freed from his predicament by one of his quick-thinking employees, who ran to fetch a tool to cut the metal fencing and enable his swift exit.
Workers at neighbouring industrial units could hear screams coming from the scene and said Mr Mathieson had had a "lucky escape".
One worker, who did not want to be named, added: "I didn't see it happen, but I heard him screaming.
"I went to see what was happening and could see it was Graeme and that he was trapped. One of his workers ran to get a steel cutting tool and cut him free.
"He's been up to hospital, but is back and walking around – he seems fine. He's been very lucky."
The lorry involved was from Inverness-based haulage firm R&F Campbell and is believed to have been delivering a fork-lift truck from its flatbed, which has a small crane attached.
The driver yesterday looked on and waited as the two larger cranes needed to right the vehicle were being dispatched.
He conceded that it had not been his "best day" but was relieved there had been no serious injuries.
Emergency services rushed to the scene and a spokeswoman from the Scottish Fire Service said: "A heavy rescue unit was deployed, but was stood down on arrival. A man had been trapped, but he was released prior to our arrival."
Mr Mathieson was checked at the scene for injuries and transferred to Aberdeen Royal Infirmary, but was discharged soon afterwards.
Another anonymous bystander queried how the truck could have managed to topple onto its side and agreed that Mr Mathieson had been "very lucky".
He added: "All I could hear was him screaming."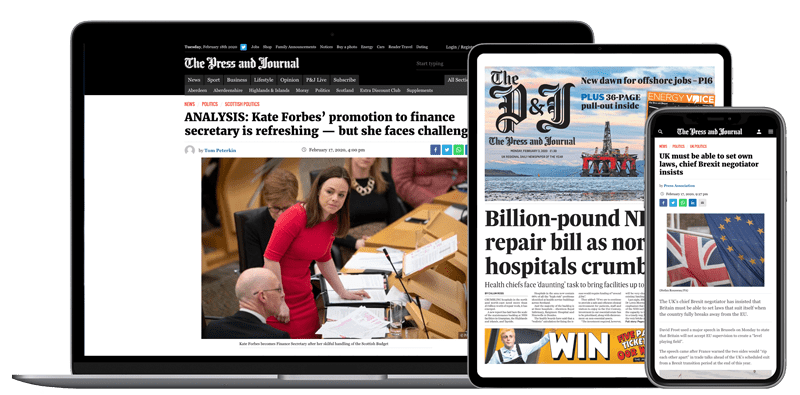 Help support quality local journalism … become a digital subscriber to The Press and Journal
For as little as £5.99 a month you can access all of our content, including Premium articles.
Subscribe