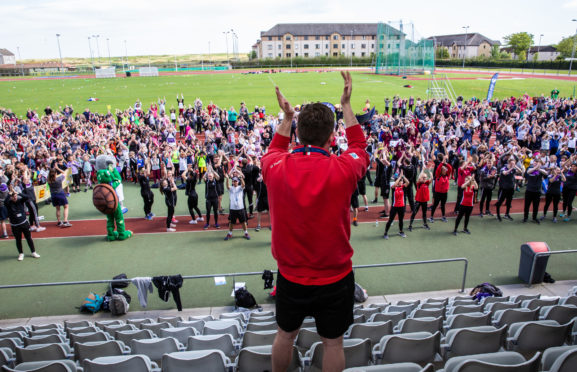 More than 1,500 youngsters were cheered on by world-class sports stars at a special event in the north-east yesterday.
The children celebrated the end of the annual Aberdeen Youth Games by participating in a day of outdoor activities at the city's Sports Village.
Famous sporting names including taekwondo world champion Katrina Carr, Commonwealth table tennis player Colin Dalgleish and snowboarder Douglas Green were also on hand to provide extra encouragement.
The Aberdeen Youth Games was launched in 2013 by Robert Gordon University, Sport Aberdeen, North East Scotland College and The Wood Foundation.
It involves higher education students offering thousands of hours of coaching to youngsters, while encouraging them to get active.
Aberdonian Rachel Corsie, who will captain the national side at the Women's World Cup next month, is one of the ambassadors of the event.
She said: "Sport has been a catalyst for so much of my success.
"It offers us the opportunity to work in teams, build friendships, de-stress from our studies and it has the potential to open the door to possibilities that we may have never thought possible.
"I feel privileged to be an ambassador for the Aberdeen Youth Games and I cannot wait to watch the next generation of sporting athletes thrive and push boundaries."