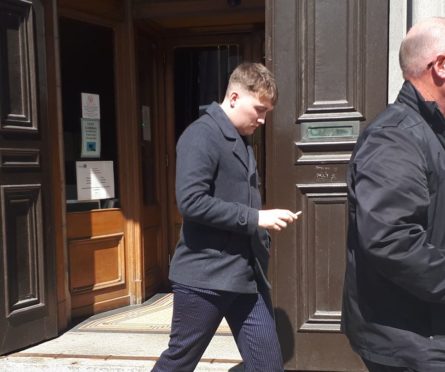 A north-east man was "lucky to escape with his life" after driving four times over the limit on Boxing Day.
Daniel Watt, 21, crashed on the A96 Inverurie to Pitcaple road after drinking to excess last Christmas.
Appearing at Aberdeen Sheriff Court yesterday, he pleaded guilty to driving while four times over the limit.
Fiscal depute Felicity Merson told the court: "At 9pm on December 25, 2018, the accused left his family home to visit a friend.
"He returned at 3.30am extremely intoxicated and agitated. His mother told him to go to bed, but he took his car keys and left the home."
His worried family subsequently contacted the police, who attended the family home at Westburn Square in Inverurie.
Once officers arrived at the property, a frantic Watt called home to reveal he had been involved in a car accident on the A96 Inverurie to Pitcaple road.
His car – a Vauxhall Corsa Hatchback – was written off in the smash, which took place on the northbound carriageway.
Police attended the crash site, to which an ambulance had also been called, and found Watt with slurred speech, and officers noted "the smell of alcohol on his breath."
Watt was found to have 196 milligrams of alcohol in 50 milligrams of blood: the legal limit is 50mg.
Ms Merson stated that the blood sample was taken from Watt before 7am in the morning and Sheriff Donald Ferguson noted that his reading could have initially been "much higher" closer to the time of the crash.
Watt's defence agent, Gregor Kelly, described the incident as a "sad situation."
He said: "At the time, he was dealing with a number of stresses and mental health issues. This was an act of folly and he was lucky to escape with his life.
"Others he encountered on the road were put in danger, and it is due to good fortune that he didn't cause a serious accident.
Mr Kelly said that while his client had been "drinking heavily" on Christmas Day, he never had any intention to drive.
He added: "The silver lining to this black cloud of a situation is that he has now reconnected with his father after time apart.
"He continues to do well as an apprentice accountant."
Sheriff Ferguson described the incident as "incredibly dangerous" and dished out a fine of £1,350.
He added: "Despite the serious nature of the offence, you didn't try and cover up the crash and sought help straight after."
Watt was also banned from the roads for two years.