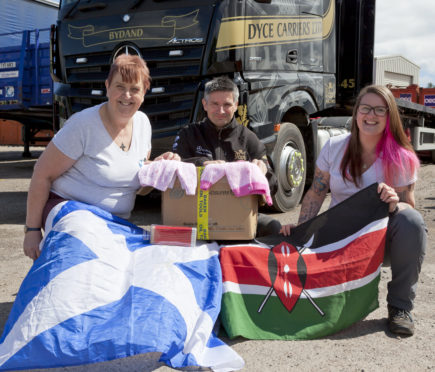 A north-east woman is shipping more than 47 stone of clothes, toys and tools to Africa after completing a massive drive to help struggling children there.
Former North East Scotland College lecturer, Moyra Cowie, has gathered up boxes upon boxes of vital items which are soon to make their way to Kenya.
The crusade was part of a scheme by her charity, Scotland Na Kenya, which she founded in 2016.
Since then it has raised money to send children from an orphanage to school, and helped provide food for youngsters in areas badly affected by droughts.
Ms Cowie recently packed up 25 boxes of clothes, pens, pencils, toys and football kits – weighing more than 300kg altogether.
They are now being taken to Luton by Aberdeen-based haulage firm Dyce Carriers for free, before they are shipped off to their final destination.
Ms Cowie said: "We already had to spend a significant amount getting the boxes shipped to Kenya.
"With Dyce Carriers kindly transporting the donated items to Luton, we can use the money we save to buy more vital items, such as food and schoolbooks, which we can use to support the Kenyan children further."
Dyce Carriers director, Candie Moir, said: "I was born in Zimbabwe, and I feel deeply connected to the African continent.
"Scotland Na Kenya is doing fantastic work providing children with things that we take for granted over here.
"We were more than happy to assist them with the transportation of their boxes and will ensure they make it down to Luton safely and in good time."