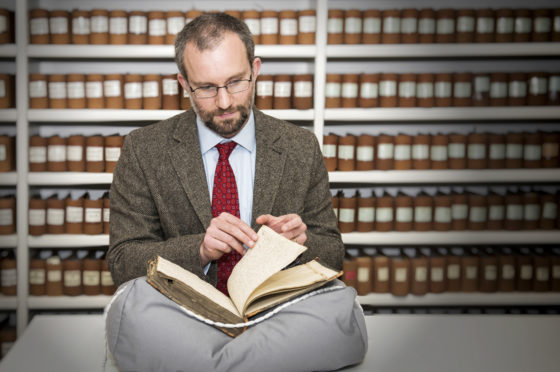 Swashbuckling stories of the seven seas and harrowing tales of the plague are among the incredible north-east archive material made available digitally for the first time.
Researchers at Aberdeen University have been working with archivists at the city council, which holds the records, to painstakingly transcribe more than 1.5 million words from Scots and Latin.
The medieval records, which previously earned UNESCO status because of their historical significance, span the period between 1398 and 1511.
It has taken researchers three years to unpick the complex hand written entries, across eight volumes, which contain details of everyday life in the reigns of Robert III, James I, James II, James III, and James IV.
The records, which amount to more words than the complete works of Shakespeare, will give historians an insight into the global concerns of the world at that time.
They include a letter written by King James V which shows he stepped into a dispute on piracy and details of the first ever recorded ship to sail from Scotland to the New World.
They also give clues about the region's response to outbreaks of plague, including one entry from 1499 that details the setting up of two lines of quarantine.
The first extended around the town, while another stretched from Deeside to the site of modern day Huntly.
The project was led by Jackson Armstrong, a senior lecturer in history at the university.
Mr Armstrong said: "The early council registers are an important cultural asset providing a great insight into Scottish history and language.
"They are so significant that in 2013 they were recognised by the UK national commission for UNESCO, a body of the United Nations responsible for the protection of the world's cultural heritage.
"This important collection of material will now be much more accessible to others investigating medieval and renaissance life," he added.
"The registers are a local archive but they stand for all of Scotland in this period.
"What survives from Aberdeen alone before 1500 comprises more than that of all other Scottish towns combined."
The team has not translated the Latin or Scots text into modern English, because of the challenges this poses in terms of interpreting old languages.
But Mr Armstrong said there are a number of possible and creative ways to interpret the material in the future, with a view of making it accessible to wider audiences.
"We have made huge progress in understanding the Burgh Records but this is far from the end of the story," he added.
"It will be fascinating to see how others beyond Aberdeen are able to work with this wonderful resource."
The research was jointly funded by the city council, the Leverhulme Trust, and the Research Institute of Irish and Scottish Studies.
The website for the Aberdeen Registers Online: 1398-1511 can be accessed at www.abdn.ac.uk/aro.