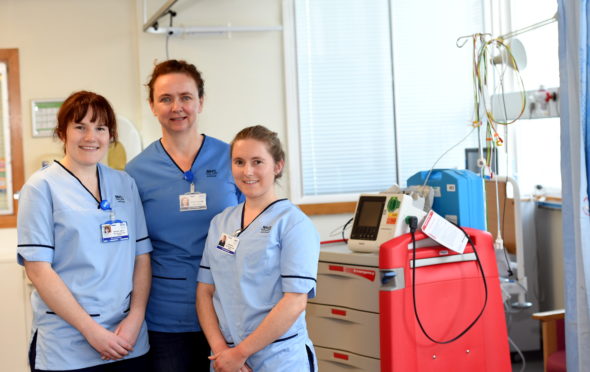 A group of Australian nurses, who have jetted across the world to help ease the vacancy crisis in north-east hospitals, have praised the support they have received in their new surroundings.
NHS Grampian has so far managed to recruit 90 nurses and midwives from Down Under, after partnering up with Western Australian health bosses who have a huge surplus of newly-qualified medics.
Senior Grampian nurses made two trips to Perth where they appealed to graduates to come to the north-east and ensure their skills were not wasted.
The health board has also been successful in lobbying the Nursing and Midwifery Council (NMC) to relax rules for migrants – which means they no longer require to have a year's experience on top of university qualifications to sit the NMC exams.
Several of the Australian nurses have already started work in the north-east, with some passed their exams and others waiting to hear back.
Bridget Smith, originally from Adelaide in southern Australia, learned she had qualified with the NMC just days ago.
The 24-year-old, who is currently working in accident and emergency at the Aberdeen Royal Infirmary, arrived in the region for the first time at the end of April.
She said: "I just passed my exams and I am over the moon.
"I came over for the culture, the travel and the experience. I didn't want to be one of those people who was saying 'I wished I'd done that' in a few years.
"It was the right time for me to do it. I had a couple of years' experience under my belt."
For intensive care nurse Arran Kelly, meanwhile, the opportunity was a chance to return home after emigrating from Scotland aged eight.
The 24-year-old, who moved from Falkirk to Perth as a child, said: "I didn't get much chance to experience Scotland because I was so young when I left.
"I have absolutely loved it so far. I can't believe how easy it has been to fit back in.
"My mum thinks I'm crazy because she loves the warmer weather, but I missed the cold and the snow."
And the trip was also a return for Tracey Sanders, 52, who moved back to the UK after 16 years in Perth along with her 20-year-old son.
Ms Sanders, who is originally from the north-east of England and also works in intensive care, said: "I had wanted to come back for a while and this was a perfect opportunity because of the support I was offered.
"I'm really enjoying it here. I love the city and the beautiful beaches and I'm so close to the Highlands now too."
Anyone who secures a visa will be asked to work for a minimum of two years and will be provided with support to help sit the NMC exams, which consist of theory and practical elements.
Huge success
The partnership between Grampian and Western Australia Department of Health (WADH) has now been extended over five years.
But both organisations say that could be just the beginning of their relationship, with research and academic partnerships also mooted.
The initial partnership was formed back in 2017, when the P&J exclusively revealed the board would be taking an unprecedented recruitment trip to scout potential nurses and midwives.
This was followed by a trip at the end of last year, where the nursing team spoke to more than 300 people who were interested in taking up posts.
There are currently not enough jobs available to cope with the number of graduates Down Under.
A total of 1,783 nurses and midwives applied for a place on WADH's two-year graduate programme, with just 656 able to secure a place, leaving 1,127 without a position.
Leesa Kerr, from the department of health, travelled over to the north-east with the most recent cohort of recruits.
She said: "It's been a huge success and is a win-win for both of us.
"Some of our graduates had got jobs in retail because they couldn't get a job in nursing, some of them may have given up entirely and their skills and experience would have gone to waste.
"From our point of view what NHS Grampian was offering was something no one else had ever offered. Other recruitment agencies have come from the UK have come over in the past but they have never offered the same support as Grampian.
"I felt comfortable in saying that if it were my children going over I would be happy to send them, and I did have parents come to me for advice."
The next group of nurses and midwives are due to come over next month.