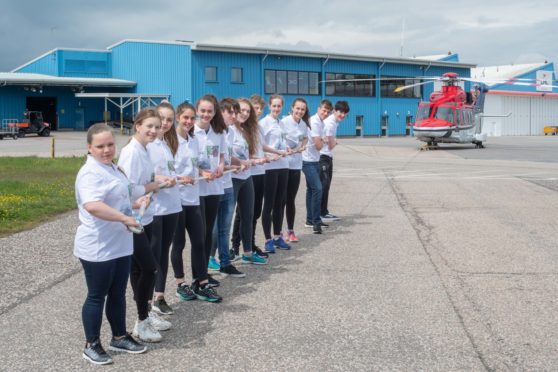 A team of 12 schoolchildren worked together to pull an 8.6 tonne helicopter as part of their efforts to fund a wildlife expedition in Borneo.
The dozen S3 and S4 pupils from Robert Gordon's College are hoping to travel deep into the rainforest next summer to collect seeds which can be replanted to combat deforestation.
Approximately 50% of the jungle in Borneo has been cut down in the last 30 years.
Over four weeks, the youngsters will work with local wildlife experts and will also be involved in building facilities such as wells or schools.
Emelia Ackerley, one of the pupils raising money for the trip, said: "The cost of the expedition is £4,000 per person and Camp International insist that individuals take charge of their own fundraising. This is not a holiday paid for by parents.
"It is a team effort, so any money raised will be shared equally and will allow them to travel together to help do some good."
She added:  "I think that this generation of young people is the most ecologically responsible ever and any support we can give them will be absolutely brilliant."
Over the weekend, the team pulled together to drag a CHC helicopter more than 80ft as parts of their fundraising efforts.
The firm's regional director for Europe, the Middle East and Africa, Mark Abbey, said: "CHC works hard to play an active role in the communities in which it works raising money for local charities, offering visits to schools and supporting community activities."