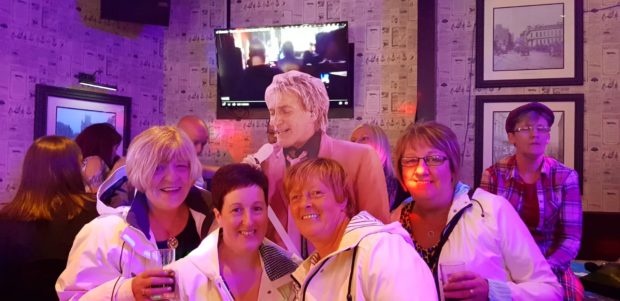 Dismayed Rod Stewart fans braved the weather on Wednesday night in the wake of the late decision to cancel his outdoor performance.
Stewart, who is on tour to promote his new studio album, Blood Red Roses, was due to perform an open air concert in Aberdeen.
However, strong winds and bad weather resulted in the concert promoters deciding to move the show to another date.
A statement from Cuffe & Taylor read: "Due to adverse weather conditions, this evening's concert at AECC Outdoors has had to be postponed.
Train disruption, Rod Stewart gig cancelled: High winds and rain cause havoc in Scotland
"Sir Rod and his team always believe the show must go on and this decision has not been taken lightly.
"However, due to the high winds and bad weather it would not be safe to go ahead with this evening's concert."
But for many, the statement was received in the midst of travel to the Granite City, with fans forced to enjoy a damp and dreich Wednesday night in Aberdeen without the music legend.
Alison Grimstad had travelled all the way from Stavanger in Norway in anticipation of the performance.
And sadly she will be unable to return for the rescheduled gig.
She tweeted: "We are devastated Aberdeen isn't happening.
"We came from Norway and Inverness and we've loved Rod for 40 years, but July 16 just doesn't suit."
Travelling from slightly less further afield for the performance was Donna Murray, with three friends, from Moray.
@rodstewart aberdeen pic.twitter.com/Qa4yEqOfOQ

— donnamurray (@donna15741) June 12, 2019
Stranded in Aberdeen, they went to the Foundry bar – where a Rod Stewart-themed disco was taking place.
She said: "We came through from Findochty to see him and were gutted it was cancelled, but we didn't let it dampen our night.
"We heard there was a Rod party in the Foundry so there we went.
"We will definitely be coming back July 16 –we've already booked our accommodation."
Statement regarding Rod Stewart in Aberdeen! pic.twitter.com/KpmsRW60qX

— Cuffe & Taylor (@CuffeandTaylor) June 12, 2019
But Karen Fenion, from Glasgow, said she had spent "hundreds" on train and accommodation costs and was not texted about the cancellation until 3.40pm.
On Twitter she said: "Cannot believe Rod Stewart concert in Aberdeen tonight has been cancelled in the last hour.
"Hundreds of pounds down for non refundable trains and hotel – poor, poor show organisers
"We have lost money for hotel and train tickets.
"Surely they could have cancelled sooner than this afternoon as it's weather related."