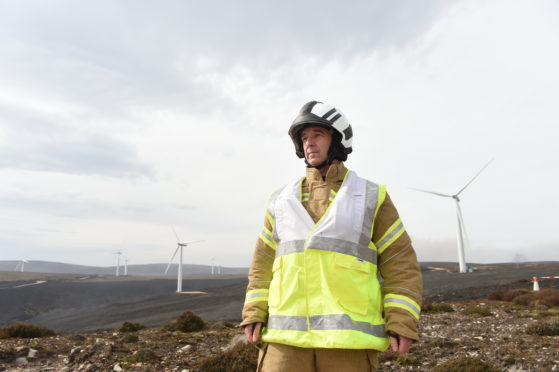 Life-saving equipment has been stripped from north-east fire engines and sent to other parts of Scotland, it has emerged.
Defibrillators, used to quickly treat heart attacks and other cardiac problems, have been taken off engines at stations and redistributed to other crews across the country.
Under questioning at yesterday's public protection committee of Aberdeen City Council, Scottish Fire and Rescue Service's (SFRS) local senior officer for Aberdeen Bruce Farquharson claimed there had been an "over-provision" of the devices locally.
He explained that under the previous Grampian service, the policy was to supply every appliance with the equipment but the new national guideline is for rescue pumps only to have them.
Last night defibrillator campaigner Sandra McKandie, the mother of Moray 16-year-old Kieran who died waiting for an ambulance after being hit by a car in 2016, branded the move "a backward step".
And Ryan Houghton, a councillor on the committee, said he would write to national fire service bosses as well as Scottish minister for community safety Ash Denham.
Mrs McKandie said:"More than 60,000 people collapse with cardiac arrest every year and if it happens outside of hospital only 10% survive.
"That is why we want to see more of these devices across the emergency services and removing equipment seems like a backwards step.
"I'm not assured that what happened to Kieran couldn't or hasn't happened again and I would want to see why they were removed."
Mr Houghton said: "Once again, well-run services in the north-east are being stripped to help other regions of Scotland.
"This comes at a time when there have been national drives across the UK to get more crucial life saving equipment available when needed."
Mr Farquharson said four new devices had now been installed for community use outside city fire stations.
He said: "It is vital that every firefighter across Scotland has equal access to the same potentially life-saving equipment and this includes defibrillators.
"With that in mind, the SFRS has recently redistributed some defibs from Aberdeen to other areas of the country – to allow fair and equitable access to all of our crews.
"We aim to have a defibrillator on at least one fire appliance in each station – to ensure our firefighters, no matter where they are based in Scotland, can continue to save lives at a range of different types of emergency including road traffic collision."
"We are now in the position where our crews – and the public- have access to more defibrillators than before the formation of the SFRS."
A Scottish Government spokesperson added: "The provision of fire and rescue resources and equipment is an operational matter for the SFRS.
"In 2019-20 we have increased the funding to SFRS by £5.5 million to invest in service transformation plans.
"This is on top of the £15.5 million additional spending power provided in 2018-19 year – a level of funding not matched anywhere else in the UK."