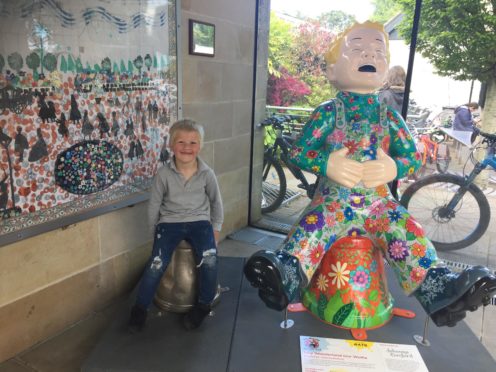 Tourists and residents young and old were enjoying visiting the newly installed Oor Wullie sculptures in and around Aberdeen yesterday.
Duthie Park's interactive Wullie, designed by Aberdeenshire colouring book artist Johanna Basford, delighted crowds at the weekend as his musical playlist brought back happy childhood memories with tunes like You Cannae Shove Your Granny Off a Bus.
Julia Litterick from Aberdeen listened as the Inky Wonderland Wullie played one of her favourite songs – Three Craws.
She said: "I remember sitting on my granny's knee as she sang that song to me as a little girl; we used to sing all these songs either jumping rope or when we were out playing with our pals.
"It's really quite catchy."
The intricately detailed statue is situated at the Winter Gardens within the park, and has a second bucket for visitors to try out.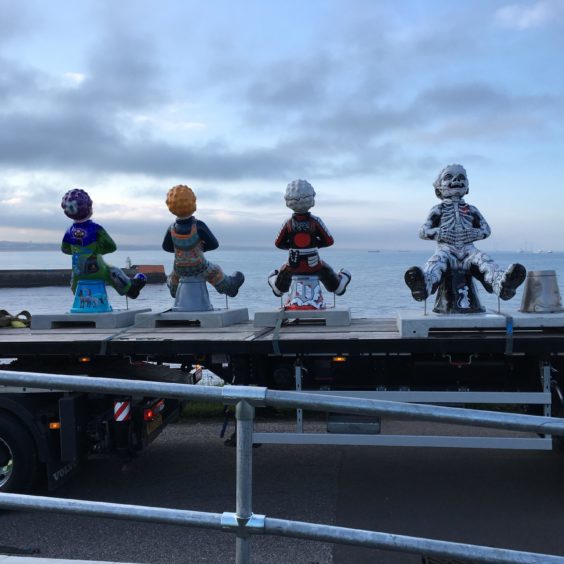 Each time anyone sits on it, the statue plays a different Scottish tune they can sing along with.
Betty MacNicol, from Golspie, said she "loved" all the different songs, and was only in Aberdeen as she was visiting relatives who had travelled from Australia and had met up with them.
Ian Gilfillan, from Portlethen, is looking froward to completing the trail along with seven-year-old daughter Sophie and son Kyan, 13.
Mr Gilfillan said: "We have done all the trails in the past – so we are really looking forward to this one starting.
"It's a great thing to do with the kids and gets us all outside – those six weeks of school holidays need filling."
Nearer to the harbour, Wullie Goes Swimmin Wae The Fishes, also drew a lot of attention after he appeared on Saturday night.
Julie Duncan from Fintry brought her children along to see, and said it was their first for this year's trail.
She added: "I love how there are so many next to the sea – it's such a great idea, the kids love them."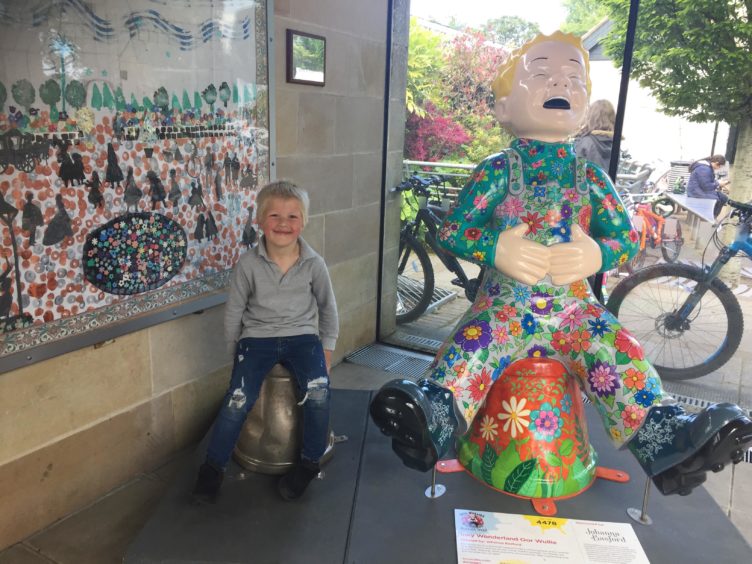 Fundraising manager for The Archie Foundation, Jamie Smith, led his stealth installation team as they deposited the statues in Aberdeen overnight at the weekend.
He said: "I hadn't realised how much interest they would raise, especially late at night.
"People who saw us dropping them off came and spoke to tell us how much they love them – one wee boy from Peterhead was delighted that he could go away and say that he had been the first person to see them."
For more information on where to find the Bucket Trail please visit: www.oorwullie.com