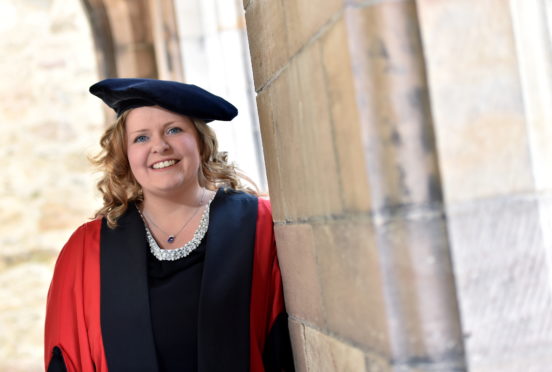 Dr Andrea Woolner said yesterday she was "absolutely delighted" to discover she had been awarded a PhD at Aberdeen University.
That wasn't surprising – considering she hadn't even been trying to get one.
Judges of her Masters in Research were so impressed with her work that, following the submission of her thesis and her viva – an interview carried out with a judging panel – they told her they were awarding her a PhD in Public Health instead.
Dr Woolner, 33, said: "As far as I am aware, this has never happened before. I am over the moon.
"I have carried out all my research whilst working full-time and caring for my four-year-old daughter. This is beyond my wildest expectations."
Originally from Peterhead, Dr Woolner first graduated in 2010 and has since been training to become a consultant in Obstetrics and Gynaecology at Aberdeen Maternity Hospital, whilst also spending a fifth of her time as a clinical lecturer for Aberdeen University and becoming a mum herself.
She added: "I have a couple of years until I am a consultant. And I will continue to develop my research and continue to lecture."
Dr Woolner recently led a study in the inherited predisposition to stillbirth between mothers and daughters and, only this week, won best oral presentation at the Royal College of Obstetricians and Gynaecologists World Congress.