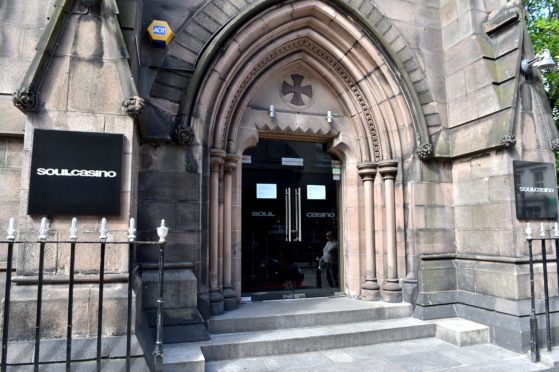 Dozens of jobs have been lost following the sudden closure of a well-known Aberdeen casino.
The operator of Soul on Union Street said the business was "no longer sustainable", blaming increased competition, business rates and stricter drink-driving laws.
The property has been locked up since the weekend, with staff on Sunday told not to come into work.
A notice on the front door references "unforeseen circumstances".
Owner Granite Rock Casino subsequently posted a statement on its website yesterday, reading: "We are proud to have operated Scotland's only independent, family-owned casino for over 12 years and this decision was not made lightly."
Documents lodged by Granite Rock Casino with Companies House show the firm has failed to make any end-of-year profits since its incorporation in 2003.
Last year it made a £500,000 loss and the company confirmed it had experienced a "significant drop" in customer numbers, following a "a shift in the late night entertainment culture in the city".
In its statement, it also singled out the 2014 change to the drink-drive limit, when it was lowered from 35mg of alcohol per litre of breath to 22mg.
The owners added: "Notably, the change in drink-drive legislation has led to increased caution in customers when drinking in a late night venue, as they may be over the limit the following morning.
"That has resulted in a steep decline in sales in the venue."
Granite Rock Casino said these factors, combined with high business rates, meant that it was no longer viable to continue trading in Aberdeen.
It is understood that the firm employs around 40 people.
Soul Bar, which is run by a separate company, will not be affected by the casino closure.
The statement ended by stating: "We would like to take this opportunity to thank the long serving management and staff for their hard work over the years and for their recent efforts to keep Soul Casino trading."
Alan Donnelly, who sits on the city council licensing committee, described the sudden closure as a "tragic loss" for the city.
He added: "It was a well-respected and upmarket establishment.
"There were around 30 to 40 members of staff there and this will have a negative impact on them and the Aberdeen economy.
"I'm hoping the casino building can be reused for another form of entertainment."