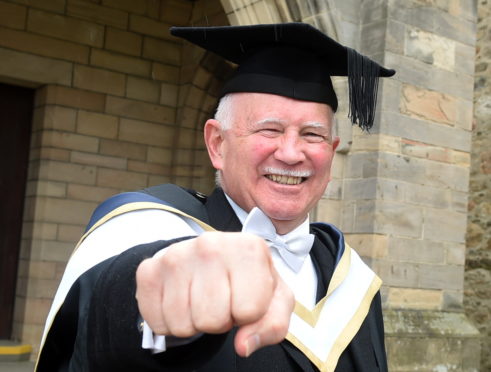 Thousands filled the graduation marquee at Aberdeen University yesterday as the final mass ceremonies took place.
It was the turn of the language, music and education students to don gowns, hoods and hats as they were cheered on proudly by friends and family.
The day was filled with good cheer and sing-a-longs and boasted the added accompaniment of all manner of weather, from bright sunshine in the morning to heavy rain and a hailstorm in the afternoon.
Alongside the students and their families were two Aberdeen personalities who received honorary degrees in the form of Shotokan Karate expert Ronnie Watt OBE and renowned composer John McLeod.
As the sun shone outside, the morning graduates were addressed by Professor Pete Stollery.
He led a musical vote of thanks from the students to their assembled loved ones, coaxing the assembled crowd to reply "it's OK" as the students harmonised the words "thank you".
Professor Stollery offered his own congratulations, telling graduates: "You've done all the work, been told that you've been successful and you're sitting here waiting to move to that next stage and to embark upon the next part of your lives.
"You can be very, very proud of what you have achieved."
Speaking after the ceremony Mr Watt, 72, said he felt "honoured" to have received his honorary award, adding: "I caught the magic of karate following an engineering accident. That was 55 years ago.
"My only advice for today's graduates would be the same advice given to my karate students – seek perfection of character, refrain from violence, respect others, be faithful and endeavour but, above all that, win."
Mr Watt established the Order of the Scottish Samurai – an awarding body recognising excellence, character and respect.
In 2010 he was awarded, on behalf of the Emperor of Japan, the Order of the Rising Sun with Gold and Silver rays, becoming one of only a handful of Scots to have ever received such an honour.
In the afternoon, graduates – among them a new cohort of primary teachers – were forced to clap loudly to be heard above a brief hailstone shower.
Receiving an honorary Doctorate in Music, meanwhile, was Aberdeen composer John McLeod.
Regarded as one of Scotland's foremost composers, he had his early education in the city, though he received his musical education at the Royal Academy in London.