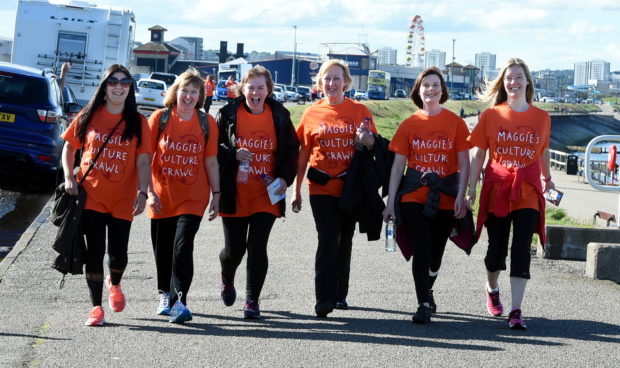 Hundreds of fundraisers took to the streets of Aberdeen last night to raise cash for charity while exploring some of the city's cultural gems.
Maggie's Culture Crawl returned for its third year, taking participants on a 10-mile walk to some of the city's most iconic landmarks.
In a twist from a traditional doors open day, walkers get a night-time behind-the-scenes look at various attractions while also being treated to a range of entertainment and delicious treats.
As always, the charity kept the route a closely-guarded secret and as more than 600 walkers set off from the Beach Leisure Centre last night, they could be seen excitedly examining their maps.
One of the first stops gave the fundraisers the rare chance to get inside the Marine Operations Centre, where the comings and goings of the busy harbour are controlled from the fifth floor. Visitors got the chance to take in the spectacular views out onto the North Sea and Girdleness Lighthouse while finding out more about the ongoing expansion of the harbour at Nigg.
Continuing through the harbour area, the group headed to Inverted Studio where they were treated to performance by circus and pole dancers – before being encouraged to try it themselves.
For the less adventurous dancers, Torry Library proved an ideal alternative with a silent disco while the Breakout Rooms gave the less nimble the chance to test their brain power with some mini-puzzles.
The route then turned towards Ferryhill, where artist Alison Chandler was working on a piece for Maggie's at Albury Sports Centre. Walkers got the chance to watch her work and try out some of the activities on offer at the centre before heading on to Queen's Cross Church for some musical entertainment courtesy Music4U.
Bucksburn Academy's steel orchestra were onhand to welcome visitors to the Maggie's Centre at Foresterhill, before they headed along towards St Mary's Cathedral and the finishing line at the Linx Arena.
Fundraising manager Paula Cormack said she was delighted to see the event grow – with more people than ever taking part.
Last year's event raised £115,000 and although last night's total is still being counted, organisers are hopeful they'll beat it.
Mrs Cormack said: "I'm amazed by the growth in Culture Crawl year on year.
"We have again broken recorded with 628 people signed up to take part in this year event, with more than £30,000 raised for Maggie's before even the first step was taken.
"As the event's reputation has grown we've even had performers and caterers approaching us to ask if they can help support it, which is really humbling."
Along the way, the fundraisers enjoyed an array of local produce including Fierce Beer, gin and vodka from Blackford Craft Distillers, ice cream from Mackie's and burgers provided by Rapid Relief Team, a charity inspired by community spirit and the gift of giving.