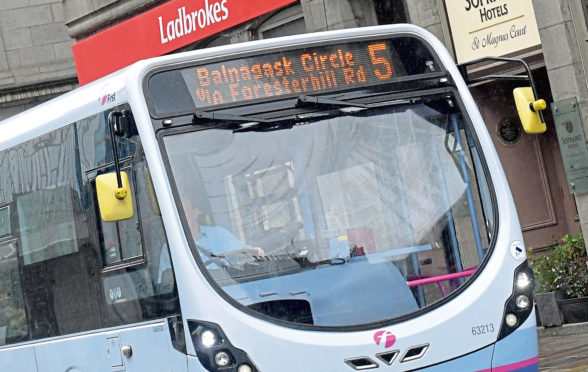 Councillors have backed an investigation into how the authority could take over Aberdeen's bus network.
Aberdeen City Council wants to buy the local branch of First Bus so it can operate the service, like the previous Grampian Buses and Edinburgh's Lothian Buses.
In a move that could run to tens of millions of pounds, the authority would take over the fleet and the depot on King Street.
It has been argued it would be more efficient than the current private operation and cheaper for commuters. In Edinburgh, for example, a single journey to anywhere in the city is £1.70.
Yesterday, city council co-leader Jenny Laing put forward an emergency motion seeking a report from officers on how the authority would bid for the venture – which gained unanimous support across the chamber.
Mrs Laing, leader of the Aberdeen Labour group, stressed it was "early days" for a potential buy-out while opposition group leader Stephen Flynn said it "made sense" for investigations to be made.
Talks have already taken place between the council and bus firm.
And a new transport bill, making its way through Holyrood, would potentially lift the ban on councils operating services.
Mrs Laing, leader of the Aberdeen Labour group – who pledged to bring corporation buses back in their 2017 election manifesto – said an affordable bus service could help to reduce poverty by helping unemployed people to job interviews and others to access services.
She said: "(Aberdeen Labour) had a manifesto commitment to investigate the return of a council-operated bus service and this is what we are now doing.
"Costs are always at the forefront of our minds as an administration and we would thoroughly scrutinise these before making any bid."
SNP group leader Stephen Flynn said: "We know that First are selling so it only makes sense that we investigate whether we are in a position to buy."
Liberal Democrat group leader Ian Yuill said: "What we want to see is good quality, affordable services provided for all of Aberdeen's communities – who provides these services is not as important as how good they are."
Owners First Group, which also operates Great Western Railways, Great Western Railway and TransPennine Express, recently announced plans to sell First Bus off after making a £290 million loss in 2018.
Last night, a First Group spokesman said the move could take place via a sale "either as a whole or in part – or by other means such as a de-merger or partnership".
He added: "As this process unfolds, we will continue to operate our services as usual, working closely with our local authority partners and demonstrating our commitment to our customers through the service we offer them.
"In recent years we have improved customer service at First Bus by investing in our buses and new technology, transforming our networks, and making operations and maintenance more efficient.
"As a result, First Bus is now on a much stronger footing, and we believe it is the right time to pursue structural alternatives so the business can continue to provide excellent service, ensure the best possible future for our staff and continue to meet stakeholders' requirements."