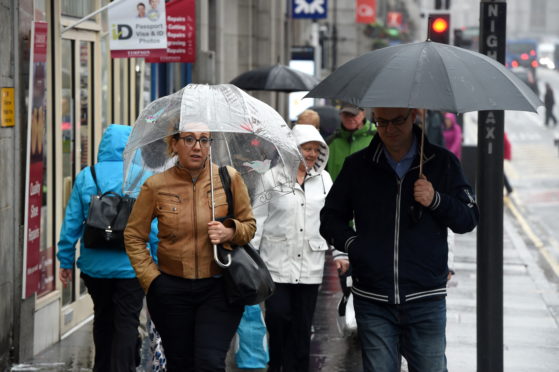 While torrential rail swept across Scotland yesterday, forecasters have promised it will "feel like summer again" with the warmest day of the year expected later this week.
A yellow weather warning was issued for heavy rain across the north-east yesterday, with the chance of flooding affecting rural communities.
The Met Office said on its website that thunderstorms "may develop", bringing "torrential rain and lightning, with possible flooding and disruption to travel".
In the north-east Craibstone recorded the highest rainfall, with 12 millilitres in the course of 12 hours.
As the rain worsened throughout the afternoon in Aberdeen and Aberdeenshire, causing roads to become increasingly slippery, police were called to spate of accidents and issued safety advice to motorists.
A yellow WEATHER WARNING is still in place across the #NorthEast for heavy rain – if you are out driving this morning please take care and follow @policescotland's advice on staying safe on our roads: https://t.co/6IUNWTUsv6 https://t.co/uEA31bePvt

— NorthEastPolice (@NorthEPolice) June 24, 2019
Today, the yellow warning will move further south, leaving Scotland and Northern Ireland in the clear for the remainder of the week.
The Met Office's Greg Dewhurst said: "The north-east and Highlands have missed the worst of the rain and the worst of the weather has been in the central belt.
"In Edinburgh they had 44ml of rain in just three hours.
"Last night the rain still persisted, and in Argyll and Inverness there were warnings of thunderstorms in some areas."
But he promised that the country would be in for a hot week once the clouds part.
As the continent basks in highs of more than 40C, the north-east and Highlands will feel the benefit with hot air coming westwards.
Tomorrow and Thursday are expected to be the hottest days of the year so far in the UK — with the mercury tipping the 30C mark.
Mr Dewhurst added that the rain will ease today, with some drizzle and short showers expected throughout the day – but nothing to rival yesterday's downpour.
He said: "The weather does seem to be trying to improve, and the maximum temperatures will be around 15 degrees today and tomorrow, and it should feel quite humid.
"On Thursday though, sunny spells should win out, with higher temperatures across the Highlands, and around 23 degrees in the Cairngorms.
"And on Friday things are looking a lot better – with 25 to 26 degrees across the Highlands and Moray Firth, Lossiemouth and Elgin.
"Aberdeen will of course be significantly cooler, thanks to the sea breeze."