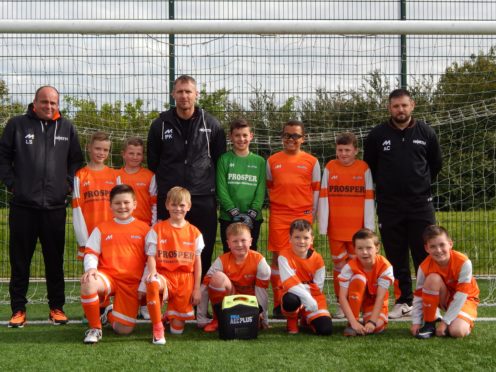 A football-mad nine-year-old with a deadly heart condition will be able to continue enjoying the sport after his club bought a potentially life-saving device.
Aberdeen youth football team Northstar United 2009's have been able to purchase a defibrillator following a £900 donation.
The piece of medical equipment, supplied by The Sandpiper Wildcat Trust, was required for one of their star players – Finlay Brown.
Finlay, known as Finners to his team mates, has played for the club since he was five but has been diagnosed with a condition that could require his heart to be restarted at any time.
After hearing about the player, Cala Homes donated £900 towards the defibrillator as part of the housebuilder's annual £10,000 bursary scheme.
Dean Ramsay, of Northstar United 2009's, said: "Finlay is a fantastic part of our team, so being able to ensure he's safe while playing was crucial.
"What Cala Homes has done with this donation is provide a critical piece of life saving equipment and reassurance to Finlay's mother, friends and coaching staff.
"The club brings children together from all backgrounds and we have always welcomed young players from across the area to join in all activities, free of charge.
"As we don't charge for club involvement, donations such as this are vital to us to keep offering a community-run way for Aberdeen children to enjoy the sport."
Mike Naysmith, Managing Director at Cala Homes, added: "We are proud to have been able to support Northstar United 2009's, as well as Finlay, and congratulate them on the valuable work they are doing within the local community in Aberdeen."
Now in its fourth year, the bursary project aims to provide support for a wide range of organisations and projects within the communities in which the firm builds.
For further information on CALA Homes' 2019 community bursary, people can visit www.cala.co.uk/bursary.