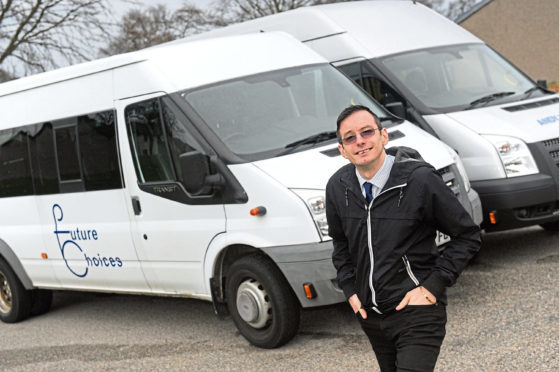 A desperate charity boss fears disabled people will be left "isolated" as the bus used to transport take them out and about faces the scrapheap.
Aberdeen-based Future Choices launched an urgent appeal last year to replace its cherished minibus, which transports hundreds of vulnerable people to and from activities every year.
But nine months on, the charity has had no luck and the aged vehicle is plagued by mounting technical problems and often breaks down.
The charity's increasingly worried chairman, David Forbes, fears it will give up the ghost before a new one is sourced.
And last night appealed for "anyone at all" to help keep it going.
He said: "It keeps clapping out and we are throwing away money on repairs.
"If we managed to get one company or generous person to provide a new one – then it would be amazing."
Future Choices was founded in 2008 when the day centre Choices on Westburn Road was axed due to local council cuts.
The centre provided recreational activities for disabled people, to ensure that they didn't become socially isolated.
Future Choices, which is now celebrating its 11th year of activity, has worked to fill that void by taking those people out and about.
The charity last unveiled a new bus, gifted by Aberdeen-based oil company Apache, in 2012 in a ceremony attended by Dame Anne Begg and Lewis Macdonald MSP.
Mr Forbes added: "I don't know how long this bus will last for.
"Our disabled users and vulnerable members rely on us to be able to take them to events and, without this second bus, we won't be able to take them out – and people would become isolated.
"We use the bus every week and I don't want to take the service away from people because we lose the bus.
"I'd honestly be devastated."
Future Choices is appealing to any businesses that can help to get in touch by contacting info@future-choices.org.uk