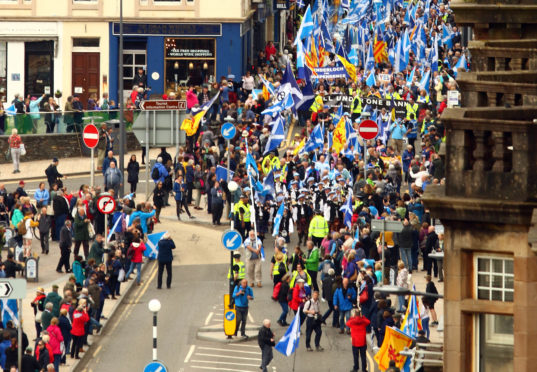 Scottish independence activists and council bosses will hold talks this week about plans to bring a massive march to the Granite City.
All Under One Banner (AUOB) want to march through Aberdeen to demonstrate their support for independence on Saturday, August 17.
Previous marches organised by the group in Glasgow and Edinburgh have attracted tens of thousands of supporters along major roads including the capital's Royal Mile.
But a formally approved route is still to be finalised between the group and the city council.
To hold the march AUOB must receive permission from the council and the police for the route, as roads would have to be closed and adequate officer numbers put in place.
AUOB organiser Gary Kelly said he was confident the march would go ahead.
He said: "We have organised these marches through Glasgow and Edinburgh which are much bigger cities so I don't see why Aberdeen should be a problem.
"I have a meeting with the council on Wednesday about potential routes.
"At the end of the day we want to go from A to B as quickly as possible. We don't want to cause disruption to the people of Aberdeen, and for people who don't support independence we want to get it over for them.
"But the council in Aberdeen have been quite responsive and I don't think it should be a problem."
A council spokeswoman declined to comment while negotiations were ongoing.
The Aberdeen event would be the first time the group had organised a march in the city, but they have demonstrated further north.
Last July, activists descended on Inverness holding a mass march through the city's streets.
And last month, Oban hosted thousands of independence supporters for an AUOB organised event.
Further rallies are planned throughout Scotland this summer including in Edinburgh and Perth.