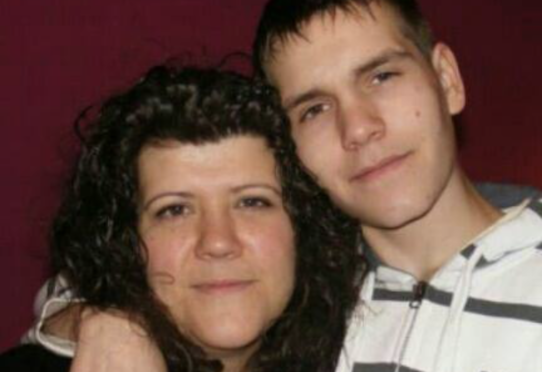 The melancholy of Tracy Chapman's music could be heard echoing from the bedrooms of the young teenagers who had been placed into the care system for their own safety.
It is an odd thing to remember from her visits to the Oakbank residential school, admits Gill Reid.
But when you lose your only child, she said, you cling to whatever memories you have.
"I was quite surprised, I remember at the time, but it obviously spoke to the kids," the 52-year-old operations manager said.
While the pupils from Oakbank, a school for children with emotional and behavioural problems in Aberdeen which closed in 2008, were primarily from northern Scotland, it was also home to many youngsters from Tayside, Fife and the central belt.
Miss Reid was living in Loanhead, Midlothian, when she began searching for a facility that was suitable for her son, Michael, who had been diagnosed with ADHD at the age of seven and then told he was diabetic at 14.
She found Oakbank and visited it, before pressing Midlothian Council to place Michael into its care, which it agreed to do in 2003, when he was 14.
"He was quite a character, my son. He had a way about him," she said.
"He was very charismatic, shall we say, and although he was having a lot of problems, he was quite a charismatic laddie," she said.
Miss Reid believes Michael enjoyed his time at Oakbank, particularly art classes, and said: "From what I could see they did very much what they could for the kids."
But she echoed the concerns of several other former Oakbank pupils and their families about the lack of help provided after the youngsters left care.
Once-troubled youths reunite to honour their 'fallen' classmates after series of tragedies
"There needs to be some sort of support for them. At the end of the day they are still kids. They don't have the maturity to understand what life is all about," she said.
"I don't think there is that support there when they leave the education system.
"If they are in supported accommodation, then it is almost like one day you are 15, the next day you are 16, and it's 'OK, off you go', and you've got to live in the outside world now."
Michael, who died aged 22 in 2011 from kidney failure related to his diabetes, had a loving family to return to after Oakbank, but many other pupils did not.
One of those, Zach Gold, a security contractor from Kilmarnock, said he left the care system with "five Mayfair and a box of matches" to his name.
"Back in my day, there was no programme for kids leaving care, there was no proper care plan put in place," he said.
"As soon as you hit 16, in the eyes of the law, in the eyes of local authorities, they washed their hands of you.
"You were no longer their problem. You were a grown adult. They expected you to go into the world and be that adult. The problem was that they never taught you to do that."
The P&J understands that close to 30 pupils who attended Oakbank between the mid-1990s and its closure in 2008 have now died.
Mr Gold, 25, said Oakbank was "home" to many like him, and he believed some of his classmates, who were unable to turn their lives around, might be alive today if they had continued to receive adequate support when they left the school.
Lisa Scott, meanwhile, said that because she had run away from home amid struggles with mental health problems, she ended up being put in the same secure unit as the notorious murderer Luke Mitchell, who was 15 when he killed his 14-year-old girlfriend Jodi Jones in 2003.
"I genuinely think it's ridiculous. I don't know for sure exactly how it is now, but I can't imagine it being much better with the lack of funding," the 28-year-old said.
How early trauma and system failures can lead to tragedy for kids who were in care
"I actually left Oakbank and was made to go into a secure unit alongside him (Mitchell).
"So I can think of a lot of things in the social work system that were completely wrong – I was a child that was put in a secure unit for running away and stuff, and I was put in with a high-profile murderer."
She added: "They just kind of kept me away from my mother, they then put me back there, I ended up homeless and there was no help.
"I ended up living with a 24-year-old man at the age of 15. That in my eyes is proof of the lack of care there was and anyone to support me after everything I went through."
Lisa, a care home worker who is now married and has children herself, was at Oakbank at the same time as Michael Reid, as well as Rachel Whyte who, in April, became the latest former pupil to die tragically young, at 31.
After Michael's death, Miss Reid had been keen to try to find out more about her son's time at Oakbank and the friends he had made there, but she struggled to make contact with them.
"Michael was my only child. When you lose a child you lose your past, your present and your future," she said.
"It's a strange place to be, but you try to keep as much connection as you can to things."
Last week, Miss Reid found Lisa and exchanged several messages with her online.
It turned out Lisa had been Michael's girlfriend at Oakbank for a while.
Now, Miss Reid has been invited to attend a reunion of for former pupils of the school, which is being organised by Lisa, Zach and others.
The gathering aims to bring people together people who were connected to Oakbank, to remember the lives of Michael, Rachel and the many former staff and pupils who are no longer alive.
It will be held on August 31. Former pupils are invited to attend, as are family members of those who have been lost.