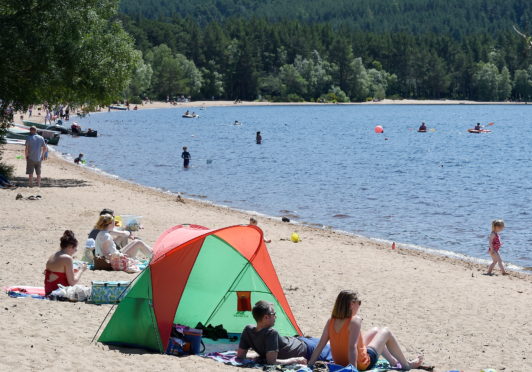 The hottest temperature in the UK was recorded in the Highlands yesterday, with forecasters describing the scorching warmth in the north as "quite peculiar".
Achnagart in Glenshiel recorded the country's highest temperature of the day as the mercury tipped 30 degrees – breaking the record for the area in June.
It was closely followed by Kinlochewe in Wester Ross, where temperatures reached 29.6 degrees and Lossiemouth – where 27.8 degrees was the peak.
Met Office issues warning of lightning for north of Scotland
Martin Bowles, operational meteorologist for the Met Office, last night said the warm weather was going to continue into the weekend.
He said: "The highest temperature recorded anywhere in the UK on Friday was Achnagart, with 30 degrees – which is quite peculiar.
"That is the highest temperature ever recorded there for the month of June.
"There is a small band of showers due to come across Scotland on Saturday, but on the whole the temperatures will remain high.
"I even think Aberdeen and the north-east will get away without any showers and should get temperatures of around 26 degrees.
"Most places will be warm.
"On Sunday it will be cooler, as more showers will begin to frequent the west, but temperatures will still be in the region of 20 or 19 degrees – so still quite pleasant."
Sheila Gray, who owns the Fochabers Ice Cream Parlour, said the warm weather combined with it being the last day of school had resulted in a bumper day for the independent business.
She said: "We have been busy, not just with the lovely weather, but also because our school kids finished up today.
"We have had the P7 classes in with about thirty children coming at once.
"I'm staying open late tonight – I wouldn't want anyone to miss out.
"So far we haven't run out of anything – but I'll be up at 5am getting the mix on again for tomorrow."
Cullen Ice Cream shop owner, Heather McKenzie had a similarly busy day and was still "out the door" well into the evening.
She said she barely had time to answer the phone between doling out scoops to grateful customers.
Several countries have reported record temperatures this week, including France which hit an all-time record yesterday of 45 degrees in the southern part of the country.