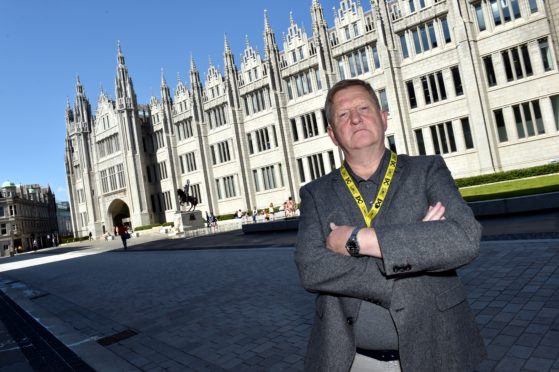 Calls have been made to scrap a top council post to cover the cost of services for the "people of Aberdeen".
Aberdeen's SNP group wants to scrap the vacant director of commissioning post and put the near £150,000 salary to better use – such as grass-cutting and road repairs.
Councillors have raised concerns that the north-east tourism industry could suffer if Aberdeen continues to be left looking "unkempt".
Frank McGhee left the role in March, having been suspended for reasons yet to be revealed.
He was one of four directors appointed in 2017, in an overhaul of the council staffing structure aimed at saving £125million over five years.
Members are not expecting an update on the operational activities around the staffing restructure until next March.
But the SNP group believe questions need to be asked now if the post has gone unfilled for the past three months.
Resource spokesman Alex Nicoll said: "The fact the such a highly paid job has gone unoccupied for so long a time without anyone as an interim does call into question whether the post is actually required.
"The administration should be looking into that very closely and seeing if they can use the money in a better way."
---
>> Keep up to date with the latest news with The P&J newsletter
---
Conservative, Aberdeen Labour and independent councillors in the ruling administration approved cuts of £653,000 to maintenance budgets as part of efforts to save more than £41m.
The arrival of summer has left affected areas – including school grounds, roads, cemeteries, community centres, parks and fields – badly overgrown.
Mr Nicoll added: "They have made galling cuts to a number of services and that £150,000 could be used to reverse any one of them.
"We're trying to attract people to this city as part of growing the tourism sector in the city and Aberdeenshire.
"Now, if you look at some of the public areas they are less than attractive to visitors – I think we'd all agree it looks unkempt.
"It may not encourage people to come again."
An administration spokesman said: "As the SNP is aware matters relating to staffing are for the chief executive.
"The next update on the operational activities around the staffing restructure is due to be discussed in March 2020 by all councillors.
"We look forward to scrutinising the chief executive's update report then before rushing into making any decisions that would renege on our commitment to change management within the organisation."