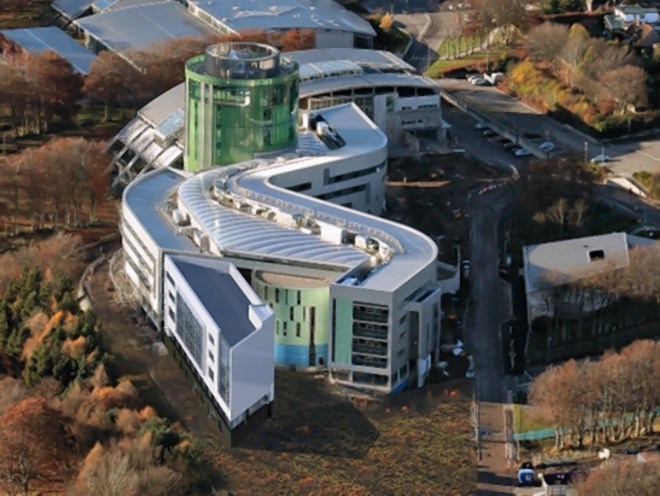 The following students graduate today at His Majesty's Theatre in Aberdeen.
DOCTOR OF BUSINESS ADMINISTRATION
Jo Macsween Aberdeen Business School
GRADUATE CERTIFICATE PROJECT MANAGEMENT
Faustino Samanjata Wassandoca Kavange, Angola; Taufa Fisiinaua Teekiu, Tonga
BACHELOR OF ARTS ACCOUNTING AND FINANCE – HONOURS
Daniel Adams, Inverurie; Craig Anderson, Inverurie; Cameron Beattie, Aberdeen; Sandra Blaga, Poland; Daniel Brodie, Kirriemuir; Kyle Colin Brown, Inverurie; Claire Bruce, Aberdeen; Marc James Bryce, Fraserburgh; Joanna Margaret Buchan, Fraserburgh; Daniel Cargill, Aberdeen; Liam Alexander Corrigan, Aberdeen; Cameron Courtney, Glasgow; Xuelin Huang Dalgarno, China; Colin Stuart Dalgleish, Ecclesmachan; Elizabeth Dandie, Forfar; Lauren Anne Davidson, Alford; Sofiane Fergague, Aberdeen; Lee Foster, Glenrothes; Shannon Gardiner, Aberdeen; Chloe Nicole Gibb, Peterhead; Sean Gibson, Inverurie; Lauren Graham, Dundee; Elaine Margaret Hamilton, Aberdeen; Basirun Nazira Hassan, Aberdeen; Beth Jamieson, Newburgh; Dominika Henryka Jastrzebska, Poland; Eimante Juozaityte, Peterhead; Laura Sarah Kaczmarek, Aberdeen; Kristopher Stuart Kelso, Irvine; James Kemp, Kirkwall; Callum King, Westhill; Lilija Kolmakova, Aberdeen; Aneta Kula, Poland; Laura June Langlands, Dalry; Jennifer Mary Leiper, Aberdeen; Rhona Janet Lingard, Kirriemuir; Jinghui Liu, China; Shannon Louise MacLeod, Orkney; Hauwa Ahmed Mahmud, Nigeria; Izabela Nina Martyniak, Aberdeen; Amanda Audrey Masuku, Edinburgh; Chloe Nicole McAteer, Nairn; Abigail Ann McDonald, Inverurie; Jessica McDonald, Fraserburgh; Liam Joseph McGrath, Aberdeen; Jed Milne, Inverallochy; Ross Milne, Aberdeen; Azrin Syazani Mohd Hazim, Malaysia; Hannah Kathleen Moir, Stonehaven; Michelle Moir, Midmar; Przemyslaw Mokrzanowski, Poland; Cara Morrison, Aberdeen; Emma Mowatt, Gourdon; Mohammad Adil Naseem, Dundee; Marcin Obrebski, Poland; Irena Parker, Aberdeen; Kate Pender, Bridge Of Allan; Rebecca Reid, Aberdeen; Grace Anne Rennie, Fraserburgh; Diana Romanenko, Aberdeen; Kyle Alexander Ross, Inverurie; Craig Edward Sherriffs, Aberdeen; Ewa Siwiec, Poland; Lisa Sloan, Banff; Alexander George Smith, Glenrothes; Owen Smith, Fraserburgh; Suzannah Melissa Smith, Aberdeen; Callum Stanger, Kintore; Hanne Mikaela Stjernvall, Finland; Yanzhe Sun, China; Rebecca Sutherland, Fraserburgh; Lyudmila Yordanova Tankova, Aberdeen; Edward Truby, Kirkcaldy; Emily Kate Walton, Inverness; Megan Ward, Kirkwall; Abbie Watson, Turriff; Craig Watson, Cruden Bay; Iain Watson, Aberdeen; Haillie Wilson, Aberdeen; Yixuan Zhang, China.
BACHELOR OF ARTS BUSINESS MANAGEMENT – HONOURS
Eva Jill Cumming, Archiestown; Neil Duncan, Lerwick; Kirsty McDonald Finnie, Peterhead; Shona Agnes Christine Grieve, Cruden Bay; Sarah Heather Hall, Inverurie; Thomas Griffith Heavens, Norway; Elisavet Mosa, Edinburgh; Gillian Murray, Dundee; Kieran David Porter, Aberdeen; James Alexander Stuart Reid, Aberdeen; Nathan James Michael Smith, Dundee; Kirsty Morag Strachan, Aberdeen; Samantha Stuart, Sunderland.
BACHELOR OF ARTS INTERNATIONAL BUSINESS MANAGEMENT – HONOURS
Oluwaseun Yomi Akinrolabu, Nigeria; Graham Stewart Gibson Allan, Glasgow; Megan Anderson, Aboyne; Sandy Bayomi, The Netherlands; Kelsie Bendel, Inverurie; Finlay Jon Brown, France; Rachel Louise Bruce, Aberdeen; Alexander James Caterer, Aberdeen; Reece Jay Chalmers, Aberdeen; Joanna Michelle Charnley, Crathes; Jessica Chisholm, Aberdeen; Erin Elizabeth Cornwell, Aberdeen; Anna Coutts, Turriff; James Jason Crossley, Aberdeen; Georgiana-Catalina Cujba, Romania; Hailey Marie Farrell, Canada; Amy Fearnley, West Linton; Alastair Ferrier, Edinburgh; Faye Finlayson, Stornoway; Fiona Catherine Forbes, Perth; Mario Fucilli, Italy; Amy Lynn Graham, North Berwick; Evangeline Mary Grains, Shetland; Jivvil Gyasi, The Netherlands; Iain Patrick Hay-Higgins, Banchory; Timothee Hogg, France; Peter Holmes, Oldmeldrum; Ashleigh Jappy, Aberdeen; Callum George Kemp, Aberdeen; Baz Gul Khil, The Netherlands; Taylor Legge, Aberdeen; Ana María Lorenzo Ballestero, Spain; Lucy Macdonald, Greenock; Michael Murray Mavor, Aberdeen; Robyn Louise McBain, Banchory; Beth Isobel McCafferty, Haddington; Thomas Donald McDonald, Freuchie; Catherine Elizabeth McIlwrick, Edinburgh; Fiona Johnstone McWilliam, Aberdeen; Dagmara Diana Mokrzanowska, Aberdeen; Erin Molley, Perth; Matthew Murphy, Inverness; Rodolfo Ferreira Nevoa, Portugal; Andrew O'Neill, Crieff; Andrew Paterson, Aberdeen; Archana Prasad, Aberdeen; Jordan Robert Pullar, Broxburn; Bartosz Pyszny, Poland; Caron Richmond, Invergordon; Sam Robert Rigg, St Andrews; Megan Robertson, Stonehaven; Chris Scott, Peebles; Emerald Shek, Aberdeen; Gemma Sinclair, Ballater; Claudia Ellen Rose Splaine, Aberdeen; Jack Steven, Dunblane; Matthew Sutherland, Aberdeenshire; Mark Joseph Tuckwell, Inverness; Nicole Lindsay Wolfe, Dundee; Jennifer Young, Peebles.
BACHELOR OF ARTS MANAGEMENT – HONOURS
Scott A Adams, Aberdeen; Rebecca Armstrong-Haimes, Aberdeen; Sabrina Ataalla, Romania; Jack Bain, Glasgow; Aimee Bell, Fraserburgh; Heather Emma Benoit, Canada; Ipek Budak, Turkey; Rhianna Jayne Cameron, Aberdeen; Hannah Chirino, Inverurie; Cláudio Vieira Costa, Angola; Alistair James Alexander Crichton, Port Seton; Katie Cruickshank, Stonehaven; Clark William Dinnes, Aberdeen; Lewis Doherty, Aberdeen; Henry Elderfield, North Berwick; John Gall, Westhill; Carmen Elizabeth Gammie, Aberdeen; Szilvia Gonçalves, Aberdeen; Stacey Elizabeth Hauan, Glasgow; Claire Hood, Peterhead; Jonathan Ian Latimer, Inverness; Stuart Laverton, Aberdeen; Greig Logan, Edinburgh; Kirsty MacDonald, Aberdeen; Lauren Sarah McIsaac, Balmedie; William John Buchan McLeman, Peterhead; Christian Moeller, Germany; Murat Mukhtarov, Russia; Thi Thu Crystal Quynh Nguyen, Canada; Kaitlin Elizabeth Ostrander, Canada; Kelsey Louise Paterson, Aberdeen; Caitlin Ann Paton, Inverurie; Rachael Alice Patterson, Stonehaven; Stefan Razvan Petraru, Luxembourg; Anastasia Ralli, Aberdeen; Cameron Randalls, Banchory; Laura Rankin, Montrose; Tuuli Maria Ranta, Finland; Calum Reid, Aberdeen; Sarah Reilly, Aberdeen; Lucy Ritchie, Edinburgh; Nicole Robertson, Aberdeen; Erin Louise Scott, Aberdeen; Biba Shaw, Edinburgh; Caitlin Anne Thompson, Forres; Humaira Ghali Tijjani, Nigeria; Georgina Ward, Insch; Kenneth James Warren, Aberdeen; Angus Yeaman Watson, Forfar; Meryl Lindsay Yarr, Brechin.
BACHELOR OF ARTS MANAGEMENT WITH HUMAN RESOURCE MANAGEMENT – HONOURS
Jodie Erin Lee Ainslie, Buckie; Phoebe Andia, Aberdeen; Kayleigh-Jayde Barton, Aberdeen; Roslynn Blane, Aberdeen; Dristi D'Cruze, Perth; Vishwa Mangesh Dave, Edinburgh; Emma Davidson, Aberdeen; Holly Dawson, Oldmeldrum; Amalia Maria Defta, Newcastle; Janice Donaldson, Aberdeen; Emily Duncan, Aberdeen; Emma Lauren Ewen, Aboyne; Emma Finlayson, Nairn; Robert Flanders, Edinburgh; Glen Scott Gardiner, Cupar; Natalie Kiera Gauld, Laurencekirk; Sophie Gibb, Crieff; Laura Junnier, Stonehaven; Klaudia Angelika Kasperek, Turriff; Wai Leng Kok, Aberdeen; Jiaxin Liu, China; Susan Amanda Mackay, Thurso; Dario Antonio Marchi, Elgin; Katie Mellis, Aberdeen; Bradley William Michaud-Simms, Westhill; Aleiah Milne, Aberdeen; Jessica Milne, Aberdeenshire; Melissa Murray, Aberdeen; Kristyna Odstrcilikova, Czech Republic; Ella Grace Powell, Aberdeenshire; Ellie Reidford, Aberdeen; Morgan Riddell, Aberdeen; Cameron Robertson, Aberdeen; Haley Robertson, Blackburn; Rachael Robertson, Banchory; Alicja Ewa Serafin, Aberdeen; Taelor Alex Shand, Cults; Natalie Shirran, Fraserburgh; Keith Steele, Aberdeen; Dylan Tait, Aberdeen; Sophia Theodosiadis, Germany; Ryan Thomson, Inverurie; Kenza Norrel Watson, Aberdeen; Kirsty Watson, Aberdeen.
BACHELOR OF ARTS MANAGEMENT WITH MARKETING – HONOURS
Georgia Annabel Birnie, Crieff; Izaak Blanksma, Stonehaven; Reanna Lina Cheung, Glenrothes; Kirsty Clarke, Edinburgh; Megan Niamh Cleary, Cupar; Rachel Deas, Penicuik; Bruce Dryburgh, Aberdeen; David McCrimmon Dye, Dundee; Jude Lyn Ferguson, Nairn; Louise Fraser, Aberdeen; Felicia Eleanor Fredriksson, Sweden; Amber Hampton, Aberdeen; Sophie Katherine Huby, Elgin; Tharek Islam, Dingwall; Kirsty Elise Jarvie, Aberdeen; Kateřina Jurasová, Czech Republic; Angus Luff, Edinburgh; Chloe Murray, Inverness; Emily Natalie Schaffer, Musselburgh; Lewis Sellars, MacDuff; Caitlin Smith, Aberdeen; Iain Smith, Aberdeen; Matthew Smith, Aberdeen; Emily Stephenson, Elgin; Ewan Hamish Stewart, Edinburgh; Jenefer Louise Strathie, Perth; Heather Louise Sturgeon, Elgin; Luke Elliot Taylor, Edinburgh; Jack Lindsay Thompson, Aberdeen; Wieke Elsa Vergeer, The Netherlands; Angela-May West, Inverallochy;
BACHELOR OF ARTS ACCOUNTING (WITH CIMA ADVANCED DIPLOMA)
Louise Elizabeth Gordon, Strichen.
BACHELOR OF ARTS ACCOUNTING AND FINANCE
Neil David Argo, Catterline; Robynn Tracy Elliot, Edinburgh; Michelle Dawn Westwood, Inverurie.
BACHELOR OF ARTS BUSINESS ADMINISTRATION
Diána Bella, Hungary; Mirko Bernasconi, Switzerland; Christof Bossard, Switzerland; Mehmet Ali Cankur, Switzerland; Adel Grlica, Switzerland; Anita Huruglica, Switzerland; Urim Muharemi, MacEdonia; Sabine Schliebe, Germany; Sandro Sommerhalder, Switzerland; Marina Sophia Stuckenberger, Switzerland; Savas Yilmaz, Switzerland.
BACHELOR OF ARTS BUSINESS MANAGEMENT
Lauren Gillan, Aberdeen; Laura McGeary, Dundee; Carol Norrie, Aberdeen.
BACHELOR OF ARTS INTERNATIONAL BUSINESS MANAGEMENT
Niklas Bals, Germany; Sarah Elizabeth Conery, USA; Marie Echassoux, France; Laura Meyer, Germany; Celine Regnier, Aberdeen; Stella Valerie Ulrich, Germany.
BACHELOR OF ARTS MANAGEMENT
Mohammed Alsindi, Saudi Arabia; Cameron Bryce, Aberdeen; Alysha Jacqueline Park, Stonehaven.
BACHELOR OF SCIENCE ACCOUNTING
Gilly Ashley Allenby, Glasgow; Dexter Burt, Basingstoke; Amanda Elizabeth Dowds, USA; Imith Udara Hettiarachchige, Sri Lanka; Felipe Roberto Mantovani, Brazil; Mohamed Muneerudeen Mohamed Yoosuf, Sri Lanka; Andrea Tomlinson, Crook.
CERTIFICATE OF HIGHER EDUCATION COMMERCE
Teresa Jayne Smith, Shetland.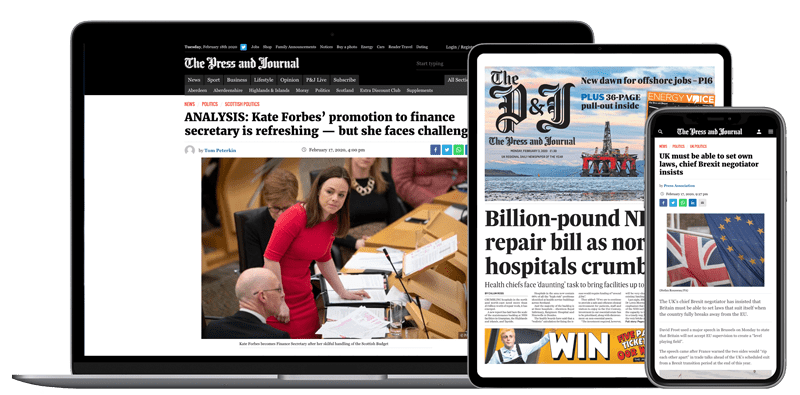 Help support quality local journalism … become a digital subscriber to The Press and Journal
For as little as £5.99 a month you can access all of our content, including Premium articles.
Subscribe