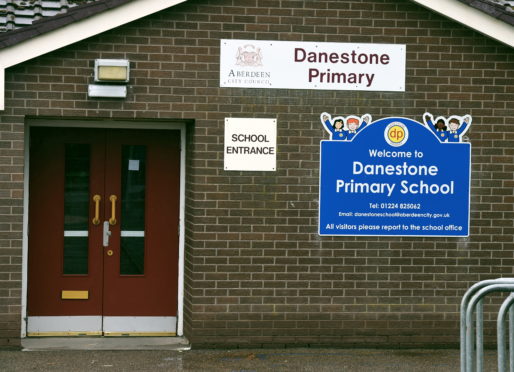 A school parent council has expressed "disappointment" after vandals targeted an Aberdeen primary.
Two windows and a nursery garden were damaged at Danestone Primary School.
Staff discovered the damage early yesterday morning and reported the incident to the police.
The culprits are believed to have used the logs kept within the school's garden to break the windows.
The parent council also encouraged people to contact the police if they have any information.
A statement made by the Danestone Primary Parent Council on its social media page said: "It is with great disappointment we must inform you that two school windows in our music room have been found broken yesterday morning.
"The police have been contacted. Please could we ask all parents and community members to be vigilant and to keep an eye on our school over the holidays.
"If you have any information about this incident, then please contact the police on 101. "
Reacting to the incident, Councillor Barney Crockett, who represents the Danestone ward, said it was "very upsetting".
He added: "When a school is attacked, it can make people feel vulnerable and it is always very upsetting to hear.
"It has a big impact on the community and the staff at Danestone Primary School who work really hard to make it a great atmosphere for the children.
"I'm sure the community will try to ensure something like this does not happen again and people will rally around the school to offer them the support they might need."
An Aberdeen City Council spokesman said: "It's disappointing that taxpayers' money has to be spent repairing damage caused to our schools by vandals.
"Schools continue to work with pupils and the wider community to foster a sense of civic pride in their area including looking after our school buildings and playgrounds."
A Police Scotland spokeswoman confirmed a report has been made in relation to the vandalism and said inquiries were at a very early stage.
The primary school was last targeted at the end of April when one if its windows was smashed.
Meanwhile, vandals have racked up a repairs bill of more than £750,000 in recent years by inflicting damage on schools across the north and north-east.
Aberdeen has had the highest number of incidents since 2016 – more than 2,100 –  totalling £448,322 worth of repairs.