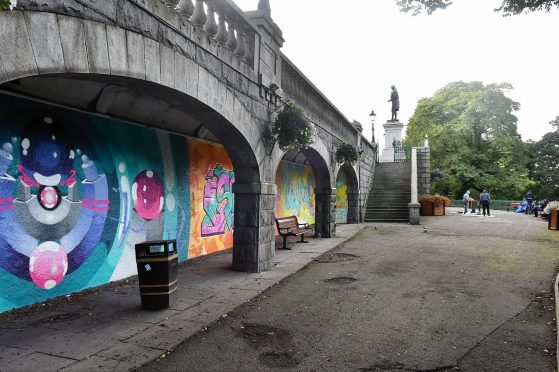 Calls have been made for Aberdeen City Council to "urgently" make a park more safe by installing improved security cameras.
Ahead of the planned multi-million-pound revamp of Union Terrace Gardens, councillors and charities have urged the local authority to take action.
In 2016, work on a £50,000 safety upgrade for the park was pledged and some CCTV equipment was installed.
But Midstocket and Rosemount councillor, Bill Cormie, believes the devices are not up to scratch and last night appealed for better quality versions to be put in place.
He said: "I wasn't happy with the CCTV when it got put in.
"In my opinion the standard was not up to much, and the image was not high quality.
"Unfortunately, few people in the city use the gardens and I believes safety does play a large part of that."
Hazlehead, Queen's Cross and Countesswells member, Martin Greig, added: "Basic maintenance work is urgently needed to make it more secure.
"Attention should be focused on essential upgrades including CCTV and better lighting.
"It would not take much to increase security but unfortunately the will to do this is missing."
Charities have also echoed calls for increased security measures in the public space, where a woman was brutally raped in 2016.
Alasdair McDonald was jailed for 10 years last year for the attack on Katie Johnston – who waived her anonymity to encourage other rape victims to come forward.
Sandy Brindley, of Rape Crisis Scotland, said: "Stopping rape from happening in one place won't stop rape, though increased lights and CCTV may increase the confidence of communities to exist in public spaces."
The multi-million-pound revamp is due to take place this summer, with Balfour Beatty appointed as the contractor this year.
The designs will include a new walkway from Union Street and lift access from Union Terrace.
The council has promised that safety measures will be included.
Co-leader, Douglas Lumsden, said: "This administration has well-publicised plans to transform Union Terrace Gardens.
"Construction is to start this summer on the £25.7 million project, which will include new lighting, walkways and event space.
"In developing proposals, the council responded to calls for better safety, with 89% of the public agreeing that it would be improved when consulted on the detailed design.
"The project will significantly enhance access, amenity and activity, creating a dynamic and inclusive space for year-round use.
"Meantime, the council continues to deploy CCTV cameras at various city centre locations, including Union Terrace Gardens."