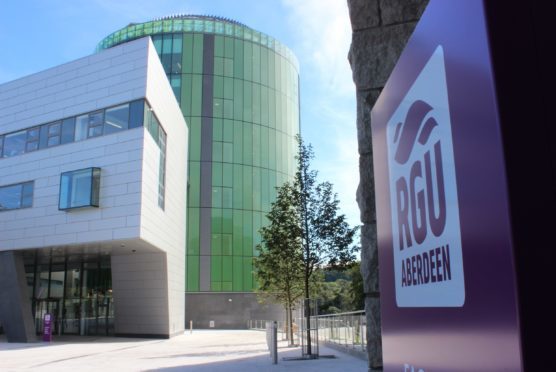 The following students graduated today at His Majesty's Theatre Aberdeen
Aberdeen Business School
MASTER OF BUSINESS ADMINISTRATION
Olabisi Temitope Akinniyi, Nigeria; Abiodun Stella Akuetiemhe, Nigeria; Serin Al Ghussein, Kuwait; Okechukwu Princewill Amuneke, Norway; Nuha Bazarah, Canada; Christopher Bent, Canada; Claire Common, Kilkeel; Joanne Cranswick, Aberdeen; Aileen Dimaya, Philippines; Amy Louis Ayad Guirguis, Egypt; Daisy Uloma Iroulo, Nigeria; Ian King, Aberdeen; Walter Knur, USA; Lia-Maria Mich, Aberdeen; Mark James Robertson, Daviot; Roderick Mearns Smith, Aberdeen; Bernadine Ynieto, Philippines.
MASTER OF BUSINESS ADMINISTRATION OIL AND GAS MANAGEMENT
Oluwatomilayo Aina, Bedford; Stewart Black, Australia; Duncan Russell Clark, Aberdeen; Richard Forbes, Midmar; Diego Fernando Gutierrez, Spain; Abid Hussain, Aberdeen; Arthur Melet, France; Jonathan Mosquera Jiménez, Colombia; Aziz Ahmed Shaikh, Pakistan; Abiola Sekinat Sule, Nigeria; Toyin Suleiman, Canada; Donald Jason Sullivan, Canada; Adetunji Emmanuel Taiwo, Australia.
MASTER OF SCIENCE ACCOUNTING AND FINANCE
Maureen Elizabeth Duthie, Belhelvie; Echezona Moses Ifewulu, Nigeria; Bencent Kasimukire, South Africa; Thabiso Louise Ndebele, London; Leonard Ndlovu, South Africa; Dennis Inalegwu Onah, Peterborough; Poobalasingam Senthil, Harrow; Jonathon Taylor, Malmesbury; Anne-Marie Thomson, Aberdeen; Pendo Abubakari Zubeiri, Uganda.
MASTER OF SCIENCE ENERGY MANAGEMENT
Victoria Clare Smith, Aberdeen.
MASTER OF SCIENCE FINANCIAL MANAGEMENT
Babatunde Ogunsanya, Nigeria; Victor Kobina Quagraine, Ghana; Lawrence Sahebi, Aberdeen.
MASTER OF SCIENCE HEALTH, SAFETY AND RISK MANAGEMENT
Martin Renald Camilleri, Malta; Chuks Obinna Maduka, Nigeria; Ikechukwu Ilabor Palmer, UAE; Johannes Petrus Van Tintelen, The Netherlands.
MASTER OF SCIENCE HUMAN RESOURCE MANAGEMENT
Victoria Campbell, Aberdeen; Gregory Copeland, Glasgow; Siobhan Lianne Cowie, Aberdeen; Alexis Gibson, UAE; Brahim Hajji, France; Ruth Valerie Louise Harvey, The Netherlands; Nurgul Kedzior, Camberley; Abigail Gourlay Mawhirt, Forfar; Cynthia Nomatemba Ncube, Zimbabwe; Joanne Elizabeth Oldfield, Bramley; Amber Taylor, Perth.
MASTER OF SCIENCE INTERNATIONAL BUSINESS
Ann-Marie Dunbar, Aberdeen; Lucy Cara Ingram, London; Yiran Lyu, China; Yu Tian, China; Ryan Robert Watts, Reading; Oluwabunmi Rukayat Yusuf, Aberdeen.
MASTER OF SCIENCE MANAGEMENT
Kelly Morrice, Aberdeen; Cassie Elizabeth Grant Stewart, Montrose.
MASTER OF SCIENCE OIL AND GAS ACCOUNTING
Lo-Dangs Jeremiah Basu, Nigeria; Nana Esi Botchway, Aberdeen.
MASTER OF SCIENCE OIL AND GAS FINANCE
Usmara Hafeez, Aberdeen.
MASTER OF SCIENCE PROFESSIONAL STUDIES
Paul MacLean, Kirkham.
MASTER OF SCIENCE PROFESSIONAL STUDIES (HUMAN RESOURCES)
Samia Nasar, Pakistan.
MASTER OF SCIENCE PROJECT MANAGEMENT
Devindra Ronald Balkaran, Trinidad W.I.; Sin Ping Choy, Hong Kong; Lloyd Dube, Zimbabwe; Mariam Temitope Fasassi, Nigeria; Patricia Garratt, Langtoft; James Gillies, Peterhead; Grahame Stewart Campbell MacKenzie, Bahrain; Darren Mair, Aberdeen; Luca Massaro, Bouton-On-The-W; Edwin Rodolfo Mateus Cetina, Spain; Joseph McCormick, Australia; Graeme Alexander Milne, Peterhead; Janet Wambui Mwangi, Kenya; Shauna Gabrielle Narine, Trinidad Tobago; Joseph Chibueze Nwokocha, Nigeria; Jude Pereira, Aberdeen; Ryan Steven Robertson, Aberdeen; Hakim Saumtally, Hastings; Andrew Shipley, Newport; Jacob Robert Andrew Simpson, Australia; Johnson Umweni, Aberdeen; Scot Webster, Aberdeen; Samantha Whale, Thurso; Craig White, Aberdeen.
MASTER OF SCIENCE PURCHASING AND SUPPLY CHAIN MANAGEMENT
Edna Ojiyovwi Adams, Nigeria; Ahmed Said Khamis Al Alawi, Oman; Hamed Hilal Hamed Al Naamani, Oman; Harold Benning, Banchory; Emmanuel Gana Bimba, Aberdeen; Xiuyi Chen, China; Felix Fenyi, Aberdeen; Paul Makplang Fwangchi, Aberdeen; Andrew Martin Jones, Chatham; Anton Kreventsov, Russia; Benjamin Labit, France; Donna Amanda Miles, Aberdeen; Chijioke Kennedy Nkwocha, Nigeria; Chidi Charles Nnukwu, Nigeria; Uchechukwuka Bryan Nwabueze, Ilford; Vitor Augusto Pereira Pitta, Brazil; Kevin William Reid, Aberdeen; Irma Straigyte, Lithuania; Matuzalem Daniel Segunda Sukete, Angola; Samantha Anne Taylor, Aberdeen.
MASTER OF SCIENCE QUALITY MANAGEMENT
Haafiz Hasham, Canada; Miron Gosh Joseph, India.
POSTGRADUATE DIPLOMA BUSINESS ADMINISTRATION
Gokmen Guven, Turkey;
POSTGRADUATE DIPLOMA HUMAN RESOURCE MANAGEMENT
Helena Couperwhite, Dunfermline; Sandra Forlano Allison, Monaco; Nedjma Kamel-Hetherington, Algeria; Corinne McDonald, Aberdeen; Lynsey Jane Merchant, Brechin; Alice-Mae Quinn, Inverurie; Adele Cowan Reid, Banchory; Lauren Storey, Aberdeen.
POSTGRADUATE DIPLOMA MANAGEMENT
Adrian Christopher Lorimer, Edinburgh.
POSTGRADUATE DIPLOMA PROJECT MANAGEMENT
Mohammad Bilal Qureshi, Pakistan.
POSTGRADUATE CERTIFICATE ACCOUNTING AND FINANCE
Kahla Irshaid, Austria.
POSTGRADUATE CERTIFICATE ENERGY MANAGEMENT
Obinna Reginald Okoro, Nigeria.
POSTGRADUATE CERTIFICATE HEALTH, SAFETY AND RISK MANAGEMENT
Augustine Nnamabia Ogbolu, Nigeria.
POSTGRADUATE CERTIFICATE HUMAN RESOURCE MANAGEMENT
Laura Brown, Dingwall.
POSTGRADUATE CERTIFICATE MANAGEMENT STUDIES
Sibongile Nyaradzo Zimuto, Zimbabwe.
POSTGRADUATE CERTIFICATE PROJECT MANAGEMENT
Godwin Obiora Anyaegbunam, Glasgow.
POSTGRADUATE CERTIFICATE RESEARCH METHODS
Muhammad Atiku Sa'Id, Nigeria.
School of Creative and Cultural Business
DOCTOR OF INFORMATION SCIENCE
Caroline Elizabeth Anderson, Aberdeen.
DOCTOR OF PHILOSOPHY
Madeleine Christina Marcella-Hood, Aberdeen.
MASTER OF SCIENCE CORPORATE COMMUNICATION AND PUBLIC AFFAIRS
Emmanuel Oluwafemi Akerele, Nigeria; Malak Yassin Atkeh, Syria; Juliana Bond Werneck, Aberdeen; Hannah Clare Jakobsen, Nairn; Laurice Laird, London; Kirsten Marshall, Banchory; Bertha Jastiel Mosha, Tanzania; Timothy John Mouncer, Norwich; Jabir Sambo Mustapha, Nigeria; Ihuoma Sabrina Nwonye, Nigeria; Ursula Mbala Ojiji, Aberdeen.
MASTER OF SCIENCE DIGITAL MARKETING
Sarah Jayne Anderson, Aberdeen; Will Farquhar, Aberdeen; Conor William Gault, Fraserburgh; Lewis John Ferguson Hughes, Freuchie; Lauren Elizabeth Mitchell, St Andrews; Kieron Lewis Reid, Buckie.
MASTER OF SCIENCE FASHION MANAGEMENT
Sucilan Sundar BalUSAmy, India.
MASTER OF SCIENCE INFORMATION AND LIBRARY STUDIES
Habel Gregory Amolo, Kenya; Kathryn Mary Cameron, Edinburgh; Eveline Florence Carroll, Hartlepool; Heather Laurie Evans-Cullen, Roberts Creek; María Isabel Fernández Abril, Spain; Emma-Louise Lamont, Peterhead; Rosie Alexandra Parry, Stockport; Thomas Mark Peach, Harrogate; Charlotte Alexandra Peeters, Leicester; Claire Roberts, Egypt; Menete Ndapandula Shatona, Namibia; Sean Matthew Smith, Newcastle.
MASTER OF SCIENCE INTERNATIONAL MARKETING MANAGEMENT
Zakaria Abdulwahab, Libya; Daniel Busby, Aberdeen.
MASTER OF SCIENCE INTERNATIONAL TOURISM AND HOSPITALITY MANAGEMENT
Navin Bardewa, Aberdeen; Katie Benson, Newtonhill; Yipu Liu, China; Carolina Patricia Tomanek, Germany.
POSTGRADUATE DIPLOMA DIGITAL CURATION
Thomas Richard Blake, York.
POSTGRADUATE DIPLOMA DIGITAL MARKETING
Ian Michael Tait, Montrose.
POSTGRADUATE DIPLOMA FASHION MANAGEMENT
Amber Dawson, Edinburgh.
POSTGRADUATE DIPLOMA INFORMATION AND LIBRARY STUDIES
Lucy Aughney, Ireland; Catherine Mary Maguire, Ireland; Asif Rashid, Halifax; Victoria Shanks, Stonehaven; Clare Louise Tanswell, Teddington.
POSTGRADUATE CERTIFICATE CORPORATE COMMUNICATION AND PUBLIC AFFAIRS
Samia Latif Kenley, Luton.
POSTGRADUATE CERTIFICATE INFORMATION MANAGEMENT
Adeola Rotimi Oke, Nigeria.
POSTGRADUATE CERTIFICATE INTERNATIONAL MARKETING MANAGEMENT
Alice Papo, Italy.
POSTGRADUATE CERTIFICATE RESEARCH METHODS
April Christina Cuffy, Canada; Jenny Rosa Gisy, Germany; Malatl Mary-Anne Hellandendu, Nigeria.
GRADUATE CERTIFICATE INFORMATION STUDIES
Carmel Josephine Brecknell, Ireland; Sulaima Iquebal Golam, Germany; Karen Jefferson Shiel, Galashiels.
GRADUATE CERTIFICATE PETROLEUM DATA MANAGEMENT
Nora Ines Ribera, Argentina; Wonuola Olutoyosi Scott, Nigeria; Takin Aniya Umaru, Nigeria; Marcelle Lorraine Wynter, London.
BACHELOR OF ARTS EVENTS MANAGEMENT – HONOURS
Katy Bain, Fochabers; Maddie Berston, Aberdeen; Nicola Kate Ellen Bruce, Jedburgh; Hollie Anne Cran, Inverurie; Kirsty Mhairi Cranna, Aberdeen; Julie Beth Cruickshank, Cruden Bay; Taylor Louise Downs, Aberdeen; Ryan Johnson, Inverurie; Eleanor Kay, Stonehaven; Molly Lindores, Cockburnspath; Megan Ruby Linklater, Aberdeen; Rhiain MacKie, Kirkwall; Christina Isabel MacLellan, Inverurie; Kieran Alexander Matthews, Blairgowrie; Niamh McBeath, Stonehaven; Jennifer McDicken, Broughty Ferry; Megan Catherine McIntrye Miller, Edinburgh; Gemma Milne, Aberdeen; Tara Morrison, Brechin; Caitlin Nicole Rice, Perth; Hannah Scott, Aberdeen; Chelsea Simmers, Aberdeen; Kathryn Kim Steele, Midlothian; Rhys Warwick, Largs; Wanya Zhou, Aberdeen.
BACHELOR OF ARTS FASHION MANAGEMENT – HONOURS
Suzy Adam, Edinburgh; Nikki Buskie, Cuminestown; Kimberley Yee Kee Chan, Perth; Cáit Elizabeth Cormack, Aberdeen; Candice Merle Craig, Largs; Paige Emma Darling, Selkirk; Mollie Margaret Findlay, Aberdeen; Beth Ellen Finnie, Pencaitland; Julie Gallacher, Glasgow; Katie Gallacher, St. Andrews; Chelsea Catherine Gordon, Aberdeen; Laura Mary Guild, Kintore; Sarah Catriona Johnson, Fort William; Christine Elizabeth Killen, Ireland; Cerys McKenzie Law, Blantyre; Amy Louise Learmonth, Duns; Jade Leiper, Ellon; Mairi Ruth Clarkson Lowe, Edinburgh; Ella Blythe MacDonald, Tobermory; Rebecca MacKay, Dornoch; Hannah McGilloway, Ireland; Hannah McInally, Dundee; Hayley McNab, Glasgow; Amy Mairi Mitchell, Aberdeen; Erin Morrison, Dunblane; Kimberley Marie Murray, Buckie; Shona Lyndsey Nixon, Oldmeldrum; Alexandra Laura Ivy-Rose Rodriguez Long, Spain; Sarah Rose, Aberdeen; Raegen Finn Smith, Aberdeen; Rachael Mary Snowie, Stirling; Gerda Eszter Szabó, Hungary; Louisa Thabet, Edinburgh; Samantha Kristina Williams, Aberdeenshire; Darcey Wright, Falkirk.
BACHELOR OF ARTS INTERNATIONAL HOSPITALITY MANAGEMENT – HONOURS
Natalia Shona Bayov, Edinburgh; Katie Moore Bremner, Airdrie; Sophie Catherine Chapman, Auchterarder; Louise Gillian Edward, Haddington; Dace Eglíte, Latvia; Inga Griska, Montrose; Catherine Louise Hunter, Clackmannan; Rachel Kowalski, Edinburgh; Lisa McGregor, Dundee; Shannon Anne Morrison, Aberdeen; Blair Taylor Nisbet, Falkirk; Martha May Rennie, Oldmeldrum; Katie Steven, Cupar.
BACHELOR OF ARTS INTERNATIONAL TOURISM MANAGEMENT – HONOURS
Pamela Sabina Adamiec, Aberdeen; Caitlin Annandale, St. Andrews; Davide Bassanini, Italy; Toni Bennett, Aberdeen; Lucy Elizabeth Chalmers, Kilconquhar; Holly Chater, Anstruther; Isabella Laporta Pereira Falk, Aberdeen; Asia Phillipa Findlay, Aberdeen; Nikoleta Borisova Garabitova, Bulgaria; Anna Gontsarova, Aberdeen; Justiina Julia Henniina Juntunen, Finland; Lisa Elizabeth Kerr, Ellon; Paulina Labudda, Aberdeen; Hannah MacLeod, Thurso; Claire Masson, Aberdeen; Demi Masson, Inverallochy; Lauren Elizabeth McArthur, Strathaven; Kristiana Nikolova, Bulgaria; Billie Lauren Redgate, Aberdeen; Kelly Louise Robertson, Tomintoul; Gemma Kathryn Simpson, Ellon; Katie Smith, Perthshire; Dominika Stefaniak, Poland; Tanya Ivo Stoilova, Bulgaria; Anastasija Tarasova, Latvia; Kate Greta Taylor, Ellon; Mayling Tse, Aberdeen; Olga Waraksa, Poland; Zoe Catherine Wilmshurst, Kirriemuir; Penny Zilan Wong, Aberdeen.
BACHELOR OF ARTS JOURNALISM – HONOURS
Lewis Peter Blythe, Linlithgow; Christie Helen Breen, Dumfries; Ailidh Brown, Dunfermline; Jenna May Dickie, Aberdeen; Anita Emily Diouri, Stonehaven; Mona Shams El Menschawi, Switzerland; Ellen Victoria Gale, Moffat; Matthew Gowans, Prestwick; Ester Elisabeth Laiho, Finland; Linda Larsson, Sweden; Anna Hughes MacIver, Edinburgh; Marta Linnea Kristina Magnusson, Sweden; Paolina Ivanova Mancheva, Bulgaria; Anaelle Montagne, France; Evelina Yordanova Novakova, Bulgaria; Adam Alexander Pake, Edinburgh; Linzi Reekie, Glenrothes; Lucy Frances Samson, Dalkeith; Sarah Louise Siddle, Edinburgh; Sophie Louise Stephen, Aberdeen; Andrew Keith Wilson, Aberdeen.
BACHELOR OF ARTS MEDIA – HONOURS
Scott Adams, Westhill; Sophie Catherine Allardes, Forres; Simona Petyova Angelova, Bulgaria; Cameron Avery, Edinburgh; Madeline Bayliss, South Shields; Ewan Blacklaw, Inverurie; Scarlett Bueno-Shepherd, Aberdeen; Jack Cahill, Glasgow; Joshua James Campbell, Stonehaven; Ryan Farquhar, Aberdeen; Ashleigh Elisabeth Gall, Turriff; Louise Kendal, Aberdeen; Craig Alexander Marsden, Markinch; David Marshall, Gourock; Hal McCorry, Aberdeen; Lihan Miao, China; Katie Isobel Morison, Elgin; Joanne MacKay Nazareno, Aberdeen; Jayne Margaret Nicoll, Forfar; Emma Audrey Patrick, Alexandria; Iain Gregor Temperley, Banchory; Emma Deborah Walker, Aberdeen; Adam Wood, Aberdeen.
BACHELOR OF ARTS PUBLIC RELATIONS – HONOURS
Rob Dewar Allanach, Ellon; Erin Louise Archer, Westhill; Roxanne Balzana, France; Alex Courtney Brown, Westhill; Daniel Stewart Browne, Oldmeldrum; Gemma Louise Corbett, Aberdeen; Saffron Louise Cummings, Banff; Erin Louise Dunn, Paisley; Alice Marsali Foster, Canonbie; Simeon Martinov Georgiev, Bulgaria; Shayla Jemma Henry, Aberdeen; Marta Anna Koszlak, Poland; Anna MacLaren, Fochabers; Katie Ann Milne, Ellon; Megan Jane Milne, Turriff; Nathan John Newton, Peterhead; Amelia Scarlett Ratcliffe-Smith, Aberdeen; Phoebe Catherine Rennie, Aberdeen; Nadya Vladimirova Savova, Bulgaria; Danielle Shiach, Blackburn; Rebecca Skinner, Aberdeen; Chloé Anaìs Eva Tucker, France.
BACHELOR OF ARTS EVENTS MANAGEMENT
Emily Findlay, Orkney; Rebecca Hay, Turriff; Jennifer Hodgson, Dundee; Leigh-Anne McIntyre, Netherley.
BACHELOR OF ARTS FASHION MANAGEMENT
Louisa Jane Foley, Grangemouth; Victoria Evelia Rodriguez Long, Spain.
BACHELOR OF ARTS INTERNATIONAL HOSPITALITY MANAGEMENT
Sofia Porciani Spinney, Glasgow; Kristofor Michael Parker Wood, Buckie.
BACHELOR OF ARTS INTERNATIONAL TOURISM MANAGEMENT
Scott Ross Glennie, Ellon; Rory Jack, St Andrews; Eva Laicena, Latvia.
BACHELOR OF ARTS JOURNALISM
Holly Davis, Leeds; Shona Elder, Methil; Jeanne Camille Marie Eustache, France; Jennifer Gillian Ritchie, Kirkcaldy.
BACHELOR OF ARTS MEDIA
Jonathan Karl Oskar Bratthall Tideman, Sweden; Charley Leigh Jamieson, Aberdeen.
BACHELOR OF ARTS PUBLIC RELATIONS
Kieran Ewen, Inverurie.
CERTIFICATE OF HIGHER EDUCATION INTERNATIONAL HOSPITALITY MANAGEMENT
Thomas Kenneth Stephen, Edinburgh.
CERTIFICATE OF HIGHER EDUCATION INTERNATIONAL TOURISM MANAGEMENT
Florence Nathalie Dumoulin, Aberdeen.
CERTIFICATE OF HIGHER EDUCATION JOURNALISM
Beth Clifford, London; The Law School
MASTER OF LAWS
Blessing Ele Ameh, Nigeria; Rosetta Esi Asmah, Ghana.
MASTER OF LAWS CONSTRUCTION LAW AND ADJUDICATION
Hedi Ben Frej, Canada; Michael John Bennett, Severn Beach; Joseph Paul Crean, Ireland; Reiss Gordon James Duthie, Hornchurch; Christopher Terence McCallion, Omagh; Philip Peter McCone, Armagh; Joshua Paul Morris, Leigh; David Stuart Pickles, Harrogate; Simon David Yates, Manchester.
MASTER OF LAWS CONSTRUCTION LAW AND ARBITRATION
Omar Khaled Mohamed Abdelfatah Abdelmaksoud, Egypt; Ahmed Abouelkheir, UAE; Abdulqader Hussien Abusoud, Israel; Michel Achkar, UAE; Abdullah Anas Osama Al Bash, Syria; Edward Albada Jelgersma, Trinidad/Tobago; Irfan Mohammed Ameer Merza Ameer Atham Ali Merza, Canada; Sergio Arroyo López, Spain; Kiara Frances Austin, Australia; Huda Mohammed Zuhair Azmi, Qatar; Lee Alistair Baker, Singapore; Kelly John Bartholomew, Grenada; Anura Shantha Basnayake Mudiyanselage, Oman; Alberto Biancheri, Ukraine; Katsiaryna Blotskaya, UAE; David Peter Brady, UAE; Liam James Callery, St Helens; Mathew Prakash Castelino, India; Omega Chaula, Malawi; Christopher Chitokwindo, Zimbabwe; Huw Glen Owen Davies, Stone; Daniel Jacobus De La Rey, South Africa; Ashley Crispino Joseph De Sa, Portugal; Scott John Robert Donaldson, Stevenston; Ahmed Zakaria Ebeid, Saudi Arabia; Adeeb Elahi, Saudi Arabia; Ibrahim Mossad Ibrahim Elsisi, Egypt; José Javier Esplá Coya, Spain; Moataz Ahmed Farahat, Egypt; Elizabeth Merina Deborah Foster, Trinidad; Helena Wirekoa Genfi, Swindon; Mohammed H. Hammad, UAE; Sean Michael Hugo, UAE; Marwa Ibrahim, Qatar; Ravi SUSAntha Iddamalgoda Mohottige, Sri Lanka; David Ssekigudde Kaggwa, Uganda; Noha Maged Mohamed Khalifa, Egypt; Supun Jayasanka Kurunayakage, Sri Lanka; Jeffrey Brian Lee, Dundee; See Hee Lee, Singapore; Derek Lumsden, Hamilton; Garry Malcolm MacDonald, Dubai; Jean Claude Halim Majdalany, Kuwait; Kumaresh Murthy Manickam, India; James Thomas McDonald, Singapore; Steven McLean, Ayr; Jamie Hunter McNeil, Newtonhill; Casey David Miller, USA; Rakesh Kumar Umesh Prasad Mishra, India; Fazal Mohamed Mohamed Riyas, Sri Lanka; Siyadh Ahamed Mohammed Zain, Saudi Arabia; Alan Moore, Ireland; Hardus Muller, South Africa; Patrick Mwendwa Mung'oo, Kenya; Gilbert Josiah Mungu, Kenya; John Chris Nash, Ireland; Fadi Hany Fawzy Nashed, Canada; Ibrahim Abdelfattah Ibrahim Abdelrahman Nasr, Saudi Arabia; Dumisani Ndebele, South Africa; Ciaran O'Sullivan, Perth, Australi; Mustafa Ozgoren, Turkey; Yigit Ozsayin, Turkey; Arun Pareek, Australia; Brett Lee Parkinson, Bedford; Simanchala Patro Sisinti, UAE; Andrew John Prescott, Greasby; Kossar Naieem Qureshi, Walsall; Rajaganesh Ramanathan, India; Ryan Krishna Ramrekha, Mauritius; Bavani Rengasamy, Australia; Enok Rosado, London; Ajay Pal Ruhela, India; Shreemanth Ravishankar Sahukar, India; Muhesh Kumar Saran, Bracknell; Taner Sayar, Turkey; Hamza Sekkar, London; Tapan Bhupendrakumar Shah, UAE; Suthan Shanmugaratnam, Sri Lanka; Camila Silveira Barbosa, Brazil; Kumareshan Singaram, UAE; Lee James Smollett, Hong Kong; Ahmed Mahmoud Soliman, Doha; Mandy Thomas, UAE; Fikret Reha Tik, Turkey; Yueh Hwa Tong, Malaysia; Ikechukwu Uchehara, Qatar; Venkata Suresh Uggina, India; Gert Stephanus Van Niekerk, South Africa; Vishnu Vardhan Jayaseelan, UAE; Sundaresan Venkatraman, India; Marko Veselinovic, Russia; Muhammad Yasir Wazir, Australia; Daniel Weller, Portsmouth.
MASTER OF LAWS CONSTRUCTION LAW, ARBITRATION AND ADJUDICATION
Robert Humphery Dawson, Llanelli; William Anderson Edwards, Christchurch; James Darrell Ford, Hong Kong; Humaid Jawaduddin Jafri, India; Daryll Jones, Bargoed; Crystal Francis Kellerman, South Africa; Anil Kumar Kundileveetil, Ajax, Canada; Vijay Pralhad Lachyan, Pune – India; Tryce Loctar-Polius, St Lucia; James Lynch, Dubai; Mohamed Humdhan Nahuman Batcha, Brunei; Dhanushka Maduranga Perera, Sri Lanka; Andrew James Philip, South Africa; Mathara Arachchige Dhanushka Sampath, Sri Lanka; Robert William Smith, Colchester; Dale Thomas, Cardiff.
MASTER OF LAWS EMPLOYMENT LAW AND PRACTICE
Fiona Allan, Kirkcaldy; Toby Lott, Christow.
MASTER OF LAWS LAW AND DISPUTE RESOLUTION
Charles Simmons, Aberdeen.
MASTER OF LAWS LAW AND INTERNATIONAL COMMERCIAL LAW
Hannatu Yiuo Bahago, Nigeria; Franco Augusto Biehl, Brazil; David Cox Gilmour, Glasgow; Stephen Izuchukwu Otika, Nigeria; Kabir Mohammed Yusuf, Nigeria.
MASTER OF LAWS OIL AND GAS LAW
Maher Abdelaziz, Syria; Amarachi Maryann Agommuoh, Nigeria; Elke Sabine Lea-Bischinger, Austria; Jennifer Chiamaka Obi, Nigeria; Victor Odebala, Nigeria; Ikemefuna Gabriel Michael Onyia, London; Gifty Dede Tetteh, London.
MASTER OF SCIENCE CONSTRUCTION LAW AND ARBITRATION
Scott Cameron Corcoran, Richmond; Brian McNicholas, Ireland.
POSTGRADUATE DIPLOMA CONSTRUCTION LAW AND ARBITRATION
Mubeen Ahmed Khan, Pakistan; Ming Li Koo, Singapore; Niranjan Nadesan, Qatar.
POSTGRADUATE DIPLOMA CONSTRUCTION LAW, ARBITRATION AND ADJUDICATION
Froid Mannummal Paily, India; Hakeem Olubodun Tijani, Qatar.
POSTGRADUATE DIPLOMA PROFESSIONAL LEGAL PRACTICE
Kimberley Anderson, Westhill; Iyassu Levi Bahru, London; Laura Alejandra Bell, Dumfries; Claire Brown, Perth; Rachel Bruce, Fraserburgh; Hollie Kathleen Rose Cavanagh, Aberdeen; Lianne Connell, Inverness; Hannah Cruickshank, Drumoak; Hugh Hamilton Donald, Nairn; Stacey Leigh Grubb, Laurencekirk; Natasha Hassard, Aberdeen; Stefanie Hendry, Aberdeen; Rebecca Jennifer Hewison, Ellon; Lauren Elizabeth Kyle, Aberdeen; Cara Louise Low, Ellon; Eilidh Morrison MacInnes, Isle Of Lewis; Lindsey Olivia McDiarmid, Huntly; Jamie McGill, Peebles; Daniel McManus, Glasgow; Tonicha Louise McNab, Markinch; Fiona Neilson, Fraserburgh; Coral Ann Rawcliffe, Inverness; Alannah Beth Russell, Aberdeen; Laura Shields, Cardenden; Georgia Gail Shirreffs, Aberdeen; Stephen Craig Styles, Dundee; Rachel Ellen Sutherland, Aberdeen; Andrew Graham Watts, Edinburgh; Christy Alexandra Young, Aberdeen.
POSTGRADUATE CERTIFICATE ADJUDICATION
Kelly Marie Coughlin, Saintfield; James Peter Hamilton Graham, Moreton In Mars.
POSTGRADUATE CERTIFICATE ARBITRATION
Yash Anuj Roy Jasodanand, Mauritius.
POSTGRADUATE CERTIFICATE RESEARCH METHODS
Kelechi Urom Eze, Aberdeen; Andrew Daniel Jones, Glasgow; Nkem Violet Ochei, Aberdeen.
BACHELOR OF ARTS LAW AND MANAGEMENT – HONOURS
Donna Kennedy Allan, Huntly; Gary Thomas Anderson, Aberdeen; Jennifer Dawn Anderson, Inverness; Samantha Angus, Mey, Thurso; Cara Alice Doyle, Fintry, Glasgow; Emma Duncan, Aberdeen; Megan Duncan, Aberdeen; Emma Louise Grant, Lossiemouth; Andrew Daniel Harrison, Aberdeen; Chloe Hunter, Aberdeen; Nadia Inglis, Inverurie; Stephen George Lovie, Aberdeen; Victoria Sarah Manson, Aberdeen; Reagan McIntosh, Marykirk; Chloé Hannah Morrison, Aberdeenshire; Sophie Catherine Mulhere, Aberdeen; Fiona Mutch, Aberdeen; Kailee Brianne Robinson, Banchory; James Charles Rodgers, Inverness; Milan Logan Scroggie, Aberdeen; Alicia Elsie Smith, Aberdeen.
BACHELOR OF LAWS – HONOURS
Justine Emma Anderson, Glasgow; Hannah Baxter, Aberdeen; Rachel Isabella Bedford, Erskine; Rachael Georgina Boyes, Aberdeen; Michael James Brownie, Aberdeen; Abigail Joy Buchan, Aberdeen; Megan Louise Clubb, Arbroath; Josey Patricia Donachie, Wick; Rebecca Charlotte Esson, Aberdeen; Rachael Amanda Galloway, Aberdeen; Ciara Margaret Griffin, Helensburgh; Natasha Grace Haggart, Ellon; Tom Keddari, France; Martyna Kotlarz, Banff; Rebecca Hope Mann, Glasgow; Criselda Jane Martins, Aberdeen; Laura Angela Jamieson McDonald, Aberdeen; Erin Mundie, Aberdeen; Morgen Opala, St Andrews; Manahil Qadir, Aberdeen; Alexander Rae, Westhill; Bethany Sampson, Elgin; Gavin Smith, Aberdeen; Courtney Jade Summers, Fraserburgh; Catriona MacLean Sweeney, Kemnay; Charlotte Mary Jane Torrance, Aberdeen; Abbie Erin Turnbull, Peterhead; Kevin Watson, Aberdeen; Rebecca Katherine Ann Whyte, Kincardine;
BACHELOR OF ARTS LAW AND MANAGEMENT
Kathryn Patricia Allan, Inverurie; Lynn Margaret Burns, Aberdeen; Charlotte Garden, Aberdeen; Sophie Claire Johnston, Elgin; Jonathan Adam Lawrie, Aberdeen; Grant Donald MacLeod, Ellon; Stacey Ross, Dundee; Sophie Mae Taylor, Portsoy; BACHELOR OF LAWS Al-Hussein Yusuf Al-Maskery, Oman; Holly Marie Allan, Broughty Ferry; Virvardhan Bansal, Kirkcaldy; Angela Bennett, Glasgow; Denny Christison, Dundee; Andrea Dalceggio, Italy; Eleanor Christina Drummond, Westhill; Marco Equi, East Kilbride; Patricia Grant, Kinross; Wendy Elizabeth Harris, Aberdeen; Rory Leighton Merlin Irwin, Kinross; Deborah Louise King, Edinburgh; Garry MacInnes, Holytown; Heather Maltman, Haddington; Abdihamid Mohamed Mao, Saudi Arabia; Caroline McGrath, Glasgow; Amanda Maureen McNaught, Dumfries; Jade Anne Munn, Melbourne; John Robert Murdoch, Aberdeen; Tinotenda Tayengwa Muskwe, Zimbabwe; Paulo Nunes de Moura, Glasgow; Katie Roberts, Glasgow; Kellie Sharpe, Hamilton; Alexander Spence, Edinburgh; Nicola Jean Sully, Hollybush, Ayr; Robert Turnbull, Kirkcaldy; Fergus Richard Warner, Dumbarton;
DIPLOMA OF HIGHER EDUCATION LAW
Sarah Muir, Glasgow.