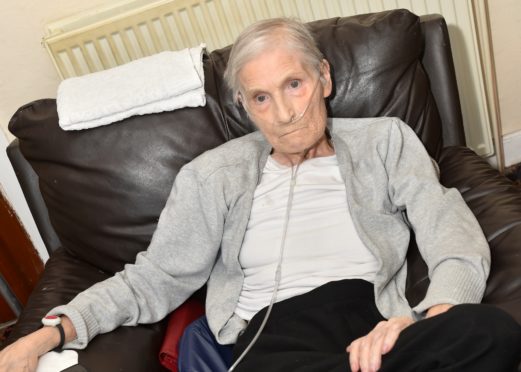 Angry Aberdeen pensioners have hit out at a "sickening" hike in the cost of community alarms.
The cords are hung in easy-to-reach places and are pulled to alert authorities should an elderly or vulnerable person suffer a fall or get into trouble.
However, the price of renting an alarm has shot up from £1.35 per week to £3.50.
The Press and Journal has received many complaints from city residents since letters were sent out by the council informing them of the steep rise at the start of the week.
But a council spokesman responded last night that the service was still being provided on a subsidised basis.
William Beattie cares for his mother Mena, who has multiple health conditions, at her home in Torry, and said he cannot afford the increased cost of his mother's alarm.
He added: "She is on the respirator 24 hours a day and, without the alarm, she would have no way of contacting anyone if she was in trouble. Frankly if she falls, she will die.
"We only got the letter on Saturday to say the bill was going up by a huge amount. The alarm will need to be removed because I just can't afford it.
"She is 78 and worked until she was 67 paying tax all her life and now we have to go through this – it is totally sickening."
Sheila Blackett of the city's Hayfield Place said: "How the council can punish the elderly by increasing the cost of this alarm system is unthinkable."
Scott Anderson, 61, lives with his wife Jeannie, 68, who suffers from MS and dementia, in Northfield and said: "The doctor recommended that we get the alarm for our own piece of mind, but now we will have to seriously consider not having it."
A council spokesman said: "Despite the recent rise, the rate in Aberdeen is below that of most Scottish local authorities and is lower than the Scottish average of £3.63 per week.
"The actual cost of providing the service is equivalent to £4.75 per person per week."
"People are only asked to contribute towards the cost of the service if they are assessed as being able to afford to pay – and they can request a review if they believe their circumstances have changed since their last assessment."