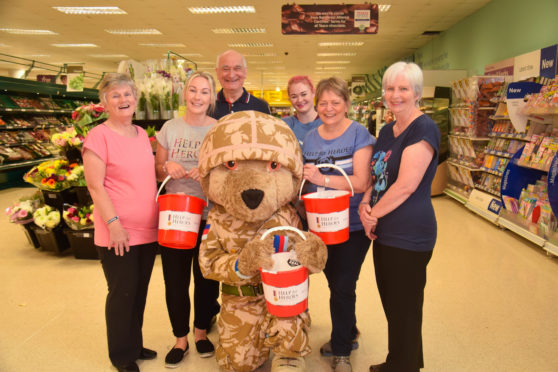 An Armed Forces charity is appealing for Aberdeen residents to help out with a fundraising effort at city supermarkets.
Help For Heroes will be collecting cash to go towards veterans at Tesco stores on Saturday, August 10, and Sunday, August 11.
And the charity is asking anyone with a spare couple of hours that weekend to help with its bucket collections.
The organisation's Scottish volunteer coordinator, Yvonne Beattie, explained the importance of the work Help For Heroes carries out.
She said: "As the British Armed Forces are not currently involved in active conflict, veterans' needs are less visible than they used to be.
"However, every day seven individuals are medically discharged from the Armed Forces through either physical or mental issues attributable to their service.
"That's over 2,450 lives that fundamentally changed last year alone.
"That's why we need the support of as many people as possible in Aberdeen to help with this great fundraising initiative."
As well as persuading people to donate their spare change, participants may get the chance to don the costume of the charity's mascot, Hero Bear.
People can register their interest at h4hweb.com/tesco or by contacting the Help for Heroes campaigns team on 0300 303 9888 or campaigns@helpforheroes.org.uk