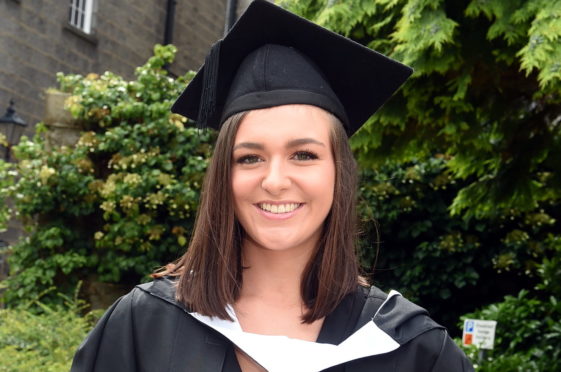 A Highland woman kicked off her birthday celebrations in style yesterday when she collected her degree in applied biomedical science from Robert Gordon University.
Charlotte McInnes turns 22 tomorrow, but was already in the party spirit after attending her graduation ceremony at His Majesty's Theatre.
The Nairn biomedical scientist has already begun work as a trainee in Inverness.
Celebrating her success, Miss McInnes said: "RGU has been absolutely incredible, I wouldn't be in the position I am today without their help."
Diagnosed with dyslexia in fifth year of secondary school, she was full of praise for the university's disability centre and staff.
She added: "I knew I wanted to go to university when I was at school, but I didn't get much help. I struggled a wee bit.
"When I started at RGU, they went above and beyond every year to make sure I was accommodated and had everything I needed."
Miss McInnes managed to take two days off from her new job at Raigmore Hospital to ensure she could celebrate fully with her family and then with friends at her graduation ball this evening.
She added: "Being at university has been a fantastic experience.
"Not only has it set me up for the career I want, but it has also allowed me to gain more independence and become more self-sufficient.
"I'm really grateful to have met all the people I have during my four years."