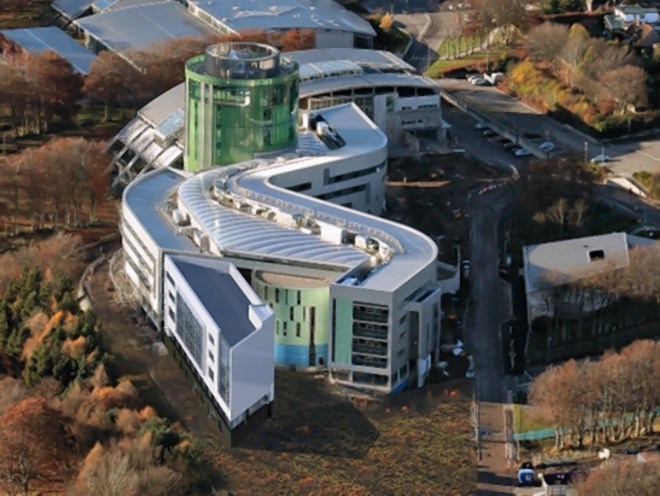 The following students graduate today at His Majesty's Theatre Aberdeen.
School of Applied Social Studies
MASTER OF SCIENCE APPLIED PSYCHOLOGY
Dorothy Evelyn Joiner, Aberdeen; Federica Monacelli, Italy; Aedan James Wolton, London; Rachel Jo Young, Godalming.
MASTER OF SCIENCE CORPORATE SOCIAL RESPONSIBILITY WITH SUSTAINABLE DEVELOPMENT
Dianne Marie Richardson, Whitehaven.
MASTER OF SCIENCE SOCIAL WORK
Folasade Oluwafunke Ashaye, Nigeria; Zia Chapman Bartlett, Aberdeen; Rosemary Campbell, Elgin; Laura Dawn Findlay, Portsoy; Hadiza Khadija Ida-Michaels, Nigeria; Sophie O'Donnell, Perth; Katrina Paton, Elgin; Philippa Claire Rumsey, Aberdeen; Sean Small, Glasgow.
POSTGRADUATE DIPLOMA APPLIED PSYCHOLOGY
Laura George, Aberdeen.
POSTGRADUATE DIPLOMA SOCIAL WORK
Rachel Watson, Kirkcaldy.
GRADUATE CERTIFICATE PRACTICE LEARNING QUALIFICATION (SOCIAL SERVICES)
Kayleigh Margaret Alexander, St Combs; Vida S Asamoah Frempong, Glasgow; Suzanne Walker Brander, Nairn; Colleen Keanne Elliott, Monymusk; Rebecca Louise George, Aberdeen; Jonathan Kinross, Edinburgh; Antony Lopez, Aberdeen; Maria O'Hara, Liverpool; Rania Ramatu Qussasi, Edinburgh; Dawn Riley, Aberdeen; Lois Stewart, Aberdeen.
BACHELOR OF ARTS APPLIED SOCIAL SCIENCES – HONOURS
Leanne Sarah Allan, Aberdeen; Mhairi Louise Anderson, Peebles; Stephanie Mary Barrett, Forfar; Keirah Bills, Aberdeen; Rachel Ruth Booth, Alford; Rosie Buchanan, Aberdeen; Stacey Dale, Aberdeen; Bethany Dempster, Inverness; Eilidh Dewar, Edinburgh; Courteney Dobson, Innerleithen; Alison Duncan, Edinburgh; Paige Ann Gibson, Banchory; Fraser Gow, Aberdeen; Abigale Rose Herd, Cupar; Adam Hugh Hood, Blairgowrie; Lauren Hutton, Dundee; Rani Kalw, Dundee; Samantha Louise Kelly, Perth; Gabrielle Kinsella, Aberdeen; Louise Margaret Lamont, Ellon; Fergus Leitch, Aberdeen; Duncan MacKenzie, Glasgow; Christie Margaret MacPhee, Inverness; Roxana Maria Marcaş, Aberdeen; Alice Gaynor McBain, Aberdeen; Molly Jane McIntosh, Aberdeen; Alexandra Katie Louise McLellan, Forgandenny; Abigail McRobbie, Inverurie; Becky Milne, Montrose; Ellen Morris, Dollar; Stephanie Lorraine Pratt, Inverurie; Dayna Marie Ransome, Turriff; Eleanor Kate Reynard, Banff; Valentine Sophie Riveaux, France; Aidan Paul Robertson, Fraserburgh; Charlotte Saunders, Lairg; Colin Nathan Shaw, Aberdeen; Chloe Louise Spence, Stonehaven; Shannon Sweeney, Inverness; Melanie Rinong Thain, Stonehaven; Ellie Victoria Turnbull, Aberdeen; Nuala Caitlin Turnbull, Biggar; Duncan Scott Watson, Perth; Kirsty Watt, Aberdeen; Tony Wishart, Aberdeen.
BACHELOR OF ARTS SOCIAL WORK – HONOURS
Rafiat Aminu, High Wycombe; Mhairi Black, Wemyss Bay; Kezia Kelly Clark, Elgin; Dayna Ayesha Collie, Aberdeen; Gemma Cooper, Insch; Lauren Kathleen Craig, Jedburgh; Grace Deasy, Perth; Erin Dicks, Aberdeen; Chelsea Andrea Donald, Brechin; Rachael Douglas, Cupar; Carrie-Ann Duthie, Fraserburgh; Laura Whitney Gail Esson, Aberdeen; Alyssia Farquhar, MacDuff; Sarah Joy Gardiner, Kincardine; Kirsten Gordon, Fife; Kirsty Barbara Graham, Linlithgow; Jill Tinashe Hakata, Swindon; Shannon Kelly, Beauly; Euan James Kelso, Dunfermline; Kara Lafferty, Glenrothes; Scott Evan MacRae, Oban; Sarah Jane Malhan, Inverness; Tafadzwa Manonge, Milton Keynes; Stephannie Lynne Mather, Arbroath; Louise Dawn McDougall, Peterhead; Katie-Louise McIntosh, Montrose; Charlotte Louise McMullen, Drumoak; Joseph Michael Middleton, Aberchirder; Katie Heather Mill, Peebles; Sarah Violet Morgan, Inverness; Joseph McShane Motherwell, Newmains; Rugare Peace Mubawu, Aberdeen; Stephanie Jane Munir, Edinburgh; Shannon Angela Murray, Oyne; Nadya Kisha Nicoll, St. Andrews; Jenna Louise Ogilvie, Letham; Lawrence Omole, London; Karen Elizabeth Petrie, Aberdeen; Nicole Christina Quigg, Glasgow; Alexandra Ramsay, Dundee; Jodie Nicole Sandison, Lerwick; Karen Sannachan, Glasgow; Joanna Olga Lucie Santos-Petiot, Inverurie; Abbie Day Shand, Inverbervie; Shannon Iona Shaw, Elgin; Anne Elizabeth Sim, Aberdeen; Emma Jane Sinclair, Heriot; Michael Alexander Ian Smith, Buckie; Nikki Kirstin Smith, Shetland; Carla Soutar, Kirriemuir; Micah Spence, Tain; Lisa Helen Stuart, Peterhead; Jodie Lorraine Sutherland, Perth; Ryan Taylor, Fraserburgh; Kerrie Jane Thom, Glasgow; Amy Jane Watson, Banchory; Aimee Alison Will, Aberdeen; Lindsey Christine Williamson, Dundee; Kelly Willox, Ellon; Patrycja Weronika Zakrzewska, Aberdeen.
BACHELOR OF ARTS APPLIED SOCIAL SCIENCES
Nicole Elizabeth Cameron, Perth; Hannah Maltinsky Gaitens, Rosemarkie.
BACHELOR OF ARTS APPLIED SOCIAL STUDIES
Jade Collinson, Aberdeen; Sarah Dempsey, Glenrothes; Emma Neeson, Ballymena.
DIPLOMA OF HIGHER EDUCATION APPLIED SOCIAL STUDIES
Kirsty Adomako, Edinburgh; Mary Forsyth Cowie, Scalloway.
DIPLOMA OF HIGHER EDUCATION SOCIAL STUDIES
Carol Ann Agnes McCaffery, Stonehaven.
School of Health Sciences
DOCTOR OF PHILOSOPHY
Bryan James Alexander McCann, Aberdeen.
MASTER OF SCIENCE HEALTH PROMOTION AND PUBLIC HEALTH
Alison Sarah MacDonald, Benbecula; Mary MacKay MacLean, Stornoway.
MASTER OF SCIENCE PHYSIOTHERAPY (PRE-REGISTRATION)
Bailey Danielle Campbell, Canada; Christopher John Cluff-Downer, Canada; Anna Louise Darnley, Nairn; Aisling Doherty, Ireland; Michelle Fisette, USA; Emily Geddes, Aberdeen; Sylvain Nicolas Gourjaud, France; Jonathan James Krebs, USA; Harry Jacob Sharp Loakman, UAE; Holly Ellen Rose Maher, Canada; Jethro Stanley Mendola-Byatt, Swansea; Oliver Bernard Milton, Ireland; Hannah Olakitan Oladugba, Hackney; Jacqueline Michelle Omichinski, Canada; Madison Brooke Quail, USA; Rebekah Jean Ramsay, Mauchline; Sarah Vickery, Ireland; Lisa Jane Williamson, Edinburgh; Rachel Cei Wan Wong, Canada.
POSTGRADUATE DIPLOMA PROFESSIONAL STUDIES (PUBLIC HEALTH)
Diane Bradley, Glasgow.
POSTGRADUATE DIPLOMA PUBLIC HEALTH AND HEALTH PROMOTION
Jennifer Mulcair, Ireland.
POSTGRADUATE CERTIFICATE PUBLIC HEALTH AND HEALTH PROMOTION
Eve Carmel Allcock, Brighton.
POSTGRADUATE CERTIFICATE RESEARCH METHODS
Jo-Anne Elizabeth Tait, Portlethen.
BACHELOR OF SCIENCE APPLIED SPORT AND EXERCISE SCIENCE – HONOURS
Stuart George Adams, Aberdeen; Jamie David Buglass, Glasgow; Angus Russell Cameron, Dunblane; Jake Alan Cameron, Heights Of Brae; Adam Flint, Forfar; Mark Robert James Fraser, Turriff; Madeline Furnival, Banchory; Matthew Raymond Gordon Gibson, Aberdeen; Mhairi Gifford, Shetland; Leon Greig, Portsoy; Connor James Hamilton, Aberdeen; Fergus Istvan Hill, Brechin; David Richard Irvine, Aberdeen; Christopher Johnson, Inverness; Christopher Johnson, Aberdeen; Hazel Jean Johnston, Inverurie; Ryan Laidlaw, Peebles; Sam Leslie, Edinburgh; Cole Lothian, Jedburgh; Kyle McNulty, Kilwinning; Connor Peter Morrison McWilliam, Huntly; Christopher Graham John Mollison, Aberdeen; Lindsay Parsonage, Aberdeen; Rebecca Moira Porteous, Aberdeen; Katie Robyn Reekie, Balfron; Craig George Runcie, Aberdeen; Andrew Smith, Maryburgh; Alastair Treasure, Aberdeen; James Peter Forbes Walker, Tarves; Matthew Wingate, Edinburgh; Hayley Wood, Aberdeen; Caitlin Fiona Young, Stonehaven.
BACHELOR OF SCIENCE DIAGNOSTIC RADIOGRAPHY – HONOURS
Aoise Jane Binions, Ireland; Lisa Janet Currie, Strathaven; Jane Catherine Elliott, Dingwall; Lana Johanne Fairbairn, Ellon; Ruth Horkan, Ireland; Rachel Innes, Buckie; Yin Ching Jong, Hong Kong; Pamela Kierans-Scott, St Andrews; Beth Caitlin Lauder, North Berwick; Zara Louise Lawless, Coatbridge; Nicole Jaqueline Lovelace, Buckie; Emily Jane Low, Dyce; Karla Susan MacKay, Wick; Erin McInroy, Dunfermline; Jennifer Morris, Edinburgh; Vicki Reid, Kinross; Karen Roscoe, Edinburgh; Rachel Bridget Scully, Ireland; Rachael Pauline Watson, Dunfermline; Julie Watt, Stonehaven; Laura McFarlane Young, Peterhead.
BACHELOR OF SCIENCE NUTRITION AND DIETETICS – HONOURS
Fiona Clarke, Perth; Georgia Darling, Friockheim; Hannah Dickie, Inverness; Emma Elizabeth Henry, Westhill; Rochelle Marie Hossack, Fortrose; Hiu Kei Mak, Hong Kong; Felipa Mooney, Ireland; Sally Rebecca Owens, Hampshire; Carrie Watson, Brechin; Hannah Wyllie, Renfrew.
BACHELOR OF SCIENCE OCCUPATIONAL THERAPY – HONOURS
Katherine Allan, Aberlady; Amber Louise Brown, Tore; Kirsty Cleland, Dingwall; Stephanie Frances Coleman, Ballaghaderreen; Aine Gertrude Conway, Plumbridge; Patricia Cox, Kilglass; Aisling Cunniffe, Clane; Erica Cregeen Don, Duns; Randall Don Egger, Dundee; Gemma Everett, Montrose; Fiona Margaret Findlay, Aberdeen; Bethany Fletcher, Perth; Eden Forbes, Maryburgh; Karis Ann Georgeson, Shetland; Kristi Kathleen Grant, Shetland; Rebecca Hardy, St Madoes; Sarah Ann Henry, Ireland; Holly Hunt, Ireland; Amber Carys Johnston, Midmar; Eimear Kelly, Donegal,Ireland; Natasha Kidd, Dundee; Ciara Lupton, Roscrea; Katie MacLennan, Inverness; Killian McSherry, Ireland; Kerrie Louise Milne, Peterhead; Megan Louise Muir, Barrhead; Andrew David Murray, Saltcoats; Kirsty Smith, Alford; Rona Stewart, Kingussie; Elli Stewart-Macleod, Dundee.
BACHELOR OF SCIENCE PHYSIOTHERAPY – HONOURS
Niamh Bunyan, Ireland; Andrew James Cameron, Pittenweem; Hannah Ruth Cameron, Eskbank; Laura Alison Campbell, Elgin; Guillaume Celosia, France; Euan Chalmers, Dundee; Sarah Connor, Crook of Devon; Stephanie Cullen, Ireland; Rachel Frances Dexter, Cardiff; Rachel Nicole Donald, Dunfermline; Jodie Anna Drever, Kirkwall; Mhairi Fraser, Edinburgh; Ewan David Halliday, Holm; Chloe Caitlin Hannant, Edinburgh; Ross Hughes, Alva; Kiera Ann MacKay Johns, Inverness; Katharine Kitt, Auchtermuchty; Rachael Michaela Kydd, Forfar; Aimee Louise MacDonald, Aberdeen; Rachel Masterton, Kilmarnock; Kathryn Jane McBrierty, Port Seton; James Watson McGovern, Dunfermline; Alice Gordon McKenzie, Dunfermline; Hamish Angus Michie, Dunfermline; Gregor Angus Pirie, Kinross; Iona Danielle Proud, Inverurie; Cameron John Ramsay, Aberdeen; Emily Reid, Edinburgh; Leanne Reid, Fetterangus; Rachel Robertson, Glasgow; Rebecca Alice Scott, Glasgow; Holly Steiger, Sorn; Natalie Ann Thomson, Girlsta; Alan White, Ireland.
BACHELOR OF SCIENCE APPLIED SPORT AND EXERCISE SCIENCE
Ieva Cassie, Aberdeen; Chloé Emma Tough, Inverbervie.
BACHELOR OF SCIENCE HEALTH RELATED PROFESSIONAL STUDIES
Caitlin Anderson, Dundee.
BACHELOR OF SCIENCE SPORT COACHING
Fraser Morrison Burnett, Ellon. School of Nursing and Midwifery
MASTER OF RESEARCH
This research programme was carried out in collaboration with NHS Grampian Charlotte Ashley Pace, Aberdeen.
MASTER OF NURSING ADVANCING NURSING PRACTICE (CLINICAL PRACTICE)
Veronika Chmelikova, Aberdeen; Helen Susan Clouston, Finstown; Kimberley Grace Cruickshank, Aberdeen; Louisa Frances Duck, Aberdeen; Louise Margaret Dukelow, Alford; Heather Anne Johnston, Avoch; Jennifer Marjory King, Westhill; Elizabeth Margaret McKerchar, Ellon; Rachel Menzies, Aberdeen; Kirsty Jane Munro, Buckie; Emma Jane Robertson, New Zealand; Mhairi Minell Coull Seivwright, Huntly.
MASTER OF NURSING ADVANCING NURSING PRACTICE (DISTRICT NURSING)
Katie Ann Stuart, Carnoustie.
MASTER OF NURSING ADVANCING NURSING PRACTICE (HEALTH VISITING)
Jennifer Margaret Gordon, Huntly; Sarah Helen Gowing, Peterhead; Esther Carruthers Hughes, Banchory; Megan Gerardine Ley, Aberdeen.
MASTER OF NURSING ADVANCING NURSING PRACTICE (LEADERSHIP)
Julia Dawn Lussier, Elgin.
POSTGRADUATE DIPLOMA ADVANCING NURSING PRACTICE (DISTRICT NURSING)
Janine Elizabeth Ann Blease, Sauchen.
POSTGRADUATE CERTIFICATE LEARNING, TEACHING AND ASSESSMENT (NURSING & MIDWIFERY)
Katie Elizabeth Anderson, Dundee; Emily Kay Bochel, Aberdeen.
POSTGRADUATE CERTIFICATE RESEARCH METHODS
Julia Wells, Peterhead.
BACHELOR OF NURSING (ADULT NURSING) – HONOURS
Lauren Lynda Anderson, Aberdeen; Chloe Caroline Bell, Edzell; Rebecca Katherine Bryce, Alyth; Lauren Tracy Dow, Rhynie; Chloe Rose Jamieson, Shetland; Hannah Louise MacKie, Turriff; Mairi Anne Polson, Whalsay; Alana Elizabeth Scaresbrook, Glasgow; Shannon Emily Smith, Banff; Kimberley Anne Tosh, Aberdeen.
BACHELOR OF SCIENCE OCCUPATIONAL HEALTH PRACTICE – HONOURS
Rachel Ann Lowe, Manchester.
BACHELOR OF MIDWIFERY
Jennifer Wood, Thurso.
BACHELOR OF NURSING (ADULT NURSING)
Natalie Eliza Tracy Burns, Dundee; Christine Louise Granitza, Lossiemouth; Jessica Mary MacKie, Edinburgh; Danielle Joyce Rennie, Dundee; Matthew Stuart Robertson, Kennethmont; Jennifer Kathleen Marie Weir, Kinross.
BACHELOR OF NURSING (MENTAL HEALTH NURSING)
Lauren Diane Gordon, Aberdeen.
BACHELOR OF SCIENCE COMMUNITY HEALTH
Diana Jane Osterberger, Ellon.
CERTIFICATE OF HIGHER EDUCATION HEALTH STUDIES
Darren Duncan, Dundee; Saayana Kaur, Wolverhampton; Daisy Lofthouse, Falkland.
CERTIFICATE OF HIGHER EDUCATION WOMEN'S REPRODUCTIVE HEALTH
Robyn Sydney Connell, Aberdeen.
School of Pharmacy and Life Sciences
DOCTOR OF PHILOSOPHY
This research programme was carried out in collaboration with Qatar University (QU), Doha; Hamad Medical Corporation (HMC), Doha; Ministry of Public Health in Doha, Qatar Tesnime Jebara, Qatar.
DOCTOR OF PHILOSOPHY
Franziska Pohl, Germany.
DOCTORATE IN PROFESSIONAL PRACTICE
Joan Margaret MacLeod, Aberdeen.
MASTER OF SCIENCE CLINICAL PHARMACY PRACTICE
Naschmil Abdulla, Glasgow; Yara Nabil Alkhoury, UAE; Michael Kwaku Anim, Romford; Jennifer Annette Bisset, Dundee; Brenda Davies, Stewarton; Stefan Deibl, Austria; Alana Dineen, Ireland; Margaret Sarah Donnelly, Ireland; Carmel Flynn, Ireland; Audrey Ghanney, Gloucester; Meghan Louise Gilfillan, Falkirk; Lisa Marie Harney, Ireland; Kyna Harvey, Ireland; Gillian Robertson Hay, Glasgow; Adn Iqbal, Edinburgh; Samir Koodun, Brentwood; Omaima Saeed Abdulghafoor Mahmood, Qatar; Alice Mary McMenamin, Glasgow; Stefan Meli, Malta; Samantha Naidoo, Glasgow; Heather Aku Senam Sagoe-Addy, London; Kelly Helen Sturgeon, Stevenston; Kate Noreen Sullivan, Ireland; Elias Edward Tannous, Israel; Asma Saeed Tarar, London; Zeena Tosar, Nottingham; Niamh Weir, Ireland.
POSTGRADUATE DIPLOMA CLINICAL PHARMACY PRACTICE
Sehirish Hira Abdul Rehman, Glasgow; Sadia Sadaf Ahmed, Birmingham; Omotoyosi Akinbami, Nigeria; Hadia Ashraf, Bolton; Fiona Elizabeth Burt, Inverness; Sereta Annmarie Campbell-Elliott, Jamaica; Gergana Plamenova Danova, Austria; Jan Gilmour, Dumfries; Salih Mehmet Hassan, London; Ruhina Kassam, London; Hannah Imogen Kendall-Troughton, London; Joanne Heather Malloy, Glasgow; Armineh Moin Khan, Cardiff; Amy Myatt, Aberdeen; Mefino Erhenme Ogedegbe, Brentwood; Olubunmi Okeleye, Rochester; Krishnakant Dilipbhai Patel, Manchester; Rahil Patel, Ilford; Ayman Farah Quader, Southampton; Amit Sahdev, Birmingham; Amy Caitlin Scott, Harrogate; Ciara Seabrook, Haywards Heath; Rahi Shah, Hounslow; Sona Sharma, Glasgow; Katie Amanda Sim, Wick; Amanda Louise Thomson, Aberdeen; Eva-Maria Wirth, Austria; Nadia Zolfaghary, Iran.
POSTGRADUATE CERTIFICATE CLINICAL PHARMACY PRACTICE
Angela Chrystal Kahendeke, Nottingham.
POSTGRADUATE CERTIFICATE RESEARCH METHODS
Sara Jo Bugeja, Malta; Rana Moustafa Mahmoud Ezzat Ahmed Al-Adawy, Qatar; Nortan Ibrahim Mahfouz Hashad, Egypt; Oronne Anyahuru Gillian Okafor, Nigeria.
MASTER OF PHARMACY
Oluwole Aduragbemi Ajayi, Nigeria; Heena Ali, Hamilton; Iqra Ali, Wishaw; Kiran Ali, Glasgow; Rachel Jane Allen, Dundee; Jalal Hassan A Alramadhan, Aberdeen; Zahra W A E H M Alshakhas, Kuwait; Nabeeha Asmat, Glasgow; Christopher Liam Bonar, Glasgow; Rachel Louise Brownlee, Enniskillen; Lisa Anna Marie Burns, Dalry; Chloe Rebecca Carberry, Glasgow; Bethany Ruth Carstairs, Keith; Jennifer Louise Clementson, Largs; Rachael Sarah Clynch, Ardrossan; Ruth Sandra Adaeze Dioka, Glasgow; Siti Norashikin Binte Fuad, Singapore; Hamidah Omuwa Garuba, Nigeria; Chelsea Louise Gauld, Portsoy; Victoria Gibbons, Coatbridge; Finlay James Keith Gibson, Dumfries; Jack Mitchell Gilbert, Stewarton; Eleni – Anastasia Gkotzia, Greece; Emily Jane Glencorse, Hamilton; Sean Andrew Gray, East Kilbride; Aisha Hassan, Glasgow; Karam Hekmat, Glasgow; Ami Donna Holtby-Wall, Peterhead; Christy Taylor Houston, Glasgoe; Lauren Cecilia Flanagan Hunter, Glasgow; Hareem Ikhlaq, Glasgow; Amírah Yasmin Jacqueline Irshad, Glasgow; Olivia Lauren Jackson, Hamilton; Karen Louise Jarmson, Shetland; Kyra Paulo Jones, Glasgow; Christopher Jordan, Motherwell; Lesley Joss, Aberdeen; Sofia Khan, Glasgow; Huynh Thien Tram Le, Vietnam; Elisa Lee, Glasgow; Kirsty MacIntyre, Erskine; Lydia Makenchi, Dundee; Ross McAllister, Dundee; Aidan McGonigle, Livingston; Rachel Hannah McKaig, Cumbernauld; Kyle McKibbin, Glasgow; Lisa Jean McLaren, Glasgow; Laura Jane McMillan, Glasgow; Mohsin Mian, Aberdeen; Ali Mustafa, Glasgow; Ruth Ruvimbo Mwanza, Zambia; Awais Naeem, Glasgow; Muhammad Saqib Naseem, Glasgow; Uzoamaka Peace Ngonadi, Nigeria; Ross Nicol, Elgin; Jannath Chowdhury Nilma, Aberdeen; Kainat Nisar, Glasgow; Stephany Rose Onyinyechi Njoku, Nigeria; Sadaf Noori, Edinburgh; Vivian Chioma Nwaiwu, Nigeria; Azubuike Samuel Obi, Aberdeen; Shannon J Ormsby, East Kilbride; Georgios Papachristopoulos, Greece; Rachael Michelle Pirie, Aberdeen; Besa Rambi, Albania; Clyde Ramos, Inverness; Tahir Mahmood Rashid, Scotland; Rachel Reid, Aberdeen; Sophie Anne Reilly, Glasgow; Kai Drummond Rough, Hamilton; Scott Rutherford, Glasgow; Miriam Samuels, Glasgow; Kiran Kaur Sandhu, Livingston; Nikos Savva, Cyprus; Samia Taibaa Sikander, Glasgow; Michael Sen Situ, Glasgow; Hayley Moyra Skimming, Kilmacolm; Lauren Rose Smith, Tayport; Kathryn Valentine Steenson, Cumbernauld; Sarah Margaret Thomson, Cumbernauld; Katie Elisabeth Waghorn, Montrose.
BACHELOR OF SCIENCE APPLIED BIOMEDICAL SCIENCE – HONOURS
Aimee Lisa Armstrong, Irvine; Gemma Rachel Dawson, Aberdeen; Shannon Ewing, Ayr; Ayla Littlewood, Elgin; Charlotte Georgia McInnes, Nairn; Dionne Abbie Milne, Fochabers; Amanda Nicolson, Isle Of Lewis; Alesi-Jane Drynan Park, Banchory.
BACHELOR OF SCIENCE BIOMEDICAL SCIENCE – HONOURS
Eissa Nabil Eissa Alfadil, Aberdeen; Megan Joan Bage, Aberdeen; Ieva Marija Baublyte, Lithuania; Ashleigh Burton, Peterhead; Niamh Munro, Aberdeen; Daria Angelika Naskret, Dunfermline; Zainab Omotola Olatunji, Nigeria; Kirsten Ross, Aberdeen; Sammi Wilson, Inverurie; Sandra Paulina Zakrzewska, Poland.
BACHELOR OF SCIENCE BIOSCIENCE WITH BIOMEDICAL SCIENCES – HONOURS
Romina Theresa Dubrow, Germany; Anne-Sophie Fervers, Germany; Raphael Hazelart, France; Fabia Heitland, Germany; Beata Lösch, Germany; Kate O'Regan, Symington; Lena Possenriede, Germany.
BACHELOR OF SCIENCE FORENSIC AND ANALYTICAL SCIENCE – HONOURS
Paige Alexander, Kilmarnock; Kerry Baillie, Ellon; Nicolò Bertotti, Italy; David Douglas Brown, Palnackie; Danniella Cameron, Inverness; Louise Cameron, Perth; Natalie Anne Campbell, Aberdeen; Stella Damoser, Germany; Megan Jarvis Dunthorne, West Linton; Noah Simon Henschel, Germany; Sarah Charlotte Higgins, Dunder; Marica Hundertmark, Germany; Lena Jentsch, Germany; Artjom Jerkvania, Estonia; Mary John, Glasgow; Kiranjeet Kaur, Denny; Mareen Kettemann, Germany; Polina Khodareva, Germany; Emma Lang, Forres; Sophia Laposchan, Germany; Kieran McBeath, Stonehaven; Simon Alasdair McIntyre, Edinburgh; Cameron John McKay, Aberdeen; Austin William McNamara, Aberdeen; Nikki Murron Mellor, Huntly; Alanna Moreland, Inverness; Olivia Cunningham Murray, Nairn; Lisa-Marie Mötz, Germany; Panayiota Papadopoulou, Cyprus; Christien Marcus Quilay, Aberdeen; Stuart John Frederick Forde Ramage, Saltcoats; Paula Helena Sieber, Germany; Christy Louise Stuart, Turriff; Mark Sweeney, Glasgow; Maximilian Tyka, Germany; Rebecca Louise Watson, Kennethmont; Chantal-Kristin Wenzel, Germany; Marie Zöller, Germany.
BACHELOR OF SCIENCE NUTRITION – HONOURS
Lucas Maurice Roger Alabeurthe, Renfrew; Guillermo Martinez Negrin, Spain; Wing Yu Virginia Shum, Hong Kong; Luke Andrew Taylor, Inverness; Camilla Waugh, Aberdeen; Evgenii Zorin, Russia.
BACHELOR OF SCIENCE APPLIED BIOMEDICAL SCIENCE
Bijan Habib, Kirkcaldy.
BACHELOR OF SCIENCE BIOMEDICAL SCIENCE
Mark Linklater, Orkney.
BACHELOR OF SCIENCE BIOSCIENCE WITH BIOMEDICAL SCIENCES
Zuhra Moammar Mehemmed, Aberdeen.
BACHELOR OF SCIENCE FORENSIC AND ANALYTICAL SCIENCE
Karly Cruickshank, Aberdeen; Adam James Lucas, Edinburgh; Hannah Martin, Glasgow.
DIPLOMA OF HIGHER EDUCATION PHARMACEUTICAL STUDIES
Elizabeth Laidlaw Forsyth Melrose, Peterhead.
CERTIFICATE OF HIGHER EDUCATION PHARMACEUTICAL STUDIES
Majid Nasser Salim Al Mahrooqi, Oman. Department for the Enhancement of Learning, Teaching and Assessment
POSTGRADUATE CERTIFICATE PROFESSIONAL STUDIES (ACADEMIC PRACTICE)
Nathalie Claire Louise Goodchild, Aberdeen; Anna Krystyna Lindahl, Poland; Craig Andrew McDonald, Inverurie; Kristof Johan Starost, Dunbar; Gemma Stevens, Glasgow.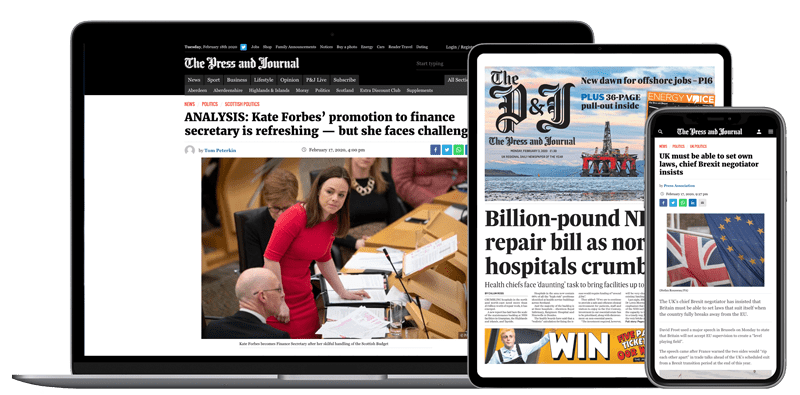 Help support quality local journalism … become a digital subscriber to The Press and Journal
For as little as £5.99 a month you can access all of our content, including Premium articles.
Subscribe