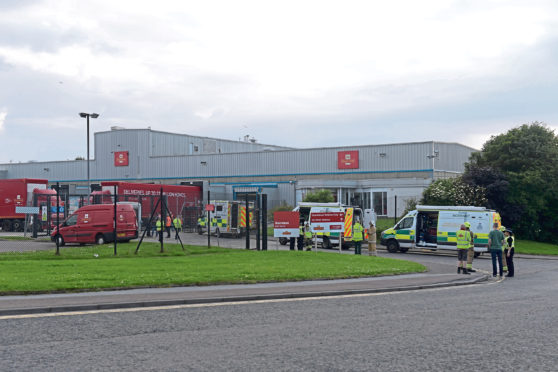 Four people were taken to hospital and dozens of staff were evacuated from the Royal Mail's depot in Altens for several hours yesterday evening due to an "incident".
Employees working inside the centre on Wellington Circle were told to get outside at around 7pm yesterday while emergency services attended the scene.
Police, fire and ambulance teams could be seen going in and out of the front door of the premises, and Wellington Circle was blocked off to traffic.
A spokeswoman for the Royal Mail was unable to comment on the "incident", but last night there was speculation the evacuation was due to a suspicious package which was found at the site.
The entire complex was put on lockdown until after 9.30pm, with no staff permitted to leave or enter the site.
The four people were taken to hospital for a check-up but were later released.
Royal Mail workers who had been inside the building when the emergency was declared were asked to wait in the car park until the situation was resolved.
Five fire appliances were sent to the scene, along with a specialist incident support unit, however a spokeswoman said the services of the fire brigade were not required.