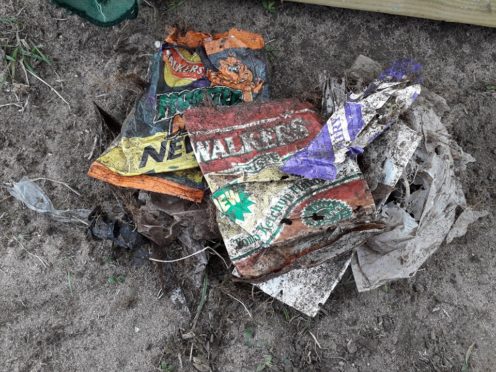 The harmful effect of litter on the environment has been highlighted after remarkably intact crisp packets from 25 years ago were unearthed in Aberdeen.
Volunteers from the city's ranger service made the discovery while replacing the boardwalk at the Donmouth Local Nature reserve, which is an area popular with birdwatchers as it attracts an array of feathered creatures.
While lifting an old board, a member found Monster Munch and Walkers bags, and a Cadbury's Dairy Milk wrapper.
A packet which one contained tomato sauce crisps featured a best-before date of July 9, 1994.
Ian Talboys, countryside officer, said: "We were replacing a section of boardwalk and one of our volunteers was digging one of the holes when he came across them.
"One bag has been buried in the sand for some 25 years and the condition it was in came as a shock to us."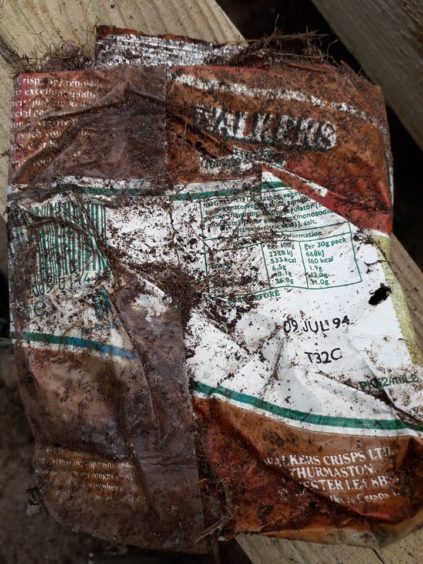 Countryside officers shared the find online, to make people aware of how long litter can last if dropped outdoors.
They said it was "a great example of how long it can take for litter such as this to degrade".
Mr Talboys said the team is "very much involved" in various initiatives to help keep Aberdeen litter-free.
He said : These different projects help encourage people in the community to raise the profile of litter.
"It really can make a big difference to the cleanliness in the city.
"The crisps packets just demonstrate how these type of plastics don't break down easily.
"Even if they're being made of different materials that are more biodegradable, the plastic often breaks down into smaller and smaller bits.
"These can still wind up in the environment, or in the sea where fish can eat it – and this ends up being the seafood we eat."
Meanwhile, 321 black bags of rubbish were collected during a 24-hour litter pick around the city recently.
Groups, schools, and organisations took part in the Clean Up Aberdeen event
Some unusual finds included a set of gym weights, a bag of Nerf toy guns, a hoover and garden chairs.
The places the 548 participants picked litter up from included Garthdee, Torry, Hazlehead pitches, Ellon Road, Walker Dam, Den of Maidencraig, Hazlehead Walled Garden and Seaton Park.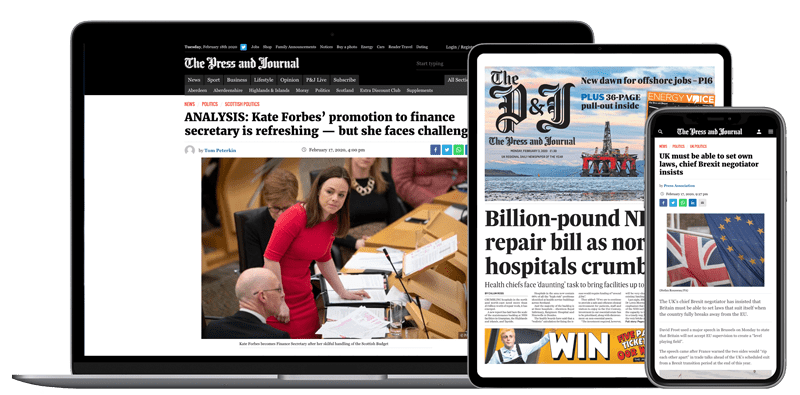 Help support quality local journalism … become a digital subscriber to The Press and Journal
For as little as £5.99 a month you can access all of our content, including Premium articles.
Subscribe