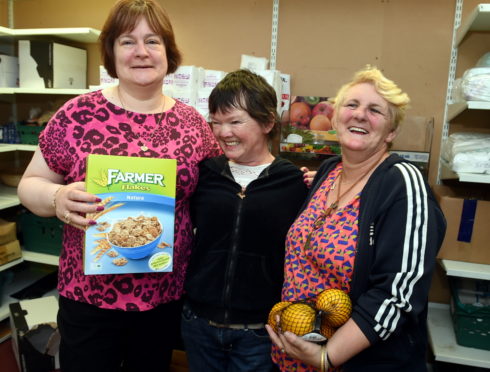 The school holidays means many families are enjoying spending more time together and planning trips to make the most of the break.
But thousands of people in the north and north-east are living with the reality that they can't afford basics like milk and bread for their children and have turned to foodbanks for "emergency packages" in increasingly large numbers.
The holidays are typically a time when such charities experience a spike in demand, but this year many are reporting that the situation is more extreme than ever.
Charities have blamed a variety of social factors, which have combined with children missing out on school meals during the holidays to create intense demand.
Aberdeen-based CFINE has experienced a surge in the number of emergency food parcels handed out each day since it started in 2014.
In the last months, its dedicated volunteers have been dishing-out about 100 bags of basic food each day to people who have approached their Poyernook Road seeking help.
CFINE chief executive Dave Simmers said that, on average, there would normally be about 80 emergency packages given out on a daily basis  – but that has risen to 100 or more this summer.
Mr Simmers said: "Our foodbank is very busy and we're up to at least 100 parcels a day.
"That is a very high number. There won't be any other food banks in the north-east doing that.
"Being able to supply such a huge volume of food is always a worry. We've given out somewhere in the region of 500 tonnes in the last year."
Across the north and north-east, similar organisations have been under pressure and fighting to stay stocked-up during the school break.
Mairi McCallum, project manager at Moray Food Plus, said many such operations were "struggling" at this time of year.
She added: "During the summer holidays we do get a lot more of people coming in.
"There's always an increase in the number of families who need assistance, but we are a lot busier than we have been in the past.
"Foodbanks are struggling."
Figures gathered by the charity show that during 2018-19 it fulfilled 1,950 referrals, supporting 4,440 people.
That represents a 45% increase in the number of referrals and 55% increase in the number of people supported compared to the previous year.
The 55% surge came following concerns about the introduction of the controversial Universal Credit benefits system in Moray in June last year.
Evan Adamson, from the Instant Neighbour food bank in Aberdeen, said the charity's shelves were bare for three months last summer following an unexpected rise in demand.
"At the end of June last year, we saw 277 individual clients," he said.
"This June we've seen 349 clients – that's about a 25% jump.
"Last year we were really struggling for food and we've prepared as much as we could for this summer.
"In a week, we normally see about 87 to 100 people. This month we've given out 265 parcels."
The Highland Foodbank also has been feeling the strain of the summer holidays and issued an appeal for help on its website earlier this month.
The charity said it was "completely" out of cream crackers and oatcakes and very short of tinned potatoes.
Volunteers said there had been an increase in demand since the schools broke-up for the summer holidays.
Given the increasingly levels of demand across the north and north-east, Mr Simmers said he had had plans to roll out projects to help more people.
He said: "We're looking to bring the FareShare scheme and services to the Highland Council, Western Isles, Shetlands and Orkney.
"In my own view, it is atrocious that we have food banks in the UK in 2019. It's appalling.
"There are so many people being driven to them by welfare reforms.
"Until there is a change, none of us are going to be able to make an impact on these numbers."
Like a close-knit family
CFINE has an "ever-expanding body of volunteers" and CEO Dave Simmers said it "simply would not function" without them.
The team begin assembling as early as 6am to get ready for the first people in need of a food parcel.
One of the beneficiaries is a 46-year-old man and his partner, both of whom are on benefits.
He said: "I come here at least twice a week. We need the tinned food the most because it lasts us a while.
"Soup and spaghetti are important and are just easier to make when you don't have a cooker."
Although grateful for the lifeline packages that see him through tough weeks, one older man expressed concern the food is not of the healthy standard doctors have advised him to stick to.
He said: "I'm recovering from surgery and the doctor said I shouldn't have food with too many fats, but that's hard to do with the options here."
The staff and volunteers work hard to try and find items that are fat-free or appear the healthiest for the man.
The day's most popular items are milk, bread, tea, coffee and sugar.
Volunteer Susan Allan said: "It's the first thing they always check when they open the food parcel. They look to see if there's tea, coffee and sugar, but sometimes there's not enough to go around."
The foodbank coordinator said she started as a volunteer in the warehouse four years ago. She remembers once bagging 552 parcels in one week.
"I try to chat to everyone who comes in and ask them how they're doing", she said.
"You get to know the regulars, more so during the summer holidays when the kids are off from school.
"It's been busy and it's really difficult telling them 'no' when they come in after 4pm when we shut."
The staff are also busy encouraging everyone who comes in to take fruit and vegetables away with them.
Angela Wilson, another food bank volunteer, has been helping the charity for the last three years.
The 51-year-old said the team is "like a close-knit family" and tries to get everyone who comes into the centre to "leave with a smile".
"I really enjoy working here. I've learned so much. I started because I wanted to give back to the community.
"I like to tell our beneficiaries that we're always here to talk to them and have a conversation."
Seeing with your own eyes
After reading appeals for donations and hearing about the different schemes in place to tackle "holiday hunger", I spent the day at CFINE's foodbank to witness first-hand the vital work such charities undertake.
The doors open at 10am, but as I arrive an hour earlier I notice there are already a handful of people waiting outside to collect their packages.
Inside, the warehouse and office are already buzzing with activity.
Staff from various departments are booting up their computers and volunteers are pushing trolleys filled with bags of food.
Foodbank coordinator, Susan Allan, is busy stocking the shelves and mopping the floor.
I meet Steve Riddell, a volunteer at CFINE, in the warehouse as he sorts through tins of beans, bags of pasta and packets of tea bags to cram into the parcels.
He tells me: "The donated food will come into the warehouse and we'll sort the items in individual baskets before putting them together in the bag.
"I'm here for about four hours volunteering and I'll manage to put together 40 bags. It never stops.
"It's mostly soups and beans and some tuna fish, but there's a good variety of stuff.
"Every week we'll see different stuff coming in.
"Christmas is usually a very busy period. There will often be a lot of donations coming in, but sometimes there will be very few donations at all and we have to stick to the basics."
Before people can collect their bag of goods, the staff requires each individual to fill out a form with basic details and why they are using the service.
One of the volunteers, Winnie Coleman, explains to me that they ask users to list their details in case they would like to be contacted by the S.A.F.E. Team – a support service for those who are facing financial difficulty or need help navigating the welfare system.
The foodbank is sporadically busy and I noticed it's mostly older, single men collecting their emergency food parcels.
It picks up during lunch time and that's when all the volunteers and staff are hardest-pressed, moving swiftly between the warehouse and the pantry.
Between opening and midday there are already around 80 forms filled out and the staff inform me three individuals have already been and seen and helped by the S.A.F.E. Team.
By the end of my day at CFINE, it was clear to me there's a big difference between reading about the service it provides and seeing with your own eyes the scale of the problem it and other similar services are trying to tackle.
From the outside, people might assume the organisation is a solely a charity that takes in donations for its foodbank.
Howver, during my short time there I was able to learn more about its various initiatives and schemes – all aimed at helping to tackle food insecurity, food waste and supporting vulnerable, disadvantaged individuals.