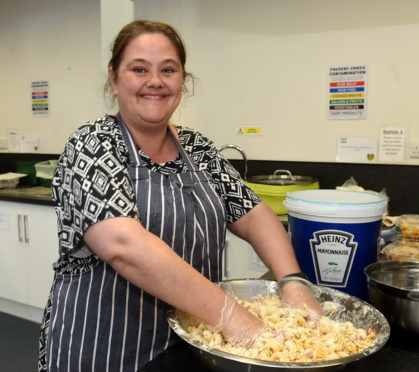 For many people fighting hunger, receiving lifeline parcels of food is only the first step towards being able to feed their families.
Struggling families, who are turning to foodbanks in increasing droves during the school holidays, are then left facing the fresh problem of not knowing what do with the essentials they receive in the "emergency packages".
Charity chiefs have reported that bags of rice and pasta can often be found dumped near their premises as recipients are unable to turn them into meals, and are too embarrassed to ask how.
Former chef, Neil Woodward, is now leading a crusade to ensure that people are able to make the most of the limited resources they are handed during times of need.
He has organised a series of free culinary classes, called Cooking on a Budget, to increase people's confidence in the kitchen and teach them how to turn their items into dishes that can keep their family going through the week.
The classes, run through the CFine charity, focus on how to make inexpensive, healthy and varied meals.
Mr Woodward said: "I was a chef by trade before I came into this job, and a huge problem with poverty is knowing what to cook.
"Sometimes when I'm walking outside of the foodbank, I'll find rice and pasta dumped around the corner – which infuriates me because this is what you can make two or three meals out of just by adding something as simple as a tomato sauce and oregano.
"Sometimes people don't know what to do with it, or they prefer a quick fix like opening a tin and eating it quickly.
"Cooking On a Budget is important because it shows people how to make meals out of £2, and feed themselves quite well."
The CFine team has found that users of the charity often stick to plain or repetitive recipes they are comfortable with, and lack experience of using different ingredients.
Volunteers and staff members walk individuals and families through the steps of creating a main course and a dessert which requires very little cooking skill during the classes.
Recipes such as rice stuffed bell peppers, vegetable lasagne, baked rice pudding and crepes stuffed with peanut butter are put together – with fruit and vegetables being donated for the project.
During the sessions, participants also learn about how to better manage their money.
Mr Woodward added: "A lot of the people we deal with struggle with numbers as a whole, so this is a big issue."
In 2016, CFine opened its community kitchen after identifying there was a lack of such facilities in Aberdeen.
Fiona Rae, depute chief executive of the social enterprise, said there have been a "number of successful courses" since then.
She added: "We are using food parcels as the basis for making meals and showing people what they can do with that parcel.
"Especially, how they can spread it out so it can last, because a lot of people don't have cookers or they don't have a microwave – some just have a kettle.
"It's been really successful and some of the feedback we've received has been very good. Everyone walks away with some experience and a certificate at the end."