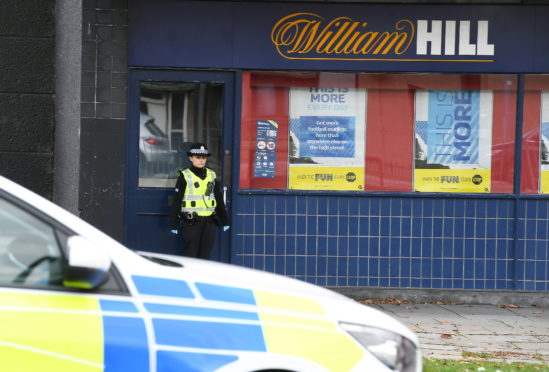 Two men have admitted threatening staff as they staged masked raids on Aberdeen bookies last year.
Kevin Bruce and Anthony Jackson both appeared in the High Court in Aberdeen yesterday and admitted their involvement in the robberies, which took place in October.
The court heard Bruce, 37, was wearing a "mask or something similar" when he "slammed open" the doors of the Coral Eurobet at the Cornhill Shopping Arcade on October 15.
He entered alongside another unidentified robber who was also covering his face.
Fiscal depute Derick Nelson said the pair held up carrier bags and demanded that the two members of staff working at the time fill them with cash.
Threats were repeatedly shouted at the employees and Bruce threatened to shoot someone if they did not comply – though staff would later report they did not see a firearm.
Bruce then stepped behind the counter, Lord Armstrong heard, from where he repeatedly demanded access to the safe.
Mr Nelson, however, said the safe had been on a time delay, preventing Bruce and his accomplice from gaining access and the pair eventually fled with just £140.
The robbery was recorded on CCTV and police traced and arrested Bruce on October 19.
Officers had also discovered a message he'd sent through social media saying "I've done something stupid and you will probably see it on the news".
Two days later, on October 17, 39-year-old Jackson donned what was thought to be a ski mask before storming into the William Hill bookies at Summerhill Court, alongside another raider.
He pushed an employee and threatened her while demanding access to the cash register.
Jackson shouted at the staff member, who handed over as much money as she could.
Once again, the robbers were thwarted in their efforts to secure further money by time delay security on the safe.
The High Court heard Jackson and the other person then ran out, but not before taking a small sum of money from the employee's purse.
In total, the pair made-off with about £200.
Jackson was arrested by police on October 27, with officers discovering his footwear matched shoe prints left at the bookies.
Bruce was said to have "long-standing difficulties with drugs".
Lord Armstrong deferred sentence on Bruce and Jackson until next month in order to obtain criminal justice social work reports.